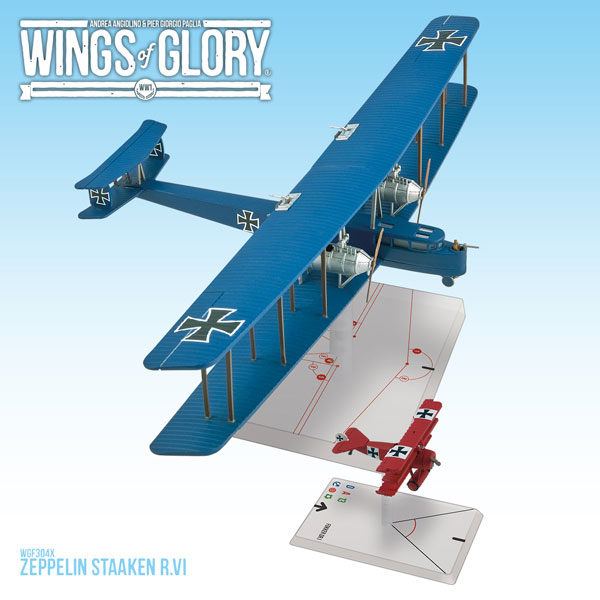 Ares Games' WW1 Kickstarter is down to the wire and we unbox the core game. Come take a look!
Today we give you a taste of Ares Games Wings of Glory with not one but two unboxings of some awesome looking minis and the core game set.
Next, remember to get over to the Wings of Glory Kickstarter page as it ends April 2nd!  Help Ares produce these two WW1 MONSTERS of the air!
The Wings of Glory Miniature Game – Giants of the Sky project on Kickstarter was launched March 10th, to release and add to the game two colossal WW1 bombers, the Handley-Page O/400 and Zeppelin Staaken R.VI. The initial funding goal of $20,000 was achieved in less than two hours, and nine hours after the launch the project reached 230 backers and $35,000 pledged, unlocking the first stretch goal.
The campaign will run until April 2nd, with an initial funding goal of $20,000. The video trailer of the Kickstarter project can be seen here.
Wings of Glory is a tabletop game that recreates aerial combat during WWI and WWII, using cards and miniatures to represent the airplanes and their maneuvers. The game system includes game sets and additional packs with a great collection of pre-painted, ready-to-play model airplanes, and accessories.
This is the first time Ares Games has used the crowdfunding platform for this game, which has already released 26 different WW1 period model airplanes. "The Handley-Page O/400 and the Zeppelin Staaken R.VI are two of the largest airplanes to fly during WW1 and it was a real engineering challenge. Their exceptional dimensions and complexity require more resources than our regular models," said Roberto Di Meglio, Director of R&D of Ares Games. The crowdfunding project will help to gather these resources and it also helps promote the game and reach new players.
Each of these "Giants of the Sky" will be featured in Wings of Glory in two different versions. All the miniatures are painted and assembled, complete with special gaming base, maneuver deck, airplane card, management card, counters and rules.
Wings of Glory Miniature Game – Giants of the Sky will run until April 2nd. For more information and to pledge, visit the project's page on Kickstarter –http://giantsofthesky.aresgames.eu.
 I'll see you all at the tabletop with my silk scarf and aviation goggles.