The Butcher from Acolyte Miniatures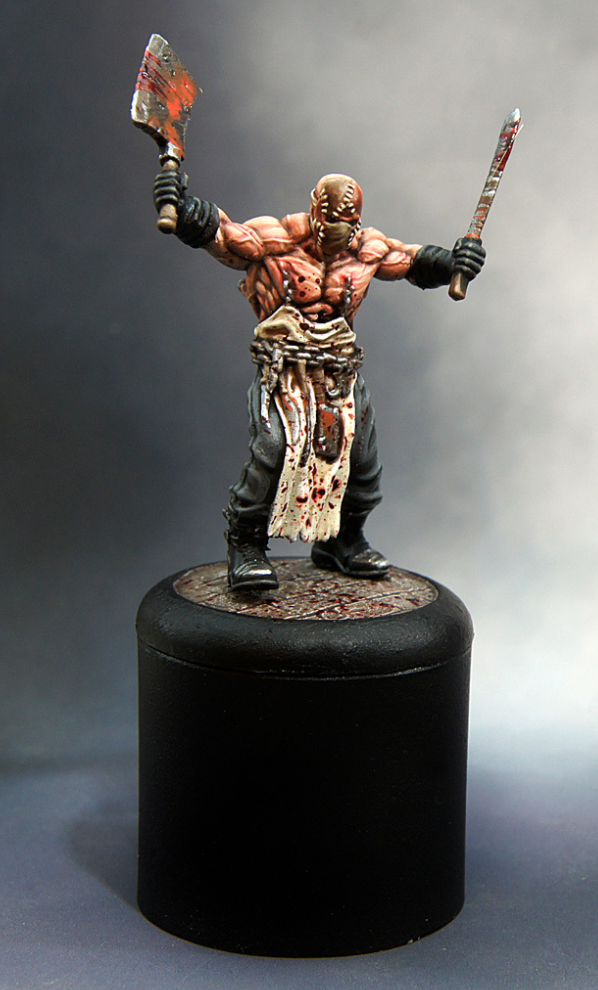 Today I am going to review The Butcher miniature from Acolyte Miniatures.  This is a 32mm miniature, with a 40mm base included. Let's take a look! It comes in a standard clam pack, with the miniature nicely bagged and a piece of foam separating the mini from the base.  But you really aren't here to get a review of packaging, so on to the mini.
The first thing I noticed is the fact we only have three pieces to this detailed mini.  That speaks volumes to effort put into the sculpt and mold process.  It makes the assembly very easy, and the amount of times you glue you fingers together to a minimum (not that we ever do that).  I did not find any mould lines on the body of the mini.  There was some clean up needed on the hands and knives; however nothing compared to the cleaning you do for a miniature you clip off a sprue.  This was a very welcome change from some of the casts I have received from other miniature companies.
Getting into the details…this mini is very detailed.  I was impressed with the depth achieved in the chain around his waist, the leather patches in his mask, and the musculature on his back (which is exposed through the torn skin).  Additionally, the knives on the chain have proper depth from the apron.  Overall, the sculpt and cast on this mini keep every detail you would expect from a horrific individual.  This provides a painter a great opportunity to get into these details and tell the story of the miniature you are painting.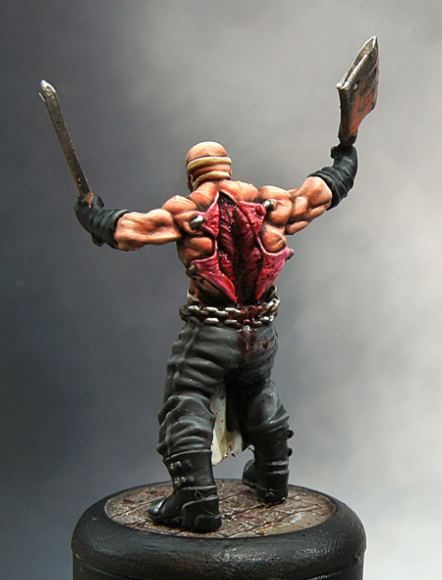 There are a lot of 32mm options out there; however very few bring the true horror genre to life like this mini.  This is a great piece for some psychotic mastermind in one of your RPG campaigns, or just a show piece in your display case.  He would make a great "counts as" for Killjoy from Malifaux, or a Cultist Leader in 40K.  The one down side, which isn't more of a wish, I as a painter really wish it were a larger scale.  This model in a 54mm or 72mm option would be an amazing center piece for a horror vignette.
Acolyte Miniatures is just getting started with two options in the 32mm range and are working on a 72mm line of miniatures as well.  I will be watching for future releases from them as this miniature put them on my short list for quality miniatures.  As an added bonus, they have amazing customer service.  I recommend this miniature to gamers and painters alike.
What small companies have you purchased miniatures from over the years and found they impressed you enough to stay on your list of go to vendors?