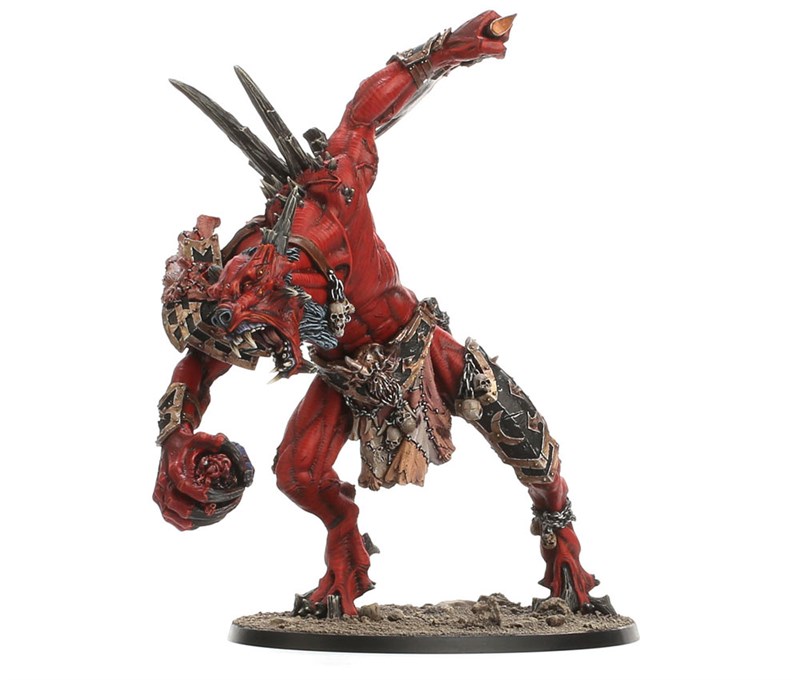 Straight from the warp to the tabletop, the Daemonprince Samus is ready for his debut!

A Daemon Prince of the Ruinstorm, spreading madness and slaughtering all before him in baleful frenzy, Samus is here! A hulking monstrosity, towering over mortals, Samus, a daemon of murder made manifest, was incarnated at the height of his powers as the walls between reality and the Warp were stretched thin by the Word Bearers' dark rites at Calth. If his corporeal flesh was destroyed, he would soon return again to wreak havoc and claim more souls for the powers of Chaos, the sound of his name echoing through the Warp and in the minds of men.
Samus, Daemon Prince of the Ruinstorm is the latest model in the Horus Heresy Character Series. Presented in a collectors edition black box, Samus can be built with his right hand clutching a dismembered Space Marine or as an open claw. Samus can be used in Word Bearers Legion armies and Codex: Chaos Daemon armies in Horus Heresy games. He can also be used in Codex: Chaos Daemons and Khorne Daemonkin armies in standard games of Warhammer 40,000. Rules for using Samus can be downloaded HERE.
The Solar Auxilia Tactical Command comprises six models including a Lord Marshal armed with a paragon blade and archaeotech pistol, and a full Auxilia Tactical Command Section consisting of a Strategos, Proclaimator, Vexilarius, a Veteran Auxiliary with meltagun and Veteran Auxiliary with grenade launcher. Also included are optional helmeted and unhelmeted heads for both the Lord Marshal and Strategos.
The Lord Marshal and Auxilia Tactical Command Section can be fielded as two separate units in Solar Auxilia armies in Horus Heresy games. Their rules can be found in The Horus Heresy Book Four – Conquest.
~ "Samus. That's the only name you'll hear. Samus. It means the end and the death. Samus. I am Samus. Samus is all around you. Samus is the man beside you. Samus will gnaw on your bones. Look out! Samus is here."