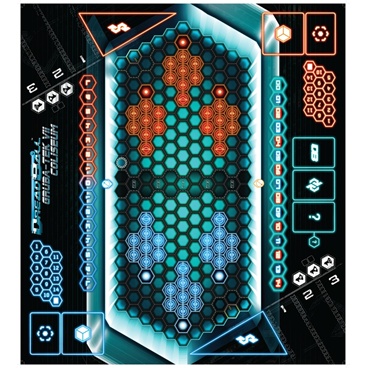 Manticgames just rolled out Season 5 of Dreadball and has a cool new product up for pre-order now.  Come see!
First off (shown above) here's the brand new rubber backed Dreadball pitch playmat, and at a VERY nice pricepoint:
Deluxe Rubber Mat depicting a DreadBall Pitch complete with Sin Bins, Subs Benches, Score and Rush Tracks, and space for coaching staff, actions tokens, cards, and everything else you need to play.
Contains 1 DreadBall Pitch printed on a 750mm x 675mm durable, crease- and tear-resistant rubber-backed mat.
Next up we get the Mantic pre-order announcement for the upcoming Season 5 of Dreadball:

You can now pre-order DreadBall Season Five from your local gaming store or the Mantic Website.
We've put together a great value deal on the website too, where you get the Convicts, Kaylshi, Mechanites and Mutant Teams plus the Strike Zone Stunner MVPs and a FREE copy of DreadBall Season Five Rulebook in our complete collection bundle. Go now to check it out!
~ So how's Dreadball doing in your neck of the woods.  We hear it's a ton of fun and selling like hotcakes!