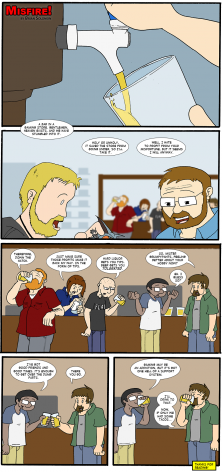 That's that!
This is, indeed, the final entry in this run of Misfire Comics. It's been a privilege, y'all, but the time has come to move on to other projects.
Many thanks to Larry Vela for hosting these strips every week here on his fine site, to my fine friends on Efnet IRC's #Warhammer channel for prodding me into this nonsense, and to each and every one of you who took the time to read the strip every Sunday for the past several months. You're the best. Finally, a big thanks to my wonderful girlfriend, Erin, for going well above and beyond the call of duty to act as a copy editor, co-colorist and overall soundboard for the strip. She's a keeper.
If you'd like to be the next cartoonist to have your work featured on Bell of Lost Souls, drop Larry a line at [email protected] with a few strips.
I'll see you all on the other side of the comments section and The BoLS Lounge. Now to sign off as usual one final time: