Signals from the Frontline: 40k & Gaming News, Rumors, Tactics & Comedy!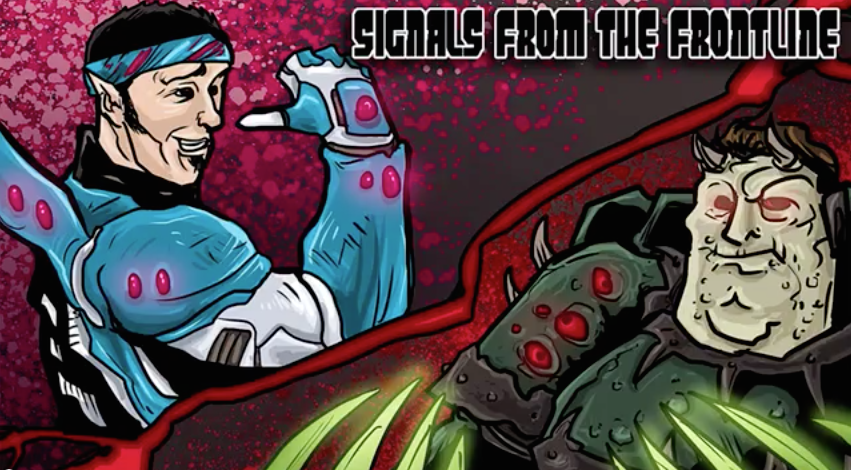 Come check out this week's issue: #349 We've got so much wargaming stuff we can barely fit it all in!
Show Notes
6-15-15

Intro
News
Wargames Con is right around the corner! Last chance to snag those tickets and see us down in Austin.
Dark Angels teaser video releases, along with a Librarian in Terminator armor. Look very cool and that means we've got Dark Angels inbound!
TGITG show off a large size of Harry the Baby Hippo.
A set of 2mm scale Roman Buildings from Birgade Models. They look awesome.
Upcoming ITC Events
Subscribe to our newsletter!
Get Tabletop, RPG & Pop Culture news delivered directly to your inbox.
We're going to let the Space marine Battle Company be an exception to the ITC rules as we believe the intent is for it to operate as a new formation unto itself. Good to go for Wargames Con!
Granite City WAAAGH!! Fest

, Waite Park, MN, June 20th, 2015

Wargames Con, Austin

, TX, June 18-21, 2015

RTT 2 at Crusader's Retreat

, Phoenix, AZ, 2015
Rumors: The Rumor Section is gathered from the web and is not in any way information we receive from  any manufacturer nor is it necessarily accurate. This section of the podcast is intended for entertainment purposes only.
 Dark Angels on the way! Looks like they will be getting the Space Marine treatment with Grav weapons and some of the missing vehicles.
Rant Session
 Skyhammer Annihilation Force. Is it broken, or not?
Tactics Corner
Rules Lawyer
 Iyanden and Craftworld Eldar.
List Review
Again my idea is Ethereal will go with the kroot and the buffmander goes with the missile crisis suits and give tank hunter/monster hunter/ignore cover and broadsides go in the bunker. Other suits help grab maelstrom cause they are troops.
Farsight Enclaves CAD
HQ 
– Ethereal
– Ethereal
Elites 
– Riptide – ION, Earth Caste Array, Early Override, Stim Pack
– Riptide – ION, Early Caste Array, Stim Pack, Velocity Tracker
Troops
– 10x Kroot, Kroot Hound
– 2x Crisis Suit – 2 fusion, Target lock
– 2x Crisis Suit – 2 Burst Cannons
– 3x Crisis Suit – 2 missile pods, 5x markerlight Drones
Heavy Support
Skyray- Blacksun
Skyray – Blacksun
3 Missilesides – Smart missles and Early Warning
Allied Tau 
HQ
Commander – Command and Control Node, Multi- Spectrum, Puretide Chip, Iridium Suit
Troop
10 Kroot – Kroot hound
Fortification
Imperial Bunker – Void shield