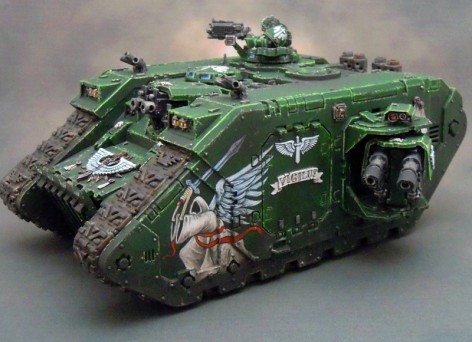 When does armor value 11 count as 14? Come see the saucy new Dark Angels formation that's poised to take the tabletop by storm!
A Dark Angels discovery by Roberto "gato-afficionado" Baer:
The new Dark Angels Codex is here, and it has given us what may be the game's first mixed armor value vehicle squadron in the game!
Checkout the Hammer of Caliban formation;
At first glance this formation seems a little underwhelming, but let's look a little closer.
First off you have to take a Techmarine and place him in the Land Raider of you choice. A sound strategy that conveys +1BS to the Land Raider, and allows you to fix it using the Blessings of the Omnissiah rule as well. Add in a few servitors to boost up that repair roll, and this tank can shrug off ablative hits with relative ease.
Per the formation's rule Might of the Lion the Land Raider forms a SINGLE vehicle squadron with either three Vindicators, Predators, or Whirlwinds, which is where the strength of this formation may lie…
According to the vehicle squadron rules, in order to damage this 'Quad Squad' you must allocate hits to a specific vehicle just like you would an infantry squadron.  That's the hidden tech, with some clever positioning you can protect the vulnerable side armors of those Rhino chassis above with the more powerful 14 armor of the Land Raider itself.
Now attach Azrael to the Techmarine squad inside the Land Raider and now that bad boy is shrugging off hits on a 4+ Invulnerable and fixing whatever doesn't explode it on an even better roll with the Blessings of the Omnissiah. Plus Azrael can probably deal with most hand to hand threats to the squadron itself buy using the 'assault vehicle' to it's full advantage!
With a little smart play this squadron can fulfill whatever battlefield role you may need, from all lascannon hunters, to 24″ scoring denial with the Vindicators, and emerge relatively unscathed.
Don't forget the whole formation has Monster Hunter and Tank Hunters regardless of number of models as well.
Just off the top of my head, I can already think of two "archtypes" of vehicle squadrons you could run with this.
1) "Down your Throat", with a Crusader, full of TH/SH Termys, and 3 Vindicators going right up the middle!
2) "Hold the Line", with a Godhammer, full of default scouts, and 3 Predators outfitted for massive long range fire sitting on your objectives.
In both cases, keep that Land raider on point to tank all the incoming fire, keeping the "little brothers" safe.
Now the REALLY STICKY question is, if you embark an objective secured squad in the Land Raider, would that confer to the whole squadron like it would for adding Independent Character to objective secured infantry squad?
The answer to that one is hard to find…
FOR THE LION!