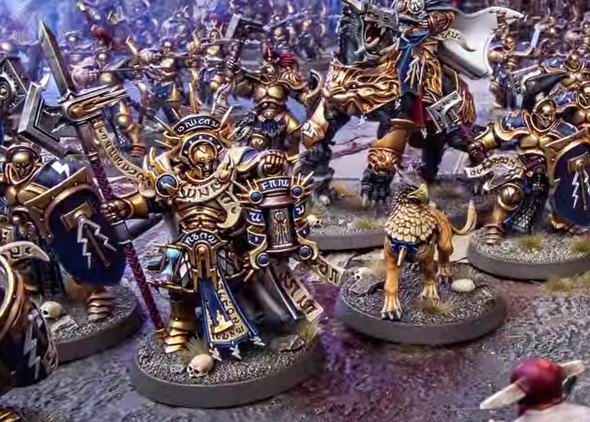 Here they come!  The man with the fanciest lantern, coolest pet around, and a pair of giant new Age of Sigmar terrain kits! Come See


Ok, I'm a sucker for lanterns.  For one, it's nice to see GW do a "characterful narrative pose" instead of the usual "Screaming-all weapons out" fare.  Of course the Castellant is then pushed over the top by his completely AWESOME Gryph-hound.  GW continues to impress in the miniatures department with this mini – which is a visual treat from every angle.  The Sigmar range is very good at presenting great detail from all angles and there is no real "boring backside" syndrome to these minis.
The terrain on the other hand is fairly dull.  We've seen this type of thing before, and it has that "high fantasy" fantastical aesthetic that is going to take some time to get used to after the previous WFB terrain.  The Baleful Realmgate in particular looks like it would be at home in your aquarium.
Looking good, what do you think of the new Stormclad visual style? Going to be as popular as Space Marines?