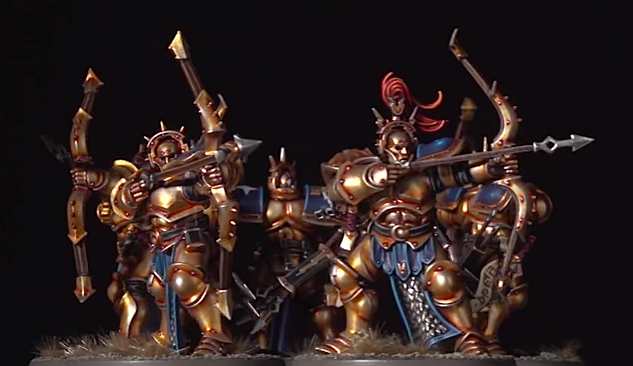 TAKE COVER!  The arrow hurling Stormcast Eternals are here in glorious in-the-round detail!  Come See!

Now I do like these models.  I like the subtle shifting of the hips, and leaning of the heads, and the positioning of the feet that works out to a set of nice realistic looking archer poses.  It's especially difficult to pull off with such heavily armored body shapes, but the Judicators pull it off well.
Weaponwise – I'm happy with the default bow and crossbow options.  The weapons match the scale of the Stormcast Eternals, without seeming either overly large, or too flimsy.  HOWEVER, when we get to the heavy weapon options, the wheels fly off the wagon.  Both are just ridiculously oversized and the quad-armed heavy bolter Thunderbolt Crossbow with that insanely large barrel is just too over the top.
Still, if you were looking to get a set of 4 of the Thunderbolts launchers, they could make the start of an excellent Blood Angel Devastator squad 🙂
I'm waiting to see the first real hobbyist stab at making an Adeptus Custodes unit with some Stormcast models and various other bits swapped out.  That is some low hanging fruit right there!
Looking good, what do you think of the new Judicator heavy weapon options?