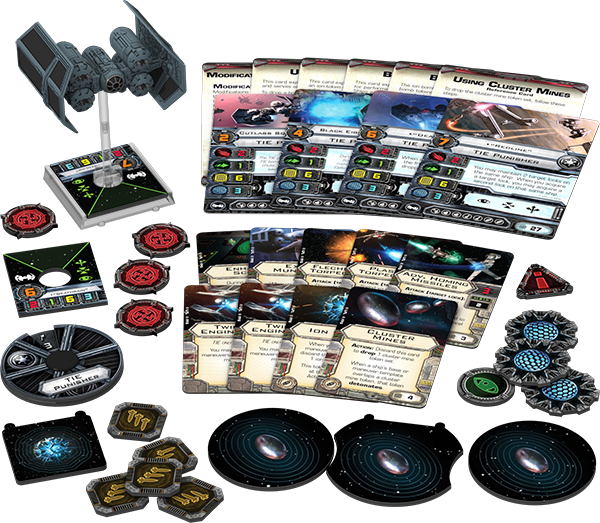 I hope you Rebel Pilots have time to Duck – The TIE Punisher is going to bring the PAIN. Check this out!
Hello again BoLS Readers! AdamHarry back with some more X-Wing goodness (or perhaps a warning depending on which side of the sights your on!) I wanted to take a look at the new TIE Punisher that is due out in the upcoming Wave VII release from Fantasy Flight Games. I was impressed with the Rebel K-Wing but the TIE Punisher has got some pretty great moves to boot!
Lets take a look at the two Unique Pilots really quick: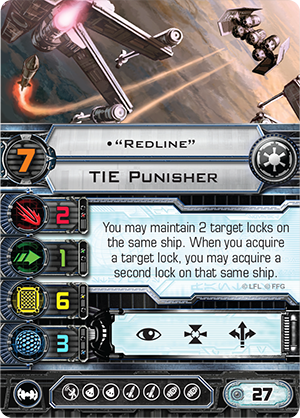 "Redline" ability allows for two Target Locks on the same ship. Normally this isn't that great for your standard shooting. Yes, it allows you to ensure you get some hits with the double re-roll for your shooting, but where this really shines is…well look at that upgrade bar! There are lots of weapons that require you to use your target lock to fire them but now you get to re-roll those attacks to up the odds in your favor. Cluster Missiles and Homing Missiles both come to mind good options. Suddenly the points for those missiles seem to be a better fit with the enhanced reliability the extra Target Lock provides.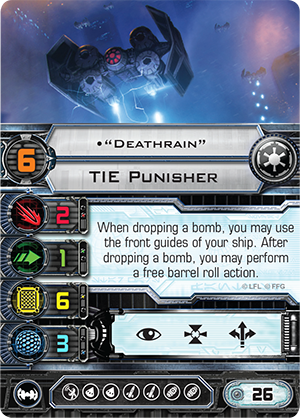 The second unique pilot is "Deathrain" and really this TIE Punisher lives up to the name. Look at that ability! First off dropping bombs to your front? Heck yes! And if you notice the second part of the ability anytime you drop a bomb you get a free barrel roll action! Barrel roll isn't even on this ships action bar so that is already a plus in my book. But the possibilities with this ship are scary good. I won't get into the full details here because FFG did it better – you should read that article for more info. It's got a great break down and well, props to them!
Both of those pilots are going to help out the Imperial meta quite a bit. Keep in mind the firepower the TIE Punish packs when playing against one. Oh and did I mention the TIE Punisher has 9 HIT POINTS?! Yeah. It's not just bringing the boom – it's got the beef to back it up. It's a great time to be an Imperial Player!
Rebels – you have been warned. Surrender and you will not be harmed… Much.