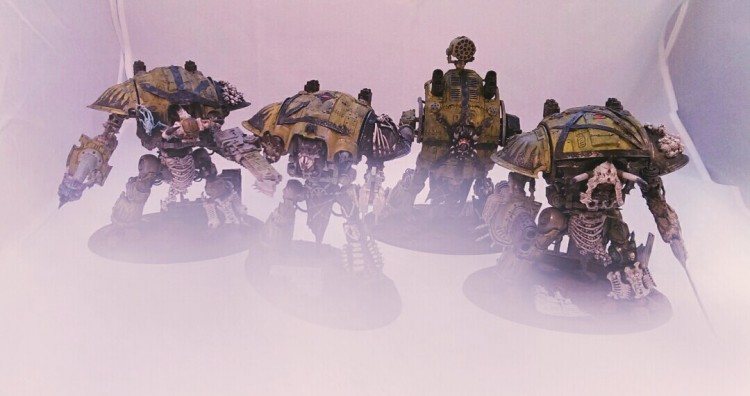 Last post in the Dark Mechanicus series and a look ahead on what I (think) I have in store.
Hi! I`m Tommy from the blog bigbossredskullz. I'm also on Facebook. I've made an Adeptus Mechanicus force but I've built, converted and painted them like Dark Mechanicus.
Dark Mechanicus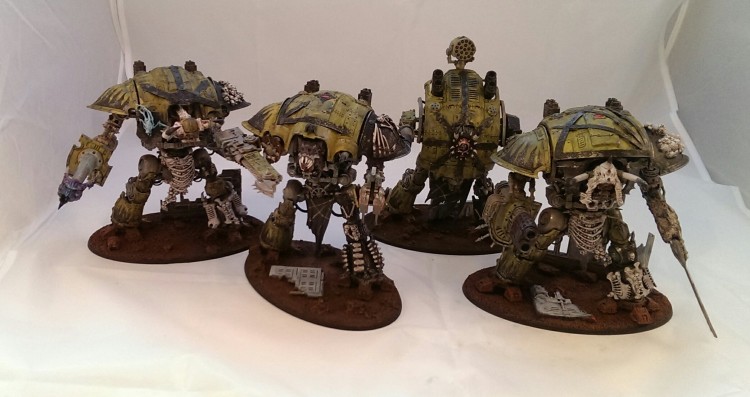 With the above picture I'm calling this army project done for the inevitable future. I have no plans or ideas on what to expand it with. It's feels both good and bad. Good for actually finishing it but bad because it is finished and I've really enjoyed making it. Though I won't force more out of it because that will just ruin it all.
Next up for this army is more gaming. I've played very little these last months so me and a friend with a loyalist knights army will duke it out in a best of three battles series. We've dubbed it "Clash of Titans". Original I know 😉
So..what's next then?
I've lost my momentum with the completion of the Dark Mechanicus so I need to build up some steam while I figure out what I'll do as a project log again. Meaning most likely I'll not put up something in a week or two at the earliest. But to give you an idea on what I'm thinking on:
1) Terrain for 40k.
I do own a Frontline Alpine mat but I only have low fantasy terrain for it. I've ordered a bunch of 40k scenery and I'll probably build some as well.
2) Skaven for AoS.
This is already underway but the general vitriol against AoS I'm on the fence at posting it elsewhere than my own blog.
3) Wrapping up those other armies of mine
I still have stuff left for my INQ28, Orks, Chaos Dwarfs, Blood Bowl, Hero Quest and DKoK. I probably should finish those as well but I'm not feeling it.
That's it for this week! Make sure you check out my blog regularly, I update several times a week!
So what's your opinion on what you'd like to see from me. Any of the above or something not listed?