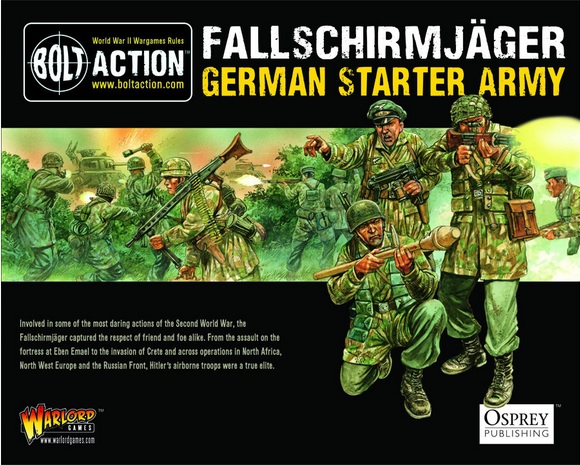 The Bolt Action Starter Army deals are looking more and more tempting. Check this one out!
Warlord is at it again, this time with another Germany Army deal that will get the uber tough Fallschirmjager Starter Army in your hands.
Take it away Warlord:
via Warlord Games, Gamewire
Among the most elite of German troops, the German Airborne – the Falschirmjager – are here in hard plastic! We have a great value boxed army for you built around our brand new (and unreleased) plastic Fallschirmjager:
The world's first paratroopers to be used in large numbers, the German Fallschirmjager were at the tip of the spear when war broke out in 1939. They led daring assaults on strategic targets, such as the fortress at Eben Emael, enabling the following panzers to overrun Europe.

As a paratrooper force the Fallschirmjager's greatest achievement would be the intense fighting they performed as they spearheaded Operation Mercury and seized Crete in the face of more numerous British and Commonwealth forces during 1941. However the heavy casualties suffered meant that they were never again used en masse as an airlanded force.

Small units still operated by glider and parachute, famously rescuing Italian leader Mussolini from his mountain top prison, and raiding behind American lines in the Ardennes. Their finest hour would undoubtedly be the bitter fighting as they occupied the monastery at Monte Cassino for months in the face of overwhelming odds, earning themselves the nickname 'Green Devils'. The German Paratroopers were arguably the toughest in a tough army.

Warlord Games Fallschirmjager miniatures are ideally suited for battles in North West Europe and can also be used in actions on the Russian Front.
Our studio painters are currently a whirling haze of activity, painting up the new plastic Fallschirmjager – as soon as we have finished photos, we'll share them with you. In the mean time, here are some images of the 3-up sculpts to get you frothing:
Box contents:

The following units are made from the new plastic Fallschirmjager!

HQ (veteran lieutenent and 2 riflemen): 116pts
10-man squad (8 assault rifles, 1 LMG team, 4 panzerfausts): 210pts
10-man squad (2 SMG, 2 LMG teams, 4 rifles, 3 panzerfausts): 166pts
10-man squad (2 SMG, 2 LMG teams, 4 rifles, 3 panzerfausts) 166pts

The rest of the force consists of:

Plastic Stug III Ausf G with schurzen (veteran): 277 pts
Plastic 251 Ausf D Hanomag (veteran) plus rear MMG: 122pts
Pak 40 anti-tank gun (veteran): 132pts
Medium Mortar (regular) plus Spotter (plastic): 75pts
Panzerschreck team (veteran): 104pts
Sniper team (veteran): 65pts
Flamethrower team (veteran): 65pts
For those of you keeping score at home that's over 50 models in a fully playable 1500 pt list. All for $135. It's a pre-order now and is scheduled to ship out in early September.
See – I told you that the army deal was tempting…