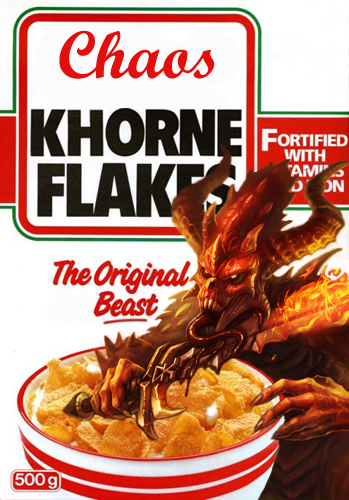 Come see this week's new pricing and release lineup, and a HUGE crenelated Chaos tease for next week!
Via Tabled Podcast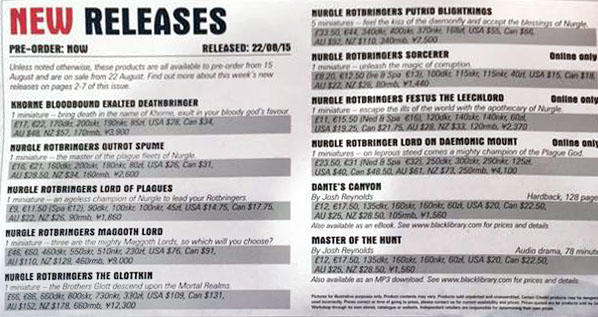 New Product Pricing:
Khorne Bloodbound Exalted Deathbringer $28

Repacked in new boxes and round bases:
Nurgle Rotbringers Gutrot Spume $26
Nurgle Rotbringers Lord of Plagues (current plastic nurgle lord)  $14.75
Nurgle Rotbringers Maggoth Lord $76
Nurgle Rotbringers The Glottkin $109
Nurgle Rotbringers Putrid Blightkings $55
Nurgle Rotbringers Sorcerer (online only)  $15
Nurgle Rotbringers Festus the Leechlord (online only) $19.25
Nurgle Rotbringers Lord on Daemonic Mount (online only) $40
And Next week's Tease:

"Unholy Fortresses, Gore-Soaked Killers, Grand Alliances"
Judging from the teaser, and the rumors going around that there's a BIG release coming for Khorne at the end of August, I think it's safe to say we may see the HUGE Khorne/Chaos fortress next week – and probably a new boxed set for the Blood Warriors.  You know the fortress – it's the one that is showing up all over the place in the Age of Sigmar hardcovers.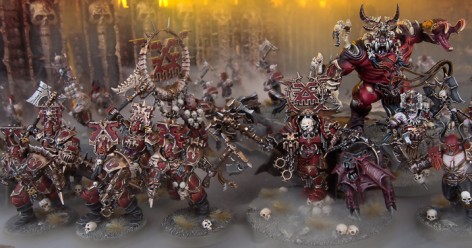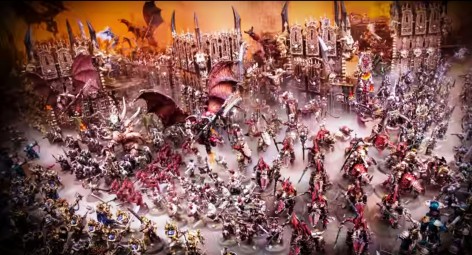 You can see the Khorne fortress in the back of the pictures from Games Workshop above. This looks to perhaps be a tower type kit (similar to the Imperial bastion) perhaps, with corner fortress walls that may interconnect.  To me it looks like a Chaos version of the venerable (and now discontinued) Mighty Fortress.
I can't wait to see that HUGE Khorne fortress up close finally!  I still have no idea what that "large Khorne" kit could be…