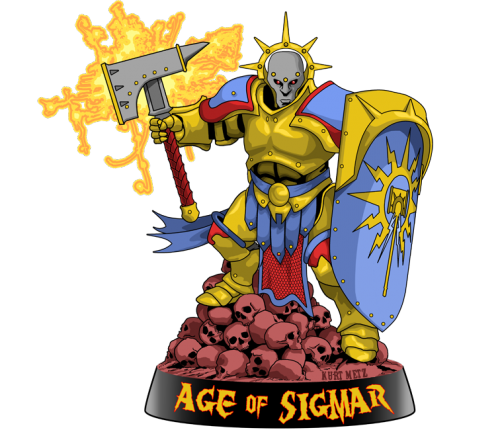 The last unseen Age of Sigmar Battle Board tile showed up this weekend. We get our first good look at long last.
First off, here is the last tile:
via Games Workshop 8-23-2015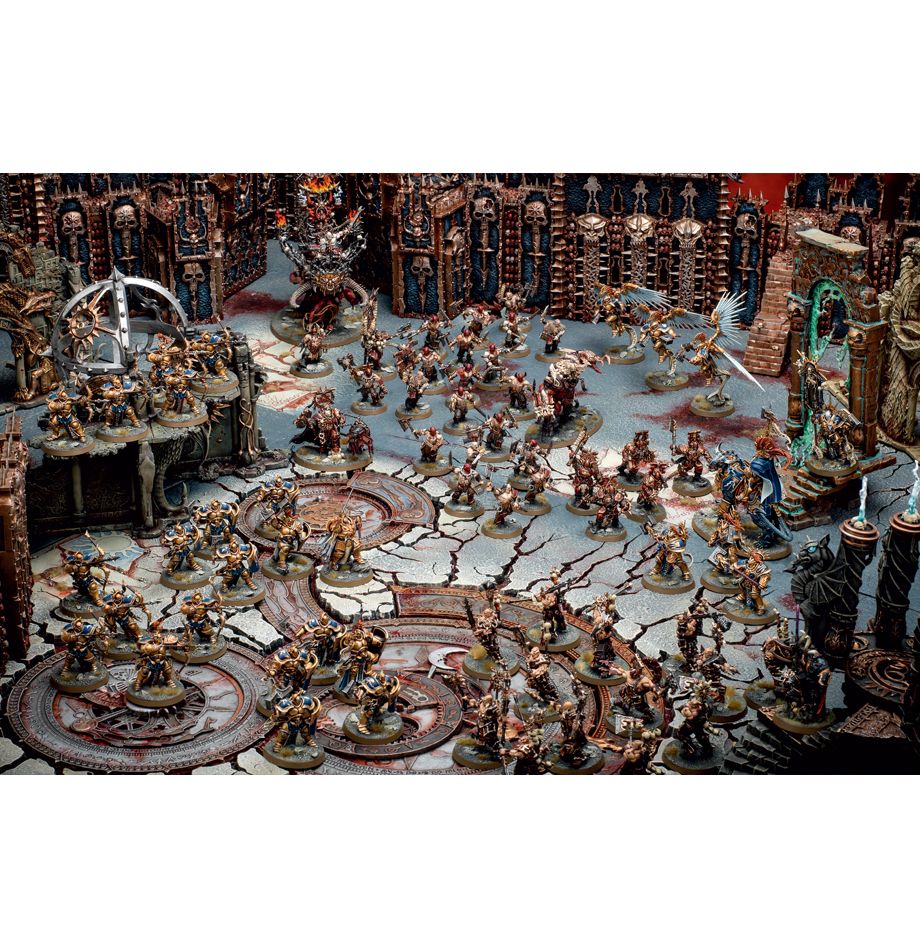 And here's the earlier tiles pulled together form earlier shots and the first two Age of Sigmar books:
via warser's Killgore 7-23-2015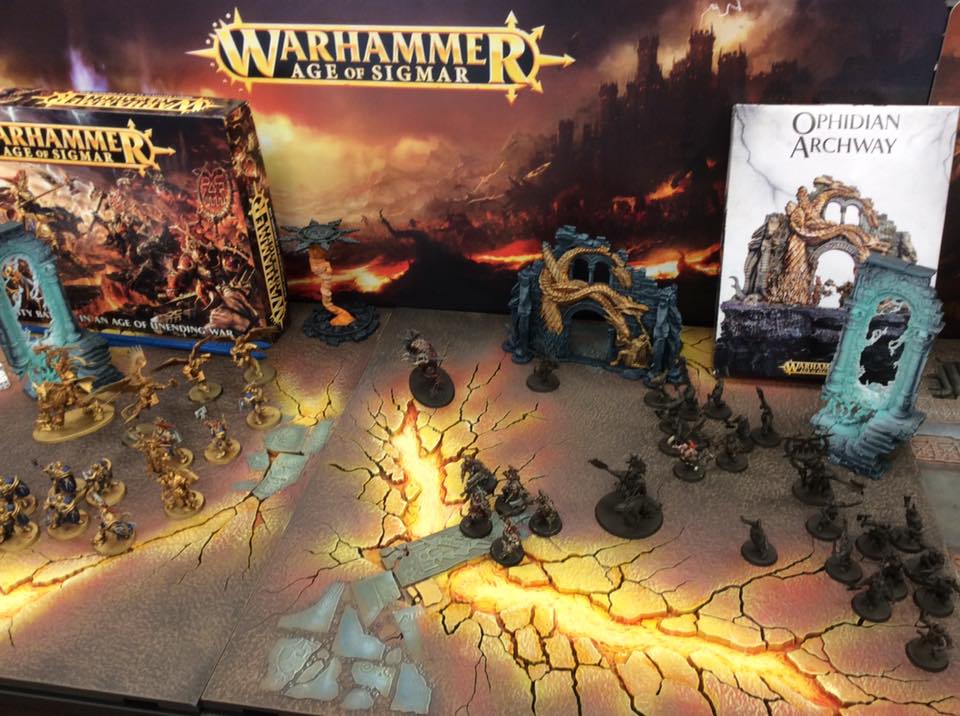 This our the first clean overhead shot of the "chasm & bridge" tiles shown below.
Here is the background on the board from earlier with the tile pictures already out in the community:
We have seen an unpainted plate doing the rounds from early retailers samples sent out here: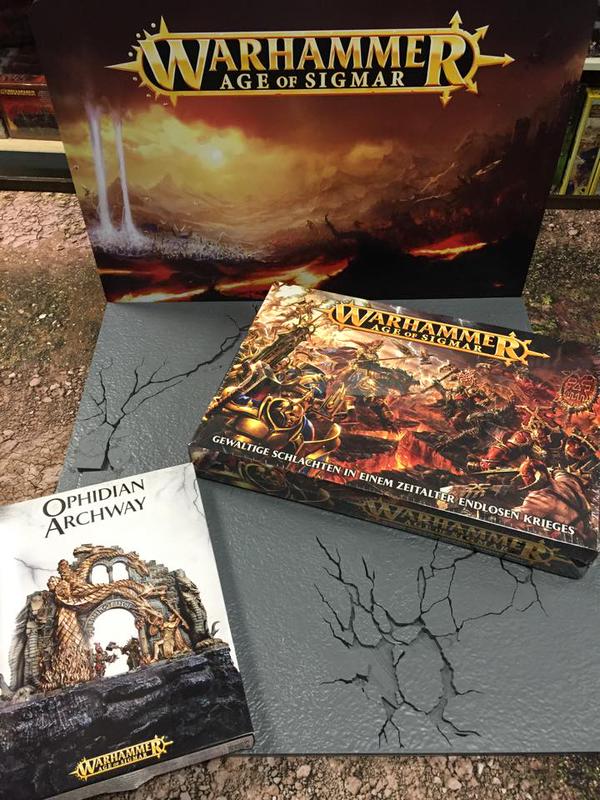 These are all part of a full Age of Sigmar themed Realm of Battle 6-plate set.
If you take out your Age of Sigmar softcover 96pg book and turn to the missions section, look closely at the board the mission objectives are drawn on:
We get this: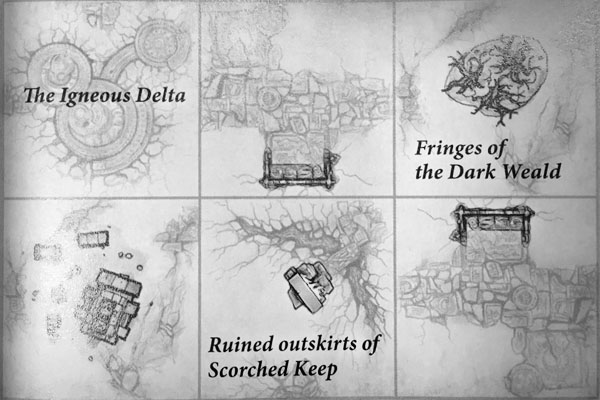 Now ignore the text and dark outlined mission objectives and look at the tiles behind.  Then notice that pattern of what makes up the 6 tile set:
1 tile A: "3 circular areas & curved pathway" (upper left) ~Just spotted today!
1 tile B: "deep crack with bridge over it" (lower center) ~2nd from top image above
2 tiles C: "minor cracks/scars along the periphery" (lower left, upper right) ~Unpainted tile in the retailer photo above
2 tiles D: "exposed ruins running along the central third of the tile" (upper center, lower right) ~Look down below
Now take a look at the background pics used in the mission section and you will notice all of those various tiles sections appearing here and there.
Tile B with bridge visible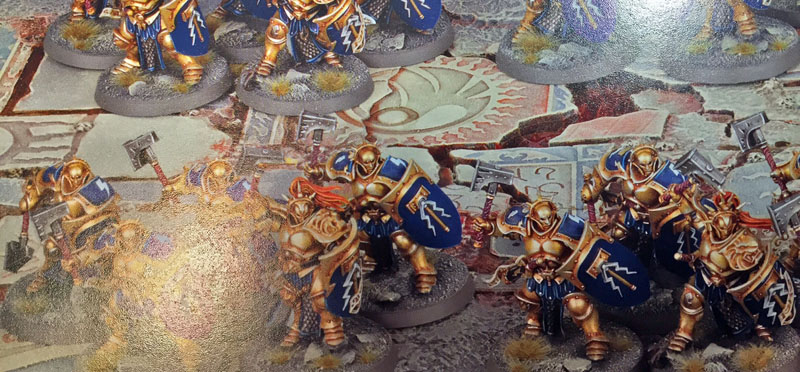 Tile D with ruins visible
No idea on what this set will run, the but the existing Realm of Battle 6-tile sets go for roughly $350.
~Still no word on when this will ship, but now we get the full picture.