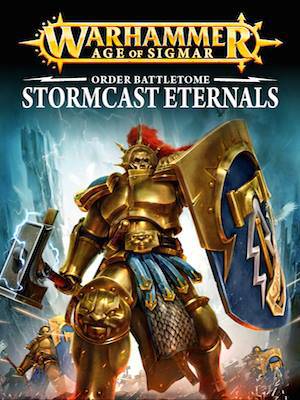 Sigmar's Stormcast Eternals are getting a new book this week and within it are hints of some remaining Age of Sigmar minis:
Here's the basics of this week's Battletome:
BATTLETOME: STORMCAST ETERNALS (152p hardback) 46€, 35£, 58$
18 Warscrolls, 9 Batallions Warscrolls 3 Scenarios.  History/organization of the Stormcast Eternals.
Which got folks counting up models.  Here is the list collated together so far by Warseer's Archibald_TK & mashkeyboardgetusernam:
Celestant-prime
Lord Celestant
Lord Celestant on dracoth
Lord Castallant
Lord Relictor
Knight-Azyros
Knight-Venator
Gryph-hound
Retributors
Decimators
Protectors
Prosecutors (CC Versions)
Prosecutors (Ranged Versions)
Liberators
Judicators
Banner Bearer (hinted at for next week in the White Dwarf teaser)
Musician (hinted at for next week in the White Dwarf teaser)
Take a look at this image from the Age of Sigmar hardcover to see what that banner bearer and musician may look like: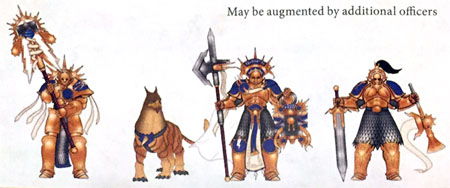 The other question is whether the existence of the Stormcast Eternal Battletome means that there will be  Khorne one as well?
~We are getting closer to the Tau every day, but Sigmar still has some more gifts for us all.