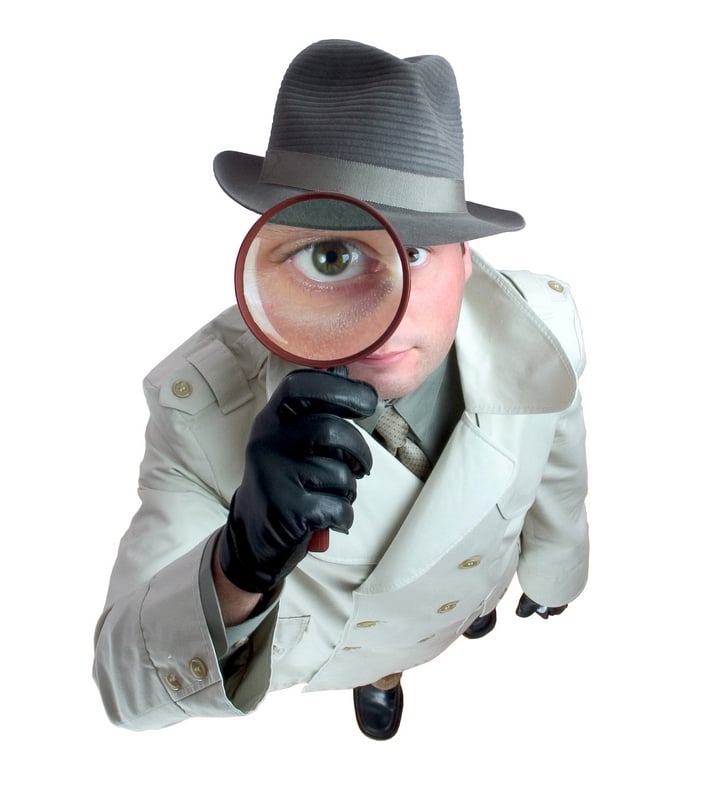 Get out your sleuthing hats – we have a Tau Mystery on our hands.
Games Workshop has dropped some sneaky hints on our laps and now we're trying to put together all the pieces. We know that new Tau units are on the way but now folks are guessing at what exactly those units might be. Lets take a look at the facts:
Evidence A: The Decal Sheet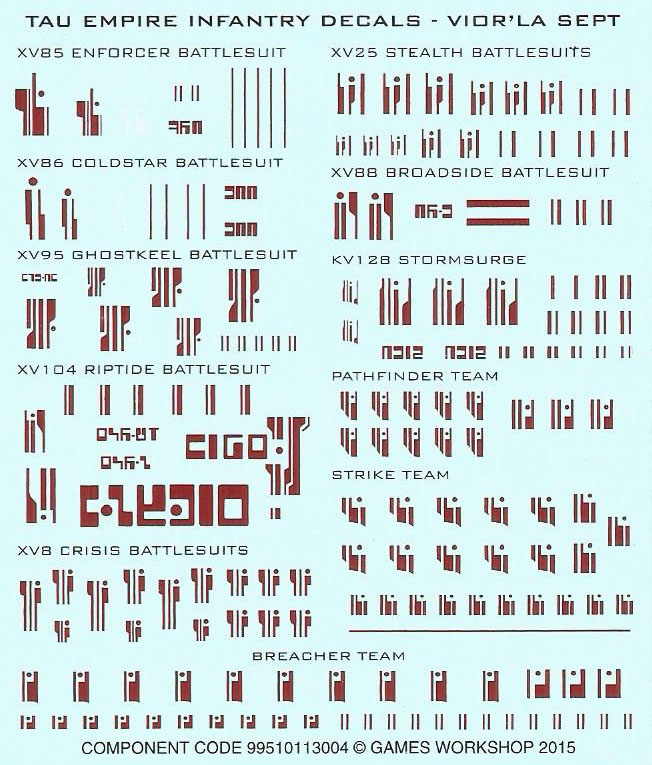 Looking at the Decal Sheet we've got some interesting bits of information. We have 4 new units listed:
XV85 Enforcer Battlesuit
XV86 Coldstar Battlesuit
Strike Team
Breacher Team
The Enforcer and Coldstar Decals are much larger an appear to be fewer in number than the Crisis Battlesuit Decals. But those decals are rather large – maybe they are Broadside variants? (Not likely – I'll explain why further down.)
We know Games Workshop has referenced the Coldstar before. Looking at the current Tau Codex we find this section in the "Mantle of Heroes" section:

The Coldstar is referenced as "the space-going XV8-06 Crisis Coldstar" which has led most to believe that this is just a variant of the Crisis suit. It's also called "rare" which could help explain limited number of decals for the Coldstar – could this be a new Crisis Suit variant or a new Commander suit (which also use the XV8 designation)? What about the Enforcer? Could the Crisis suit and/or Commander Boxes be getting an upgrade?
What about the Strike Team and Breacher Teams? Those each appear to have enough decals to support at least 10 models – with enough extra decals for and extra 1-3 variants (or drones). What Infantry units could be getting an upgrade sprue? Could this be a completely new Tau Infantry Kit?
We can probably rule out The XX85 and XV86 being Broadside variants and we can also rule out the Strike Team and Breacher Team being tied to Pathfinders (if they are infantry). How? Lets look at our next clue…
Evidence B: Pricing Confirmation
We have confirmation direct from Multiple Retailers that Games Workshop is releasing the following products in their new form of reboxed kits:
Devilfish
Pathfinders
Stealthsuits
Broadsides
Piranha
While this may not be all the kits releasing we can definitely see a few key kits missing. Reboxed kits are also literal repackagings of the older kits into the new style Games Workshop boxes. If GW was to include a new sprue for the Broadside kit or the Pathfinder kit then they wouldn't have labeled them as straight Reboxes for their retailers.
The Tau Crisis suit (single) kit is only available direct from Games Workshop at this time and we know Fire Warriors are on deck to get a new box – they just haven't been announced yet. Could these point to the home of the upcoming new kits? And how do we know that Fire Warriors are getting a new box? Check out the next clue.
Evidence C: Fire Warrior Box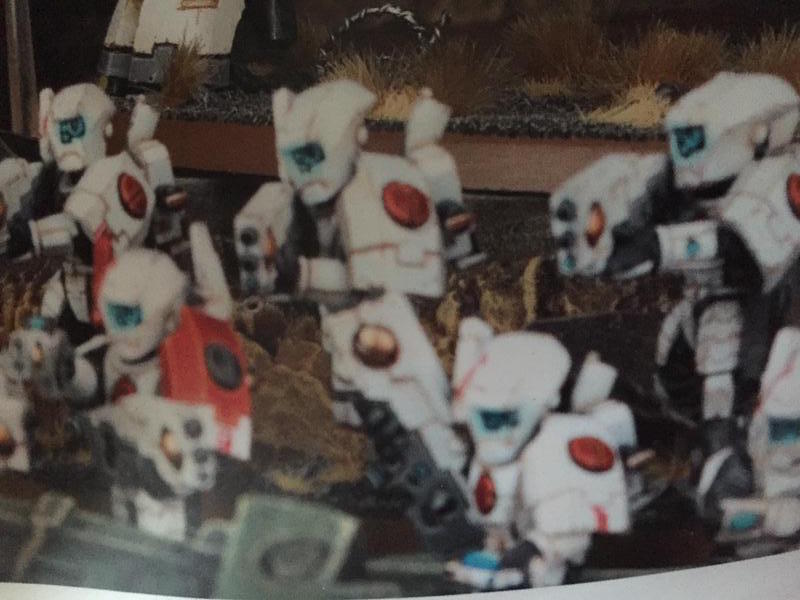 These are the leaked pictures from a few weeks ago. We can clearly see that the helmets are re-designed and the guns are different. Fire Warriors weren't listed in the Reboxing list and rumors of a new Fire Warrior kit have been swirling for awhile now. This is about as close to an official GW announcement as we're going to get until they actually announce the new Fire Warrior Kit. That is, of course, if those models are actually for Fire Warriors and not a completely new unit…
We also know that GW has been moving away from "resin" so it could be time to update the Tau Commander kit as well. The Commander could be a good candidate for the the XV85 Enforcer or the XV86 Coldstar – the numbering conventions line up considering Commander Suits are modified Crisis Battlesuits.
So what do you think? Based on what we know (new decals for unlisted units, reboxing confirmations from retailers, leaked photos of new Fire Warrior Sculpts) what is your best estimate? Are the Coldstar and Enforcer variants going to be new Crisis Suits (as in unit upgrade) or Commander Battlesuits? Are they going to be new Broadside sized suits (based off the XV85 / XV86 / XV88 numbers and decal size)? What about the Strike Team/Breach Team – new infantry units? I guess we'll all find out in a few weeks…
Forget the speculation – I want to find out if they are getting new rules for these new units!