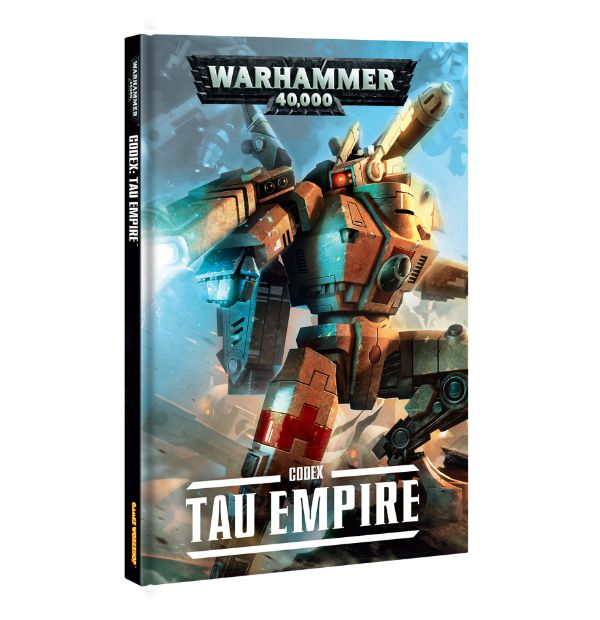 Submit to the Greater Good – The Tau Empire has arrived! They brought Pie…
I hope you were able to get your hands on Codex: Tau Ghostkeel Edition – if not, I guess you'll have to settle for the plain ol' regular edition. Tough break…but at least the new Tau kits can cheer you up!
via Games Workshop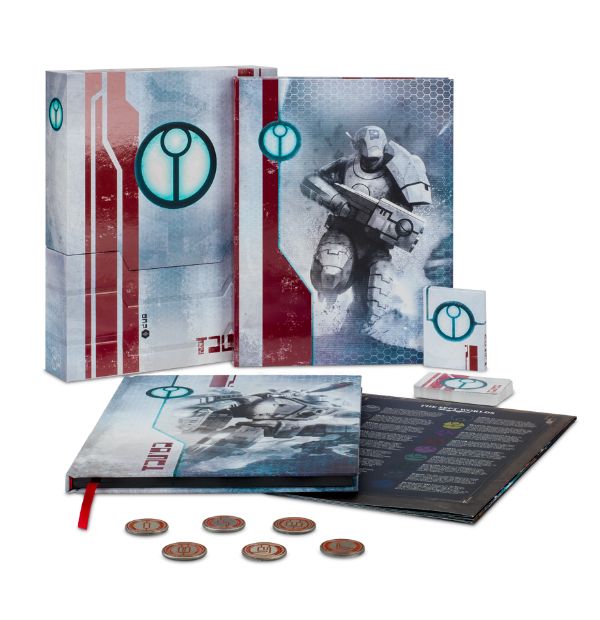 This luxurious, strictly limited to 1500 edition of Codex: Tau Empire is a must-purchase for the serious collector, comprising:
The full hardback Codex: Tau Empire

An individually numbered, beautifully produced box

Six metal Tactical Objective markers

Thirty-six Tactical Objective cards

Map-scale Codex cover artwork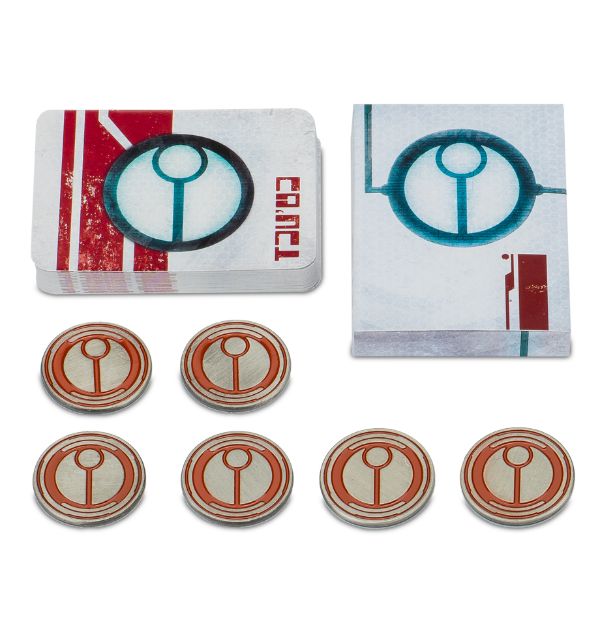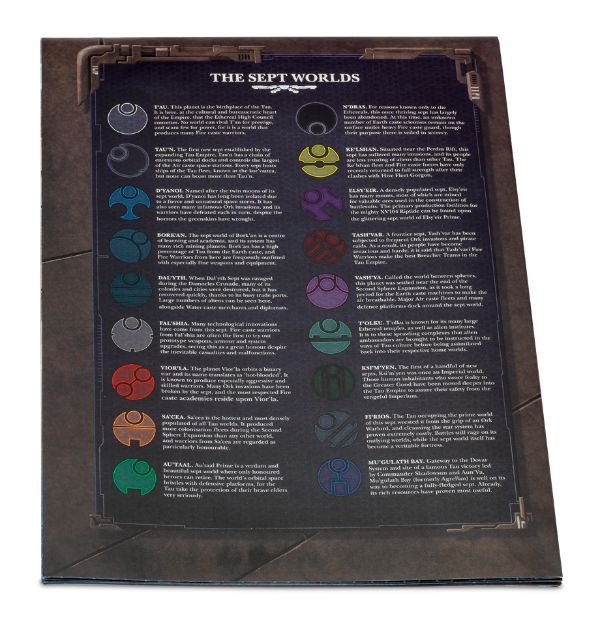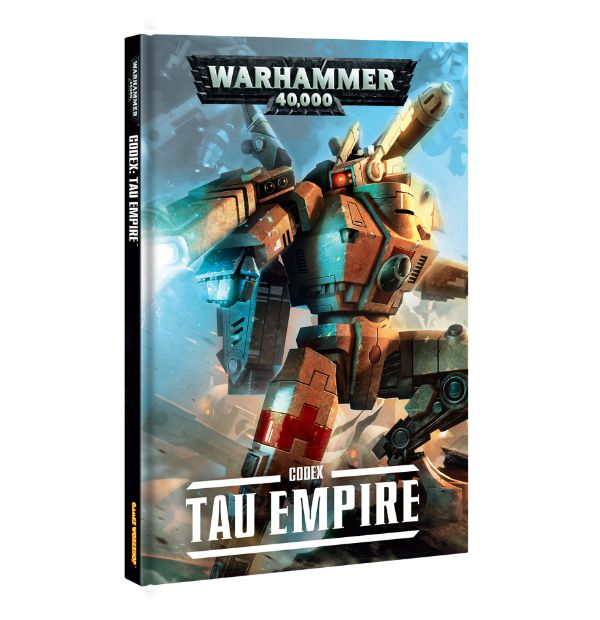 For the Greater Good!

An update/expansion to the currently-existing Codex: Tau Empire, this book contains rules and backgrounds for several new experimental weapons platforms – should you already own Codex: Tau Empire, we recommend purchasing War Zone Damocles: Kauyon – this features all the new expanded content, totally unabridged, with an awesome narrative campaign!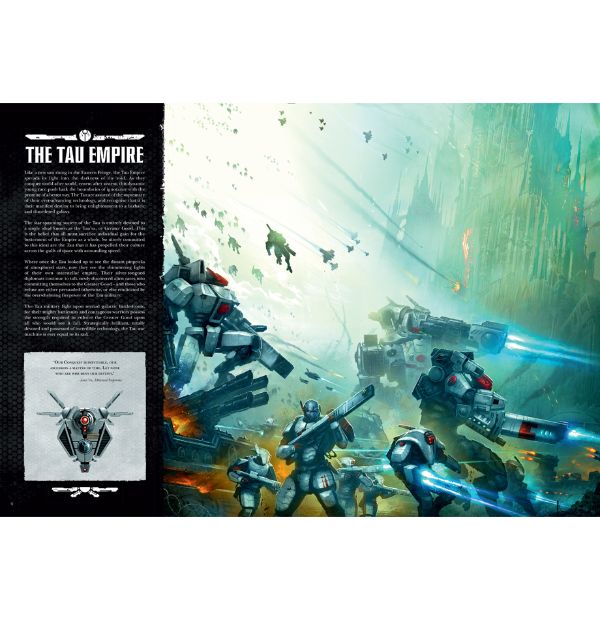 Using speed, resilience and hyper-advanced technology to win their carefully-chosen battles, the Tau Empire brings enlightenment at the barrel of a gun, absolutely convinced of the justness of their cause. Striving for the Greater Good, they venture ever further on their mission to assimilate or annihilate everything that stands in their path. Guided by their secretive Ethereal caste, led by immense battlesuits and supported by graceful, sleek gunships, the Tau use their cunning and tactical nous to catch enemies in carefully planned traps and lightning ambushes, obliterating the foe before they even realise war is upon them.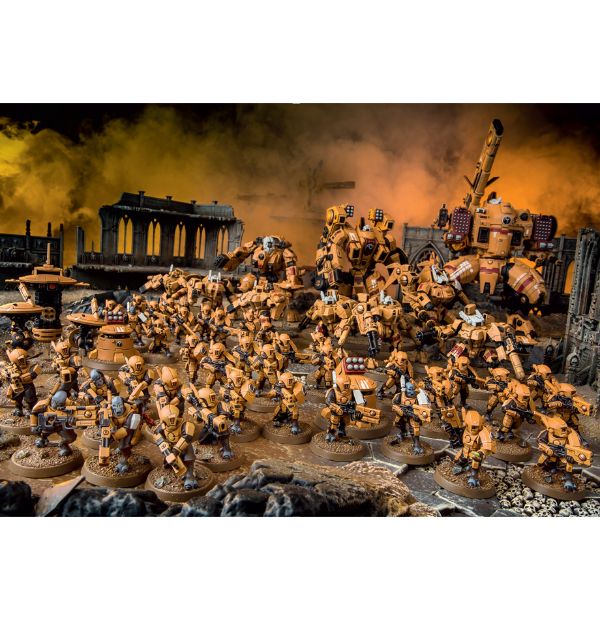 This 128-page hardback book contains:
The story of the Tau Empire, their philosophies, technologies and their rapid ascension to the status of galaxy-striding warriors

A showcase of beautifully-painted Citadel miniatures, demonstrating colour schemes used by the Tau and their auxillaries

A comprehensive army list, helping you to bring the enlightenment of the Greater Good to the battlefields of the 41st millennium

Lists of stunningly advanced wargear – pulse weaponry, drones, massive walking tanks – the Tau have it all

New formations, detachment and Warlord Traits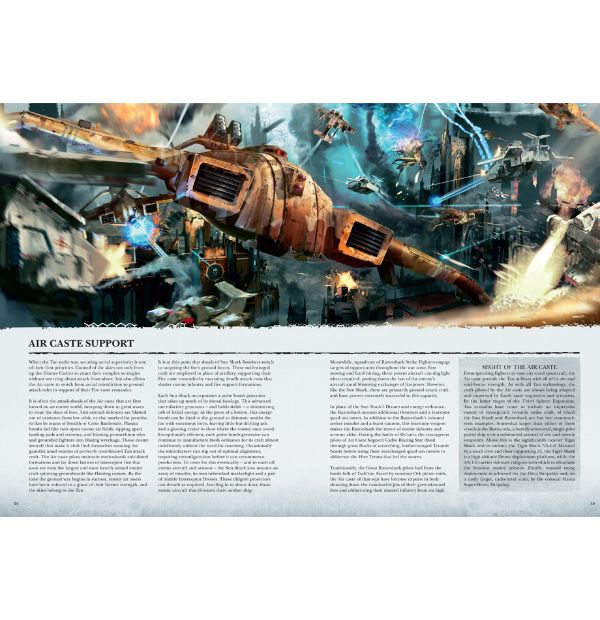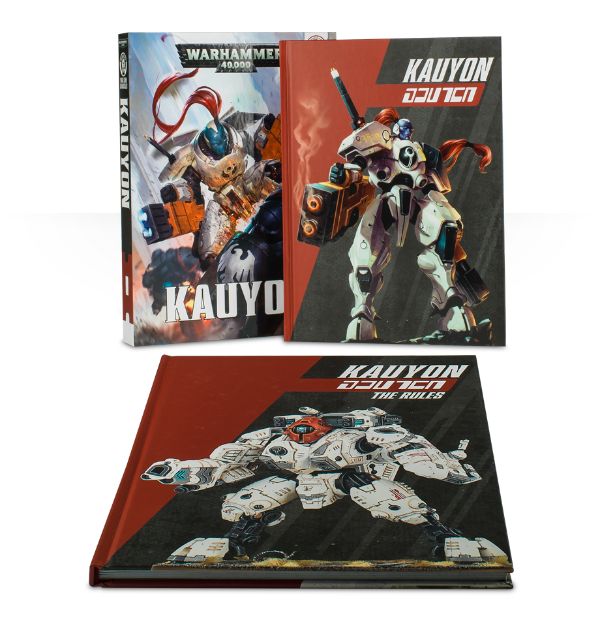 Already a hardened Tau Empire collector? We recommend purchasing this, rather than the updated Codex: Tau Empire – this book contains ALL the new rules and formations for the new miniatures, totally unabridged.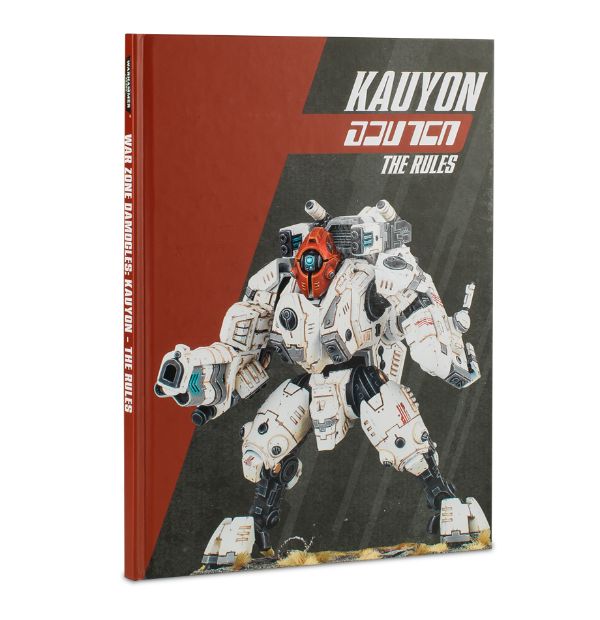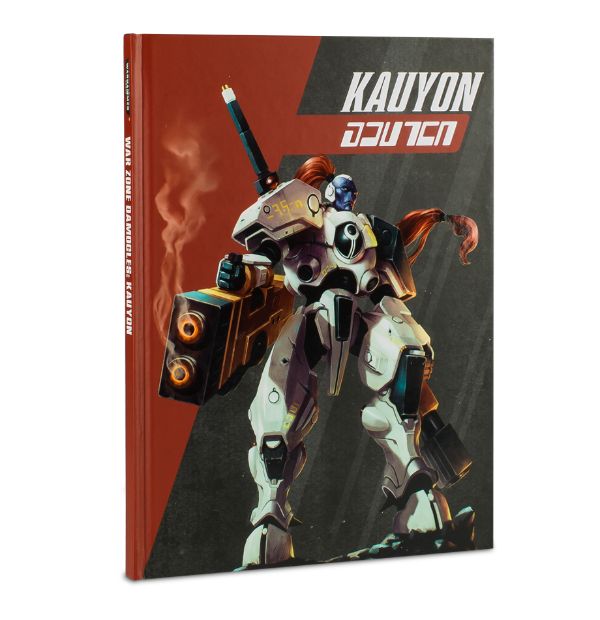 The Tau Empire has invaded Prefectia with an unprecedented display of force, intending to harness the incredible geo-electric potential of this fortress world to power their increasing incursions into the domain of the Imperium. Of course, this aggression cannot go unanswered – the Adeptus Astartes soon launch a blistering planetstrike that quickly becomes an uncontrollable, world-spanning war. They may have met their match, however, in the Fire Caste's greatest mind; Commander Shadowsun, heroine of the Greater Good and master of the strategy known as Kauyon.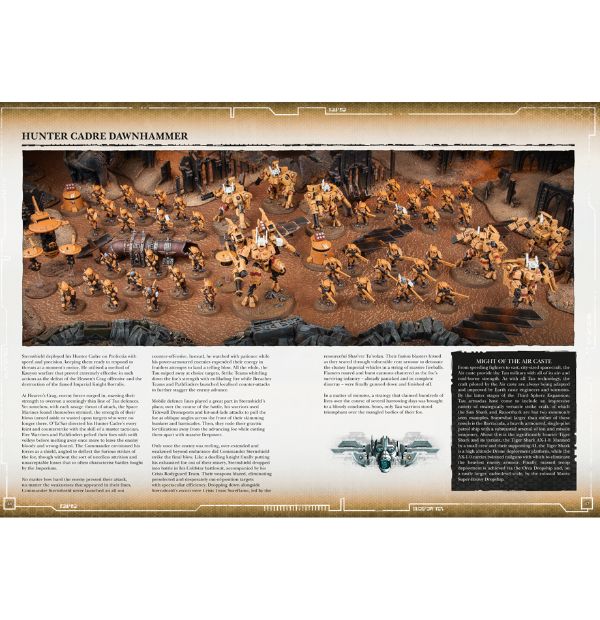 This two-book set contains a 120-page hardback narrative book, detailing the struggles over the fortress world of Prefectia between the forces of the Tau Empire and the Adeptus Astartes; and an 88-page hardback rulebook containing all the new rules content from Codex: Tau Empire – buy this, and you'll be totally up to speed with all the new Tau miniatures.
An iconic rendering of Tau technological progress and ingenuity, the XV8 Crisis Battlesuit is a thing of joy to behold in battle – unless you're its target. Skimming along on the jets of their repulsor engines, Crisis Battlesuits close on their enemy with a surprising speed, unloading their diverse weaponry and leaping away in a split second.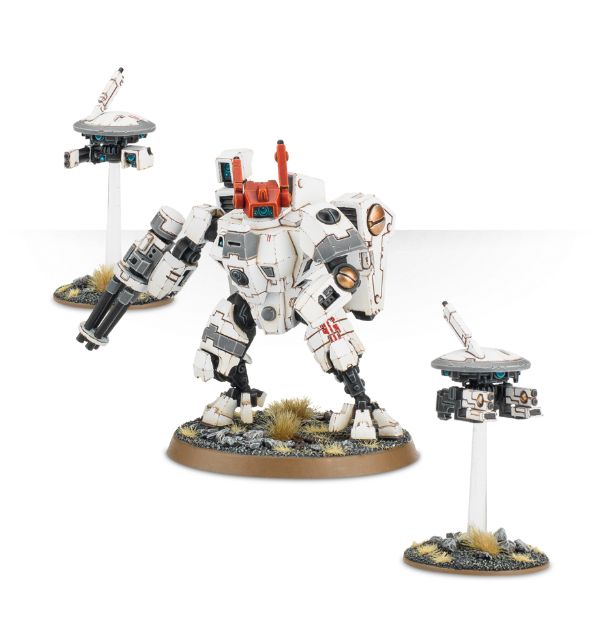 Only the best Tau warriors are allowed to pilot these machines, spending years on the front line before even being considered for this honour. Able to be dropped from a planet's upper atmosphere, slamming into ranks of enemies like a tidal wave, the XV8 Crisis Battlesuit is the ultimate balance of firepower, speed and resilience.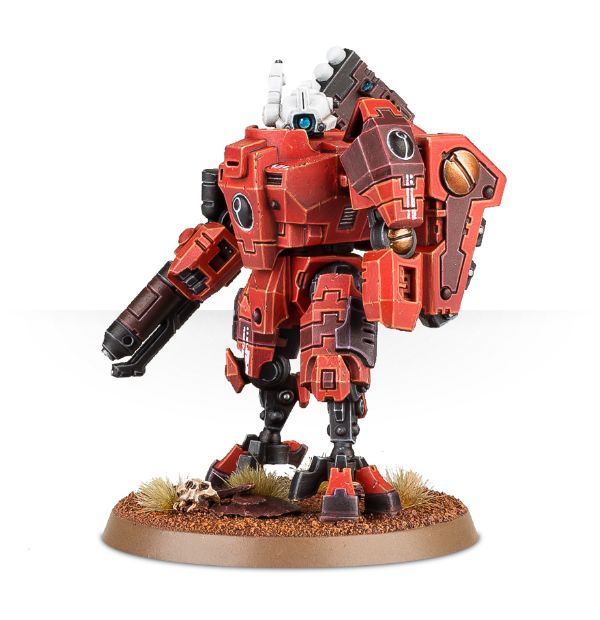 This multi-part plastic kit contains everything needed to build three XV8 Crisis Battlesuits, with six accompanying drones. There's an impressive level of customisation available, with ball fittings allowing unprecedented posability. One miniature can be optionally assembled as a Shas'vre, with special head and chest plate, and there's a prodigious amount of advanced Tau weaponry in the box: four plasma rifles, three flamers, four fusion blasters, four burst cannons, three missile pods and three shield generators.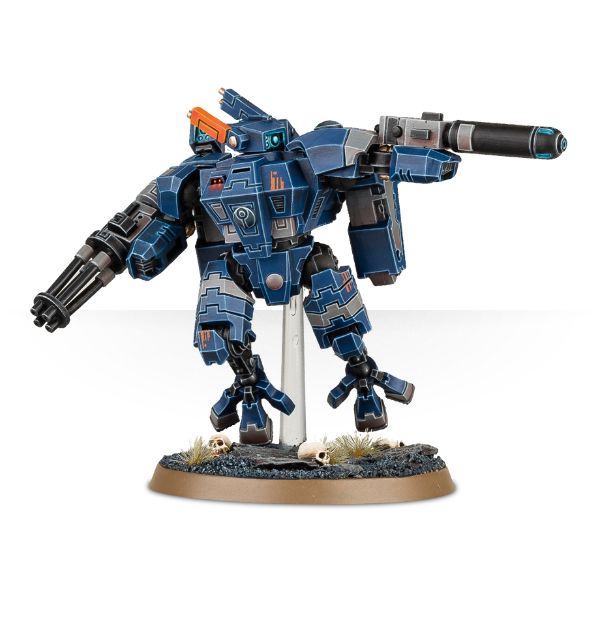 The six accompanying drones can each be built as gun, shield or marker variants and an assortment of battlesuit electronics systems are included. One model in the kit can even be built as the new, experimental Iridium-class XV8-02 Crisis Battlesuit – distinguishable by its thicker armour and aggressive appearance. Huge variety!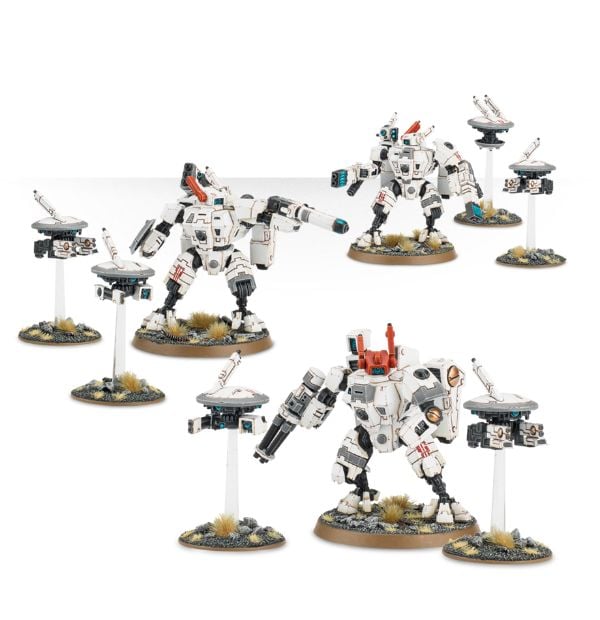 152 components are included in total, with three Citadel 50mm Round bases and three Citadel small Flying bases.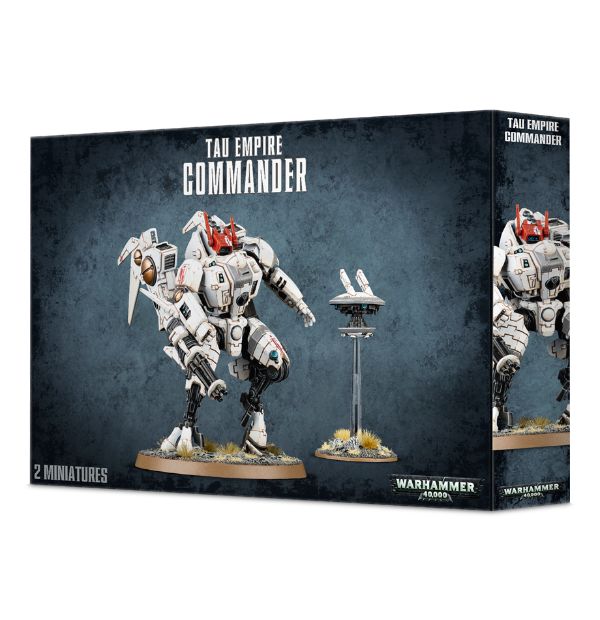 Swift and deadly, Tau Commanders pilot battlesuits of intimidating size and power. Of course, simply piloting a huge battlesuit doesn't automatically make a troop into a Commander – more than anything, it's the strategic nous and ability to adapt to unpredictable situations that stands this pilot out from the others. Many, many years of tireless dedication are required to reach this prestigious rank; every Tau Commander has achieved their status the hard way. Their XV-85 Enforcer Armour Crisis Battlesuits are armed with immensely destructive weapon arrays – flamers, ion blasters and frag projectors are amongst the optional loadouts, with electronic countermeasure suites and huge data-processing capabilities enhancing their battle prowess.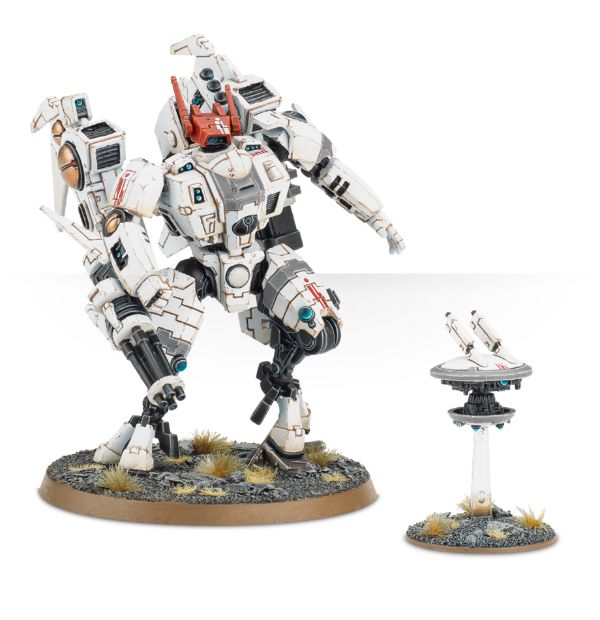 The XV86 Coldstar Battlesuit variant is covered in fins which streamline it, allowing super-fast movement across the theatre of battle, annihilating enemies with sharp shocks from its burst cannon. The on-board holophoton countermeasures and telemetry suites feed the Coldstar and its Commander pilot a massive variety of information that would overwhelm the untrained mind – instead, in this case, it allows the Coldstar Battlesuit to soar over its foes with a grace that enemy targeting systems simply cannot hope to catch.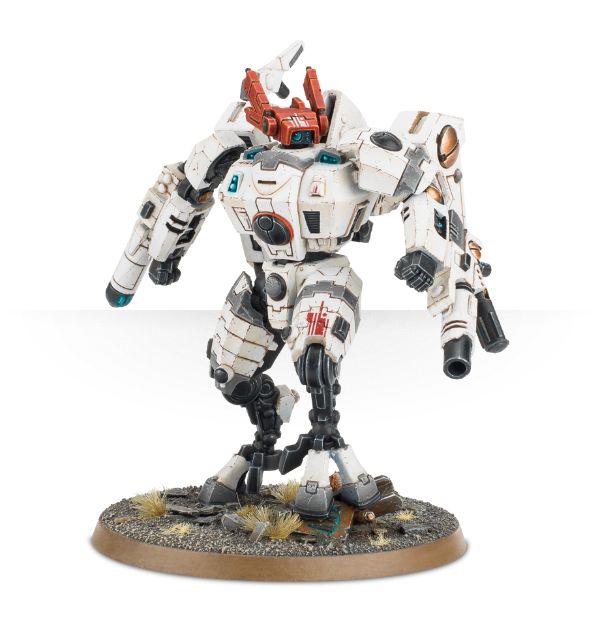 This multi-part plastic kit gives you everything you need in order to build one Tau Commander, in either an XV-85 Enforcer Armour Crisis Battlesuit or an XV86 Coldstar Battlesuit. There's an immense number of options available in the box – different heads, engines, leg and arm assemblies – and a ton of weapons! An airburst frag projector, a plasma rifle, a flamer, a fusion blaster, a cyclic ion blaster, a burst cannon (plus upgrade kit) and a missile pod. Included is a drone, which can be assembled as a gun, shield or marker drone.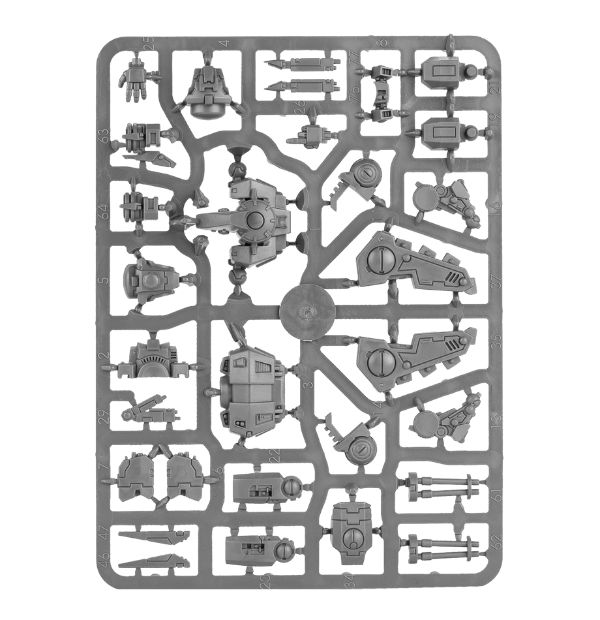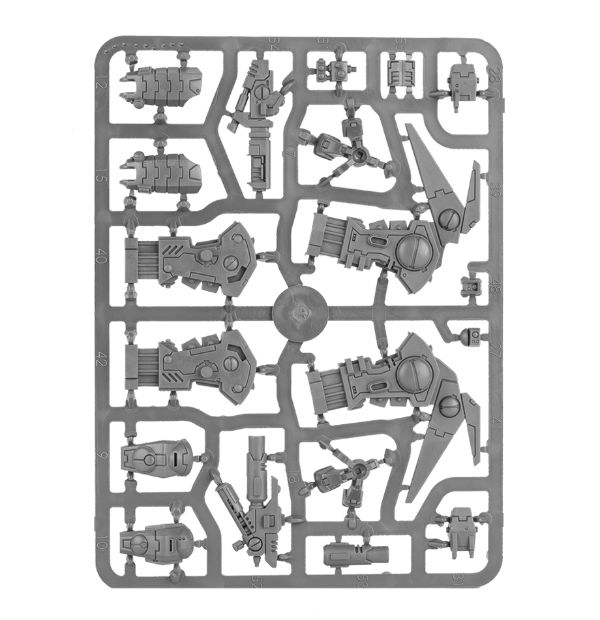 Seventy-seven components are included, and one Citadel 60mm Round base.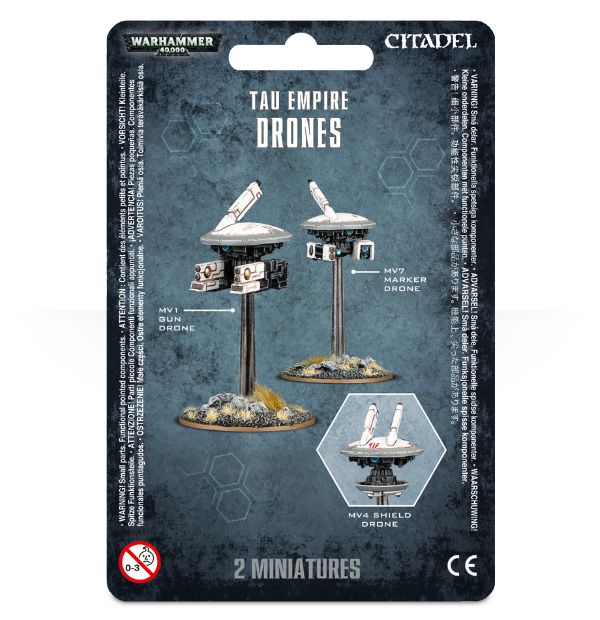 Darting through even the most hostile environments with ease, Tau Drones are guided by a networked AI of impressive capabilities. Data flows back and forth constantly between them, advising and distributing information on threats, optimal paths and targets instantaneously, creating a blanket of tactical firepower across entire battlefields. Were these drones merely information-gatherers they would be dangerous enough, but their abilities to create shields, mark targets and destroy enemies make them immensely useful offensive weapons as well as the definition of machine-cunning.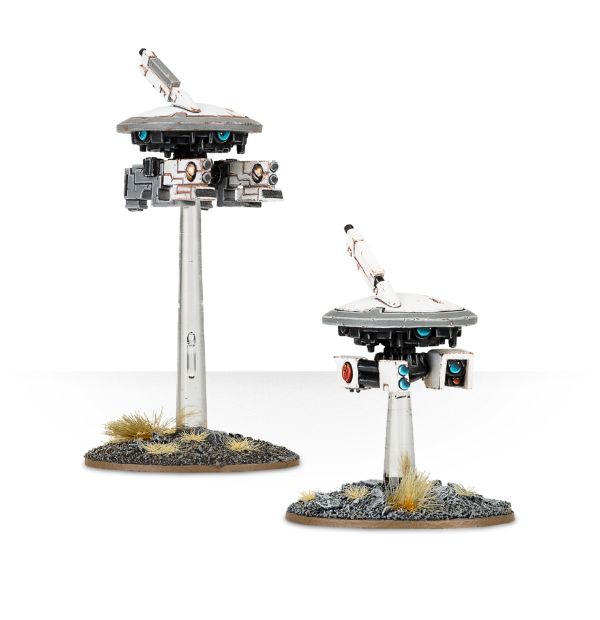 This multi-part plastic kit gives you everything you need to build two Tau Drones, highly-advanced and highly-mobile automata of the Tau Empire. You have the option of assembling any two of the following – one shield drone, one marker drone and one gun drone. Eleven components are included, with two Citadel small Flying bases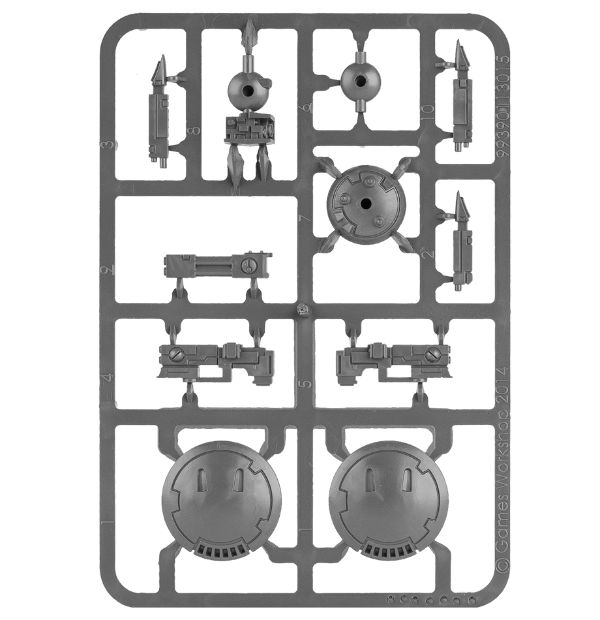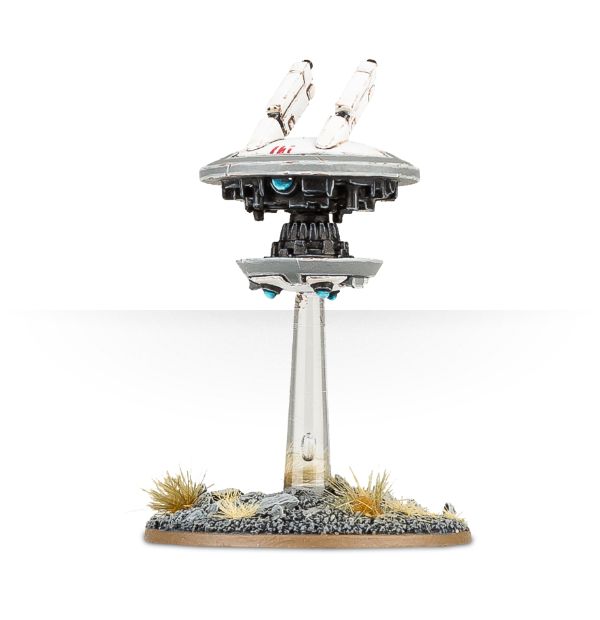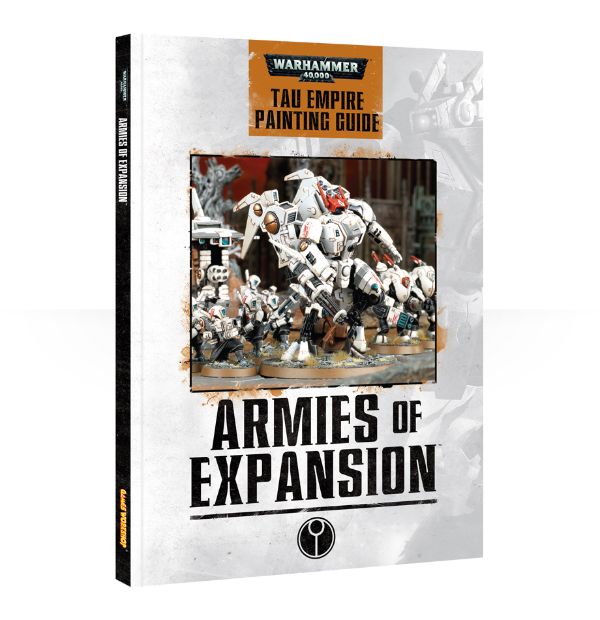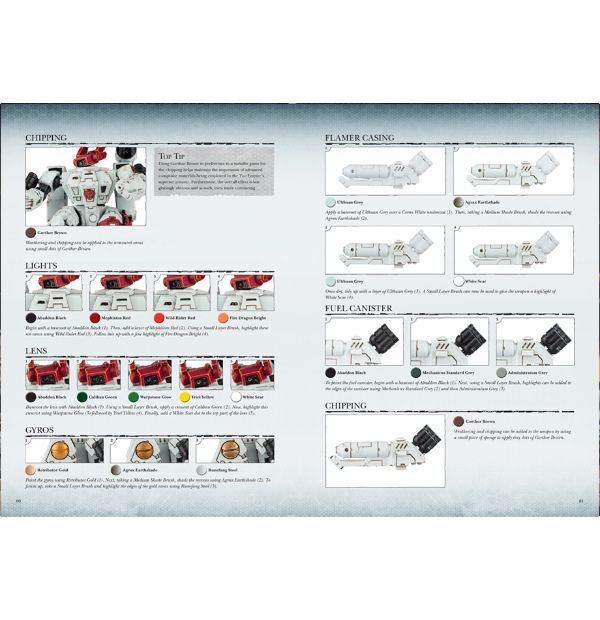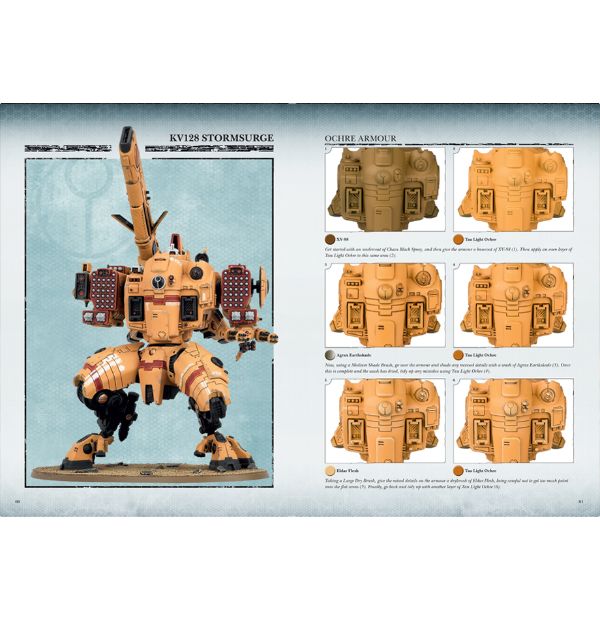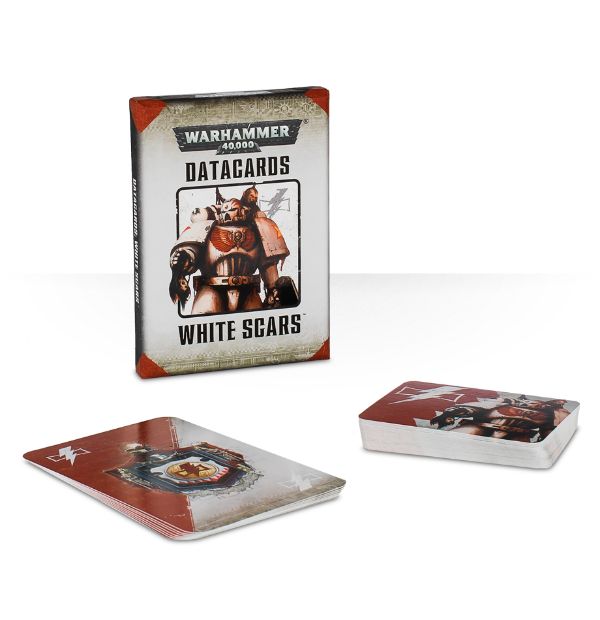 This set of Datacards contains six large-format cards detailing the six White Scars Warlord Traits, and a further card explaining how to use them. Also included is a full set of thirty-six White Scars Tactical Objectives cards, including the six unique White Scars Tactical Objectives.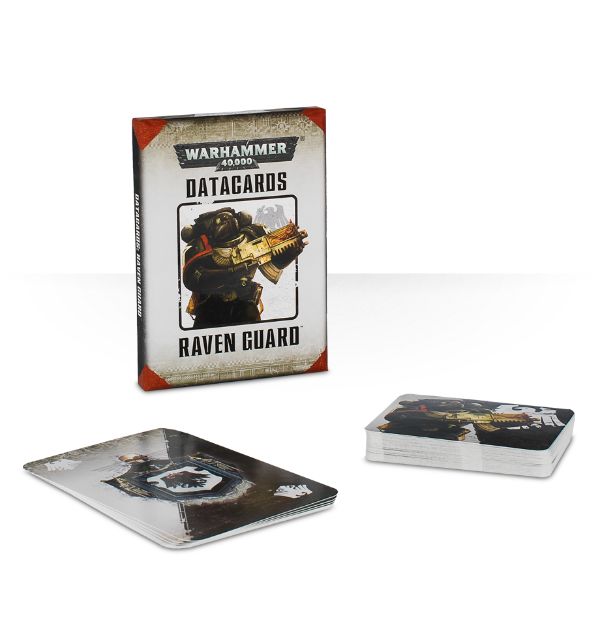 This set of Datacards contains six large-format cards detailing the six Raven Guard Warlord Traits, and a further card explaining how to use them. Also included is a full set of thirty-six Raven Guard Tactical Objectives cards, including the six unique Raven Guard Tactical Objectives.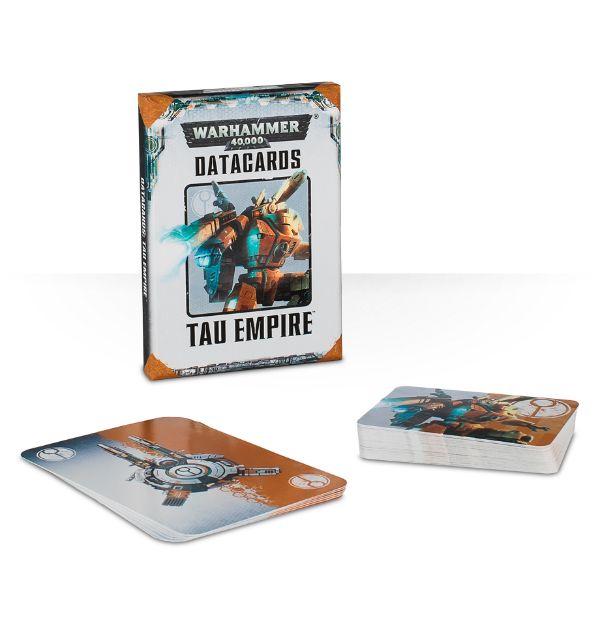 An essential purchase for the Tau collector, this set of Datacards includes six large-format cards detailing the Tau Empire Warlord Traits, with a seventh card explaining their use, and thirty-six Tactical Objective cards including the six unique Tau Empire Tactical Objectives from Codex: Tau Empire
Web "Deal" Bundles
That is a really solid set of new releases. The biggest shocker is the new Codex: Tau Empire book ($49.50) is "An update/expansion to the currently-existing Codex: Tau Empire" which is an interesting choice. To be fair they do suggest that if you're an already existing Tau Player (and have the previous Codex: Tau book) all you need to do is purchase the new War Zone Damocles: Kauyon set ($74). 
The new kits do look really cool! I even like the new poses for the Crisis Battlesuits. The Commander kit looks like it's going to be a lot of fun to build and customize as well. I'm also excited about the painting guide as it's going to be loaded with tons of great painting tips and tricks. While the examples are based on Tau models the techniques and tricks can be applied to any model painting. I think those are always worth a read.
This weekend also shows off some new data card packs for two popular Marines and of course the Tau. I'm also curious for more info about the Damocles sector. I wonder if this will stay a Imperium vs Empire conflict or if more factions will race to the action. Maybe GW is building up for a new over-arching campaign in the Damocles sector…I guess we'll wait and see!
I can't decide between the Robotech theme or the Battletech theme when I look at these Tau suits.