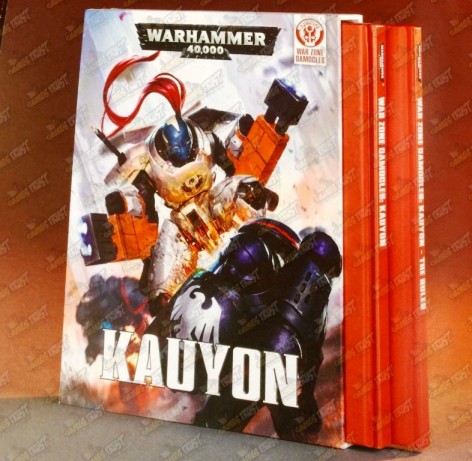 Someone has the new Kauyon campaign book early, and is spilling the delicious xenos beans. Come see all the new rules ASAP!
Via Iuchiban 10-23-2015
Grab some popcorn folks, it's Q&A Time with Iuchiban!
I have to say that there are not many:

– Riptides unit size is now: 1-3 (Same as Hammerhead, and Sky Rays) and get Fire Team rule (+1 to BS if unit size is 3 when shooting)
– Crisis bodyguards are now Elite
May be there is some other change, but I haven't seen it yet.

1. Are Hammerheads available in squadrons?2. Are Devilfish now available as separate Fast Attack choices?

3. Can normal Fire Warrior strike teams purchase the DS8 tactical support turrets, or are they breacher-only?

4. Is it true that a Commander in Coldstar armour has no access to Signature Systems?

5. What exactly does the Optimised Stealth Cadre formation do?

Ok, let's go:

1. Yes. Hammerheads and Skyrays

2. Yes

3. Yes they can. And by the way, max unit size is 12 for strike teams, 10 for breachers.

4. No, he can't. He can buy two Support systems.

5. IMO this is one of the best formations in the book. Ghostkeels and any Stealth Battlesuit unit in the formation at 6″ of the Ghostkeel ignore cover, add +1 to BS and hit vehicles in the rear!!!!!

BONUS:

Codex is soft cover (Don't know if this was known)

Markerlights (1 marker) can be used to increase the Destroyer Missiles from S8 to SD!!!!!

No, they are an HQ option

1. It is. Signature systems are pretty much the same.

2.They are not. They can be purchased normally (like a Fusion Blaster for example)

3. If target is at 12″ or less from the Ghostkeel, reroll to hit. It two units of the formation, shoot at the same target, target unit cannot run or move flat out next turn, and assault distance is halved (rounded down)

4. Elite

5. Not really.

No, only:

– Riptides
– Ghostkeels
– Hamerheads
– Skyrays

Armored Interdiction Cadre
– 3 Units of Hammerheads
– 1 Unit of Sky Rays
Rules: Choose a point in the battlefield. When shooting to a unit at 6″ or less from this point, reroll to hit.

Air Support cadre:
– 1 Sun Shark Bomber
– 1 Razorshark Strike Fighter
Rules: Ignore shaken and stunned with 2+.
Beginning of the turn, roll a D6 for each lost hull point. If you roll a 6, recover 1 HP.

Allied Advanced Cadre
– 4 units of Kroot
– 2 units of Vespids
Rules: Vespids get Infiltration and Stealth (Forests)
Kroot at 12″ from Vespid units, get Obscured (Forests) instead of Stealth (Forests), and get +1 BS
They all get supporting fire with other units of the formation.

Has the heavy rail rifle broadside been improved in any way? Thanks in advance.

No. Same. 60″, S8, AP1 Heavy 1.
So it looks like so far we're just seeing the base Tau stats and rules from the 6th Edition book buffed by the Kauyon campaign book that's en route (which should be no surprise to anyone at this point from the WD rumors earlier in the week).
Is this the first time in a long while Games Workshop is doing something players can get behind in a positive way?
May we live in interesting (hobby) times!