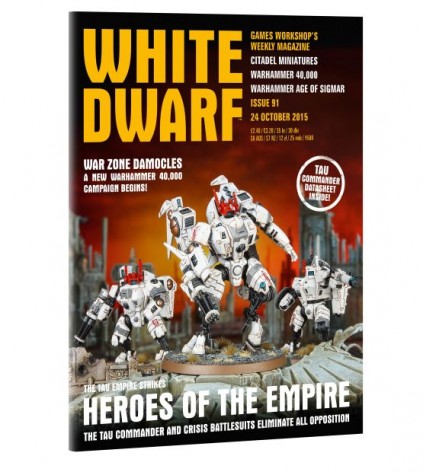 Come see the previews of the Tau Codex and Kauyon campaign book and the rules for the Tau Commander as well in White Dwarf #91
If you didn't pick up this issue yet, get your first look at the new White Dwarf.
This issue is so packed with features on the new Tau suits and rulebooks that there was no room for any hobby content!
Via Games Workshop
Description
The Patient Hunter strikes! White Dwarf 91 is here, and with it the Tau take their fight to the Imperium once more, with the release of War Zone Damocles: Kauyon, a brand-new campaign supplement detailing the next stage in the Tau's Third Sphere Expansion. And, what's more, the Tau are bolstered in their efforts by the release of the new Tau Commander and XV88 Crisis Battlesuits! We take a look at the whole lot, with full rules for the Commander (including the new XV86 Coldstar Battlesuit!), plus there's a look at the full might of the Tau's armoury of battlesuits in our Mantle of Heroes feature, as well as 'Eavy Metal, Armies on Parade, and more. Get one now.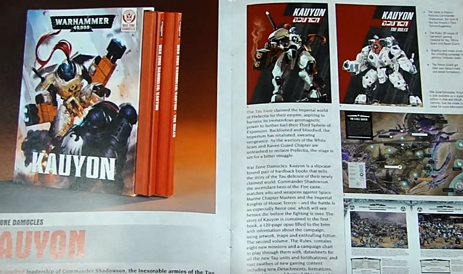 New Rules Enroute!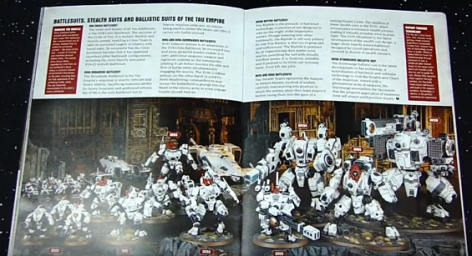 They grow up so fast…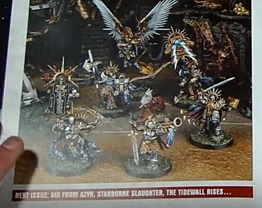 And the teaser is: New Age of Sigmar????
Hmmm nothing in there about Horus Heresy… What an ominous portent…