CMON: Arcadia Quest: Inferno FINAL HOURS!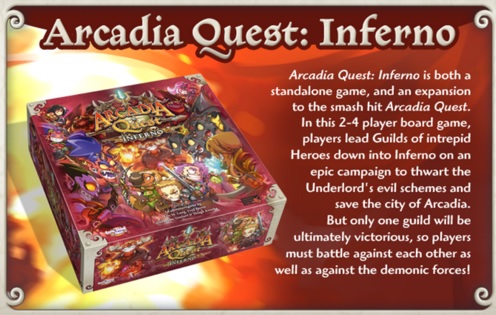 The last few hours are upon us – Get in on Arcadia Quest: Inferno and get a Hell of a Deal!
Join the +8,500 backers and get in on the action while you can –  It's the Final Hours of the Arcadia Quest: Inferno Kickstarter! It's a "Hell of a Deal" – literally!
via Cool Mini Or Not
Over the past few weeks, Arcadians have stepped up to make this a truly amazing project. Together, everyone has unlocked over 40 Stretch Goals, including expansions, new campaigns, plastic tokens, new Heroes, new Pets and more. We've also announced several great Add On expansions. The Arcadia Quest: Pets expansion adds a whole new dimension to your Arcadia games by allowing Guilds to take on Pet companions, aiding them in battle through different buff abilities. And let's not forget our new, big foes, the Arcadia Quest: Dragons! The Frost Dragon, Chaos Dragon, Fire Dragon and Poison Dragon (free to all bakers) are all set to take your games to the next level, offering new high level equipment and cooperative game play!

Here's a look at everything backers get for $100:

If you've already backed Arcadia Quest: Inferno, thank you very much! If you're interested, now is the time to head over and check it out. The core game, Pets, and three of the Dragons (Frost, Chaos and Fire) will all be available at retail down the road, but there are plenty of Kickstarter Exclusives that won't be available after the campaign ends.

Head on over to Arcadia Quest: Inferno's Kickstarter now. Only 24 hours left. Be a hero, back today!

For more about CMON's other titles, click here.

Subscribe to our newsletter!

Get Tabletop, RPG & Pop Culture news delivered directly to your inbox.

Stay up to date with the latest news and contests by following us on Twitter!
Okay – That's a LOT of swag to get for $100. They are currently pushing 1.5 million on a goal of 100k – so they've already crushed it and this project will be funded. If you're on the fence you can check out a bunch of their gameplay videos as well as other informational videos on their youtube page. It's hard to argue against the value of that $100 pledge with all the Kickstarter extras you're getting! And CMON has a fair good track record when it comes to board games. Now the question is do YOU want to get in on the action?
Hell of a Deal? I see what they did there…