Warlord Games: Bolt Action: Battle-Ready Pre-Painted Tanks!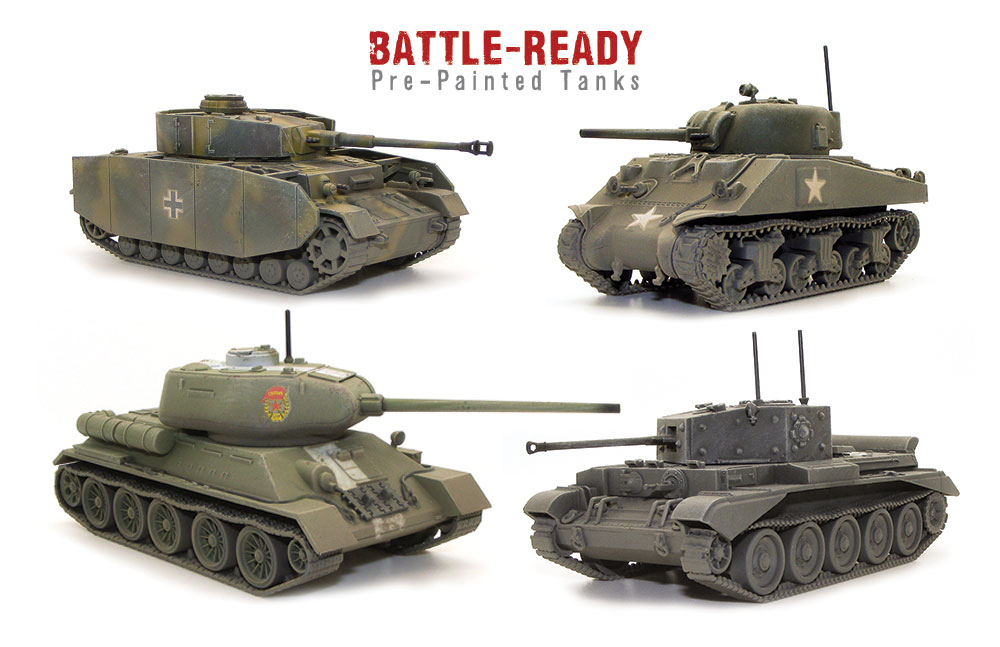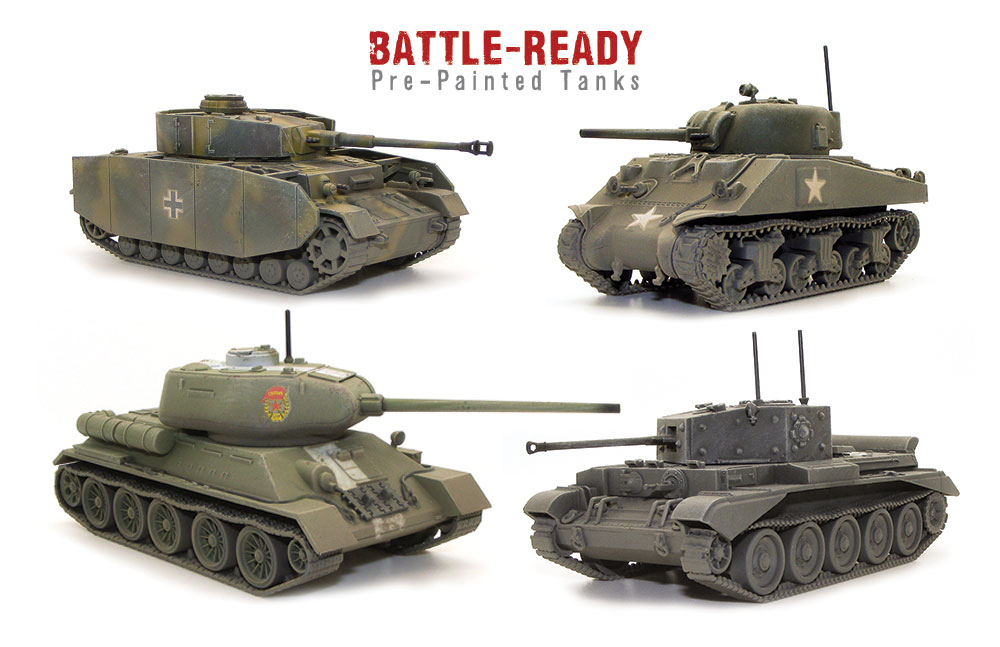 Bolt Action is getting Pre-Painted Tanks! And they look GOOD – check these out!
Warlord is getting in on the Pre-Paint game with these Battle-Ready Tanks. Take it away Warlord Games:
via Warlord Games, Gamewire
Ever wanted to start playing Bolt Action but been daunted by the prospect of painting your tanks? Have no fear – here at Warlord we've been striving for a way to make it as easy as possible to start your army, and are proud to preview our first pre-painted Battle Ready tanks to the world!

Based on our range of Warlord plastic tanks these premium versions have been built and painted to represent 4 of the most iconic tanks of WWII.

We've gone for simple colours and basic markings on each tank to allow you as much choice as possible when it comes to adding your own personalisation later:

These tanks are painted to allow you to get onto the battlefield as quickly as possible, and enable you to collect your force of 3 or more vehicles needed for Tank War and individualize each to suit the look of your own army.

Aerials and any mounted machine guns are painted but left unattached to avoid breakages in transit.

Remember that these tanks are hand-painted and each one will be unique – as such you can expect minor variations to the published images.

Whats more if you buy a 'Zug'/'Platoon' of 3 vehicles we'll include a decal sheet relevant to your choice, to add further markings to your tanks as you require, and a stowage pack for free!

Subscribe to our newsletter!

Get Tabletop, RPG & Pop Culture news delivered directly to your inbox.

Panzer IV
The Ausf H with its new muzzle brake and protective schürzen side skirts. A regular sight on late war battlefields, the Ausf H is one of the iconic Panzers of the war. It packed a punch with a deadly long-barrelled 75mm gun, giving it great hitting power. It was also mechanicaly reliable and had armour that had been doubled in places, after lessons learnt during the early stages of the war, greatly increasing its survivability.

By the time of massive battles in Russia in middle of the war the Pz IV was also carrying the detachable screen side armour known as schürzen. This was in response to the threat posed by Russian anti-tank rifles and, latterly, by Allied hollow charge bazooka style weapons. The PzIV is the backbone of your Panzer regiments!

Pre Order Single for New Year in Store
Pre Order Zug for New Year in Store

T-34/85
The T-34/85, the very symbol of Soviet military strength in the Second World War, had a large turret to house the more powerful 85mm ZiS gun. A supremely rugged and reliable tank, the T-34/85 had excellent off-road capability, especially in the marshland or snow of the Eastern Front, and was easy for the crew to operate and maintain.

The T-34/85's great strength lay in its adaptation of the T-34/76tank design which preceded it. This ensured a far smoother and faster production line than would have been the case with a completely new design. Another major advantage of the relatively simple design is the sheer number of tanks the Soviet tank factories could produce – by the summer of 1944 the Soviet war machine could produce more T-34/85s in a month than the Germans had Panther tanks in the whole of the Eastern Front!
Pre Order Platoon for New Year in Store

Cromwell Cruiser
The most produced Cruiser tank of the European theatre! Armed with a potent 75mm gun and with good cross country performance this vehicle was more than a match for the venerable Panzer IV! Cromwells were used in the 7th armoured division and in the armoured recce regts of the Guards and 11th Armoured Divisions. Even the 6th Airborne armoured recce regt acquired about 8 Cromwells in Normandy and kept hold of them during the Winter fighting in "The Bulge".
Pre Order Platoon for New Year in Store

M4 Sherman
The Sherman Tank was the main stay of the American army. The Break out from the Normandy beaches and the bocage could never been achieved without the armoured support. Although they had their weaknesses and were nicknamed 'Ronsons' by the Germans as they lit up the first time hit; their impressive firepower and large production numbers enabled the Allies to over power the Germans.
Pre Order Platoon for New Year in Store

These tanks will be rumbling into the Warlord Warehouse in time for New Year, so make sure you've put in your requisition form early to get your Battle Ready reinforcements!
The models aren't difficult to paint up to a table-top standard but it's nice to see these pre-paints looking as good as they do! You could use these as a great base to paint on or touch-up or you could just use them right on the table.
Bolt Action Pre-paints – reasonably priced and they look good! What's your favorite? Let us know in the comments below!