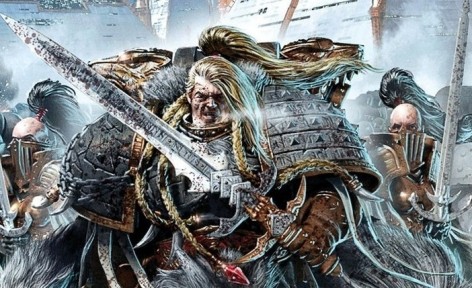 40k's Storyline is progressing with these new campaign books.  Look what was spotted about 40k's End Times in White Dwarf!
Portents of the End Times
First let's take a walk down memory lane via Lexicanum:
"Listen closely Brothers, for my life's breath is all but spent. There shall come a time far from now when our chapter itself is dying, even as I am now dying. Then my children, I shall list'n for your call from whatever realms of death hold me, and come I shall no-matter what laws of life and death forbid. At the end I will be there. For the final battle. For the Wolftime."
~Primarch Leman Russ – before his final departure into the Eye of Terror
And here's a self summary of other ongoing plot times from various codex and supplements:
A figure in Golden Armor appears at the Golden Throne of the Emperor (Dante chapter master of the Blood Angels believes this to be him).
Cypher, Master of the Fallen treks out to the Golden Throne allegedly to receive the Emperor's Forgiveness.
The Mechanicus reaches out to the Dark Eldar for help fixing the Golden Throne which may be failing.
Asdrubael Vect learns the wards locking a very troublesome webway portal deep within Commorragh are failing.
Deep within the Librarium Daemonic on Titan, something is stirring…
The Angel of Iyanden secretly plots to awaken Ynnead the God of the Dead to battle the Chaos God Slaanesh. Her plan may involve sundering the soul stones of all Eldar both dead and living.
A key is spotted locked away in the vaults of Titan that matches only one socket. It's only known receptacle is part of the Golden Throne itself on Terra.
Bel'akor surprise attacks the Imperial Fist's Phalanx in Terran orbit and tries to fire it's own guns on the Imperial Palace. He is thwarted by the ships emergency translation into the Warp where the battle rages currently.
The Wolftime Draws Near…
And now we get this from White Dwarf 105:
Via  Table Top Network 2-17-2016

Which translates roughly to:
"It's True the End Times Draw Near. The Wulfen can strike out of the Warp anywhere in the galaxy to fight alongside their brothers. 

Their savagery infects their Space Wolf Brothers…."
So it appears the Wulfen may have figure out how to emerge from outside the Eye of Terror and other "blighted" regions perhaps ushering in the End Times (Wolftime) that the Space Wolves themselves have foreseen.
The Ravening Jaw in Fenrisian mythology symbolizes the Wolftime, when Morkai will eat the sun and the stars and shroud Fenris in an eternal night.
… At the end I will be there. For the final battle. For the Wolftime. ~Leman Russ
For Russ, and the Emperor!