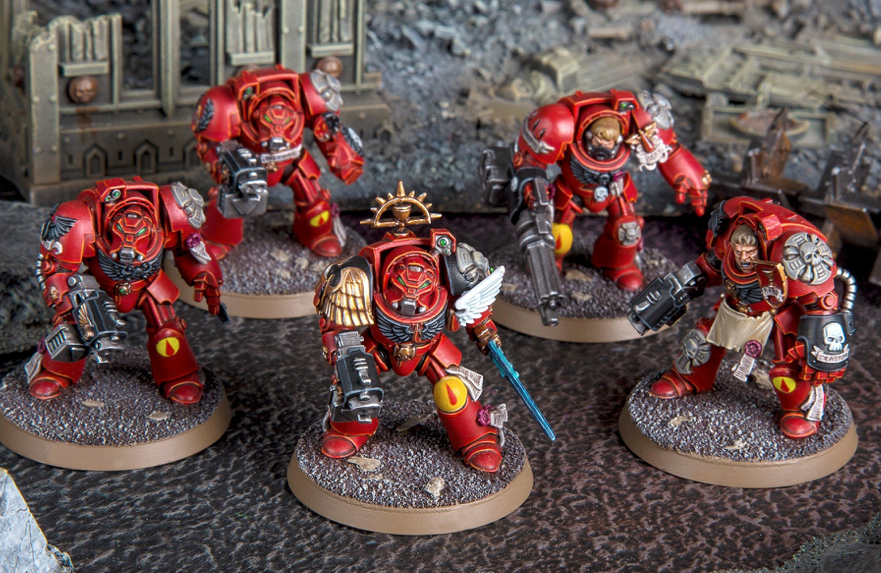 Fritz here…
to talk about Space Marine Terminators – a favorite for new players, and how to use them.
 One of the great things about the Warhammer 40K gaming universe is the infinite diversity of the factions and model range that
represents those armies- there are so many great miniatures to fall in love with and add to your collection. For me with Space Marines it's an obsession with Land Raider's and Terminators, and in this tactica article we are going to take a look at Space Marine Terminators and some ideas to keep in mind as they earn glory on the tabletop for the new player to 40K.
Since this is a base tactica article and many new players take advantage of the Dark Vengeance starter set we are going to focus in on
shooty Terminators over assault Terminators (for this article) since the storm bolter and assault cannon configuration comes with that set.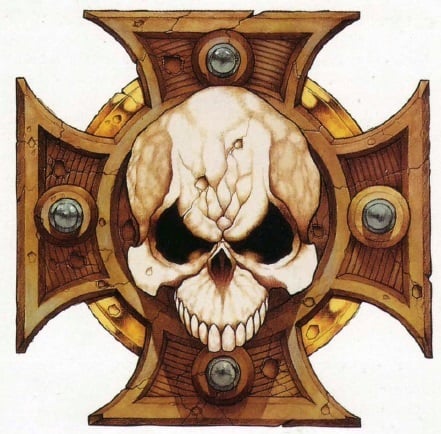 Terminator Basics
Building on the Space Marine stat line Terminators are a very powerful unit when used correctly due to their armor and the ability to
put out a fair amount of shooting and assault based damage. With this in mind many new players tend to focus on their invulnerable save and then their armor save, when it needs to be the other way around.
With only five in a unit these models should not be relying on the 5+ invulnerable save to stand up against plasma or other AP 1 or 2 fire. It's better not to take that fire in the first placev- think of the 5+ invul. to kick in when and if you make a tactical mistake.
The same can be said with the 2+ armor save- don't rely on it to keep your Terminators alive, but rather rely on the offensive capability
of the unit to keep them alive by wiping out the opposing units. Used correctly you won't have to make any saves on the unit, since they are blasting away taking out any threats (in game theory anyway…).

Terminator Firepower
Let's look at shooting next.
With the storm bolters and assault cannon they can put out a nice volume of dice at S4 and S6 generating a good amount of wounds. The strength of the assault cannon also has the potential to engage and wound/glace/pen monstrous creatures, high toughness models, and even vehicles.
While it can, you should avoid this if at all possible.
Why?
Let's say a Rhino transport full of Chaos Space Marines is coming towards your terminators who are holding a small but vital hill. If you
shoot at the Rhino, the assault cannon can glance/pen it, but what about the storm bolters?
They will "bounce" off and those dice are wasted dice since they didn't cause any further action to take place.
Better to shoot something else into the Rhino and use the Terminators to shoot into the Chaos Space Marines that disembark where all of
the dice – storm bolter and assault cannon can cause wounds.
Likewise charging into the assault can then be used as a follow up action as long as the opposing model count is low enough so they when they strike first there will not be a large volume of wounds taken where you have to make your 2+ saves, and your power fists and sword can wipe out the unit. In this capacity Terminators are used as a good follow-up unit, often working with Tactical Marines to pinpoint key places where their storm bolter and assault cannon can do the most damage for the tactics to build on.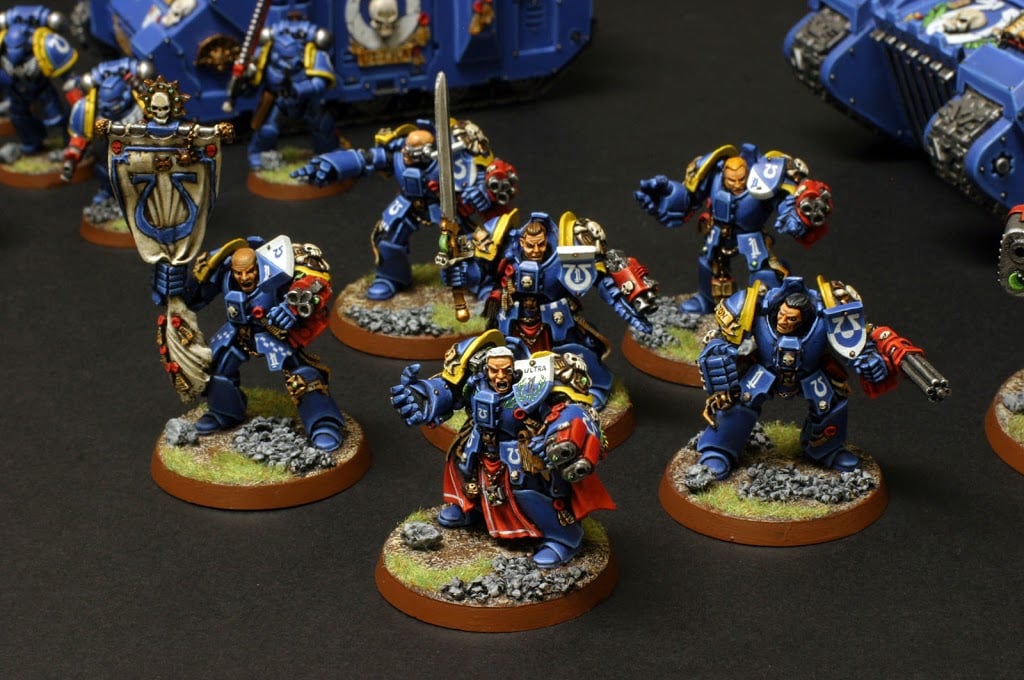 Protecting Your Terminators
Things to watch out for with your terminators…
Be wary of volume of dice as that is what bypasses your 2+ save- roll 20+ dice and a number of "1" will come up- and when you only have five models in a unit you can't afford to lose even one!
In this way a unit like Chaos Cultists LOOKS weak- T3, no armor save, S 3 guns, but in large numbers they can be a threat just on all the dice they put out in shooting.
Likewise be cautious about getting stuck in and bogged down in the assault phase.
A common and very effective anti-Terminator tactic is to swarm them with large fearless units such as Tyranid Gaunts in synapse and while the Gaunts might not be able to kill the Terminators, in return they won't ever kill enough to wipe out the unit in the assault, and will just be locked in the assault for the entire game.
How do you suggest getting the most out of Standard Terminators?