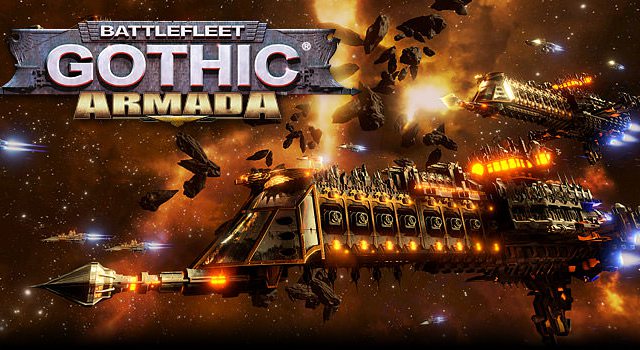 Battlefleet Gothic ARMADA is rolling out the deals. There is a special early adopter deal on STEAM right now, and a sexy new trailer!

"We are thrilled to announce the beginning of pre-orders for Battlefleet Gothic: Armada!

In order to reward the commitment of players who will support us during the pre-order phase, and those who will join the community during the first couple of months following the game's launch, we decided to offer to these early adopters, for free, an additional faction – the Space Marines – which will be available to play a few weeks after launch.

This additional faction will be playable in battles played in both Multiplayer modes and in skirmish against the AI. Players who pre-order the game will also receive access to the Multiplayer Beta, that will start a few weeks before the official launch.

Finally, we would like to remind you that until Friday evening, Games Workshop has a place of honour on Steam with exceptional discounts. This is the perfect opportunity to pre-order Battlefleet Gothic: Armada (10% off)."
Spectacular in-game space battles pit the Imperium against the Chaos for the first time

Battlefleet Gothic: Armada, the new RTS based on Games Workshop's tabletop game, is for the first time unveiled through pre-alpha gameplay covering the basics of what to expect from Tindalos Interactive's new game.

Developed on Unreal Engine 4, Battlefleet Gothic: Armada is an RTS in which the player takes command of one of these battlefleets composed of the most powerful spaceships from the Imperial, Chaos, Eldar and Ork forces, in a no-quarter given struggle for the control of the Gothic sector of space.

Featuring many different game modes including dramatic battles in both single and multiplayer, against players and the AI, and a full single-player campaign pitting you against Abaddon the Despoiler, Battlefleet Gothic: Armada will have you unlocking and upgrading the ships in your fleet as well as specializing the captains that helm them, each with their own behaviors.

Featuring an ambitious campaign against Abaddon the Despoiler, command the Imperium fleet throughout the Gothic sector, securing systems and making choices that will affect the story along the way. In the campaign, you'll meet – and perhaps more! – the Eldar, and the enigmatic Space Marines as you try to vanquish the sector of Chaos influence.

Each faction has its own strengths and skills. The Imperium are heavily armored with a lot of torpedoes, powerful macro weapons and harness the awesome nova cannon. The Chaos are fast, with a longer range than the other factions, utilizing powerful lances.

Learn the basics of Battlefleet Gothic: Armada by watching the exciting new gameplay trailer, and look forward to the release in 2016 on PC.
It looks like the game will ship in March, but in addition to a 10% discount, early adopters will get the Space Marine faction for free as opposed to paid DLC.
Admirals report to the bridge!