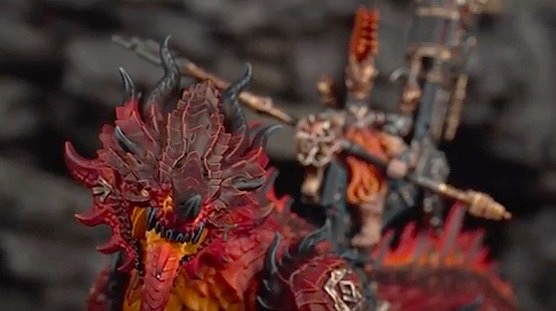 The Fyreslayers, the scions of the duardin god Grimnir, have arrived – with MAGMADROTHS!
This week we get to see a release of the Magmadroth and the Fyreslayer Battletome.
Mniatures Review
This one is kind of a mashup in my book.
The Magmadroth itself is quite a nice miniature.  It's big, beefy and looks downright scary.  The detailing and pose is good and gives the monster a sense of both scale and mass.  I REALLY REALLY enjoy the obvious eastern design elements, perhaps a first since the "culturally awkward" Nippon Rocket Crew from 1987…  I was always saddened that we never got to visit Grand Cathay or Nippon in WFB, but the Magmadroths make me imagine the amazing beasties over there – that we Old Worlders just never got to see.
Now while I really enjoy the beast, the Fyreslayer riders and especially their "saddle-howdah" thing is not up to snuff. The three Fyreslayer characters have very uneven poses including the "Titanic: I'M KING OF THE WORLD" one that looks ridiculous.  The saddle element seems tacked on and cobbled together from plasticard and extra Dwarf weapon bits.  It's not a very strong design and clashes mightily with the sinewy curving lines of the Magmadroth.

Image via Stuff of Legends (GW has come a LOOOOOONG Way!)
3.5 stars out of 5
~What do you think of the new minis?  Also doesn't Magmadroth sound like a Skandanavian Black Metal band?