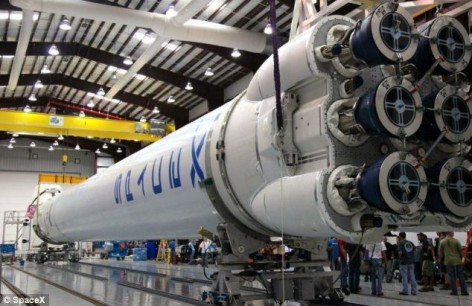 Landing a rocket is hard, but not as hard as landing a rocket on an ocean platform…
SpaceX won a contract from NASA in 2008 to develop a resupply vessel to ferry food and equipment to the International Space Station – they started making trips in 2012 and has made 15 since. The company's goal throughout the process has been to produce a system with as many re-usable parts as possible. The first test systems had parachutes that allowed them to be retrieved, but was scrapped and replaced by a landing system. So far those returns have been on dry land…
If you want to get into the tech, a more detailed video of a launch and satellite deployment that can be found here.
Now the SpaceX team is trying to land on this barge with the nerdiest name for a landing platform ever: "Just Read the Instructions"


… which is proving to be difficult.

The wreckage made it back to shore a few days later…
"Identifiable debris aboard the landing ship includes the Falcon 9 rocket's engine section, which has nine Merlin 1D powerplants arranged in an "octaweb" configuration. For the final landing burn, only the center engine fires to slow the rocket's descent….
… one of the four landing legs at the base of the rocket failed to lock, and the landing gear crumpled after an otherwise smooth touchdown, causing the booster to tip over and break apart in a fireball, throwing wreckage across the football field-sized ship."

There's still a lot of work to be done, but there's little doubt that the engineers will figure this one out. I'm looking forward to seeing a successful landing. To keep up with SpaceX check out:
Elon Musk's Twitter and Instagram
SpaceX's Twitter, YouTube, and website.
What aerospace projects are you keeping an eye on?