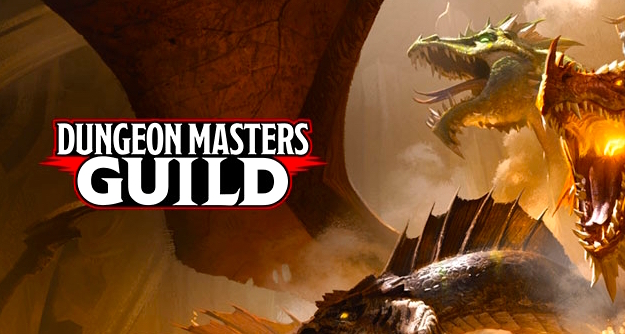 Wizards just opened up a brand new marketplace for homebrew D&D material.  You've got to see this!
This a BIG DEAL.  An entirely new way to not only buy, but create and GET PAID for making Dungeons & Dragons content is here from Wizards.
Take it away Wizards:
There's a new way to buy and share D&D adventures. With the Dungeon Master's Guild, you'll be able to self-publish material set in the Forgotten Realms using monsters, spells, characters, and locations.

Dungeons & Dragons is all about creativity. For more than 40 years, the folks who spent the bulk of their time creating amazing adventures, those noble Dungeon Masters, did not have a convenient outlet to share them with the gamers who weren't sitting at their table. You either had to raise money to publish a physical book or zine on your own, or convince a publisher you had the chops., The Dungeon Master's Guild puts the power to share that creativity firmly in the hands of the DM.

The Dungeon Masters Guild is a collaboration between Dungeons & Dragons and our friends at OneBookshelf, and it is designed to support and reward you – whether you're an experienced DM or just starting out. Today, you can upload your creations to the DMs Guild website, as well as browse submissions from some of gaming's most esteemed designers.

For the first time ever, you'll be able to self-publish material set in the Forgotten Realms. Set your side trek in Neverwinter or Baldur's Gate, have your characters go toe-to-toe with the Xanathar, the beholder crime lord of Waterdeep, or fall in with some traitorous drow in Menzoberranzan. With some exceptions noted on the DMs Guild website, the Forgotten Realms is at your fingertips.

You can set whatever price you like for your creation; you can give your new monster away for free or charge a few gold coins. If you do decide to ask for money, you'll get half of the revenue while OneBookshelf and Dungeons & Dragons will split the other. We care about our creators and that's why they get the biggest cut!

Creators can upload whatever kind of Forgotten Realms material they'd like to the Dungeon Masters Guild, but we'll be featuring side treks, monsters, and backgrounds on the site. At this time, the Guild is only accepting Forgotten Realms material that uses the fifth edition Dungeons & Dragons rules. For everything else, we've updated the Open Gaming License so that publishers can continue releasing their own material.
Read more about the updated OGL here
So the guild is starting out limited to the Forgotten Realms setting for now, but Wizards comments on thier Facebook page says this is just a starting point.  The cash split is 50% to the author and 50% for Wizards and OneBookshelf.com.
~ What do you think of the new marketplace and the updated OGL?