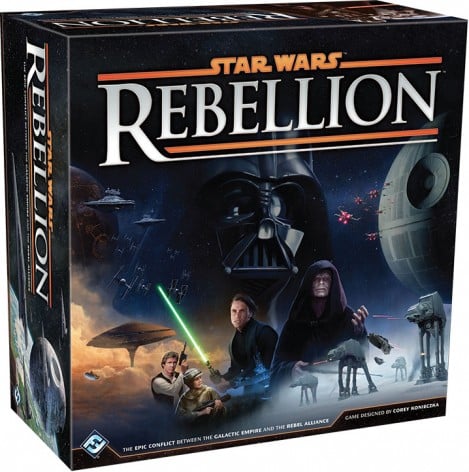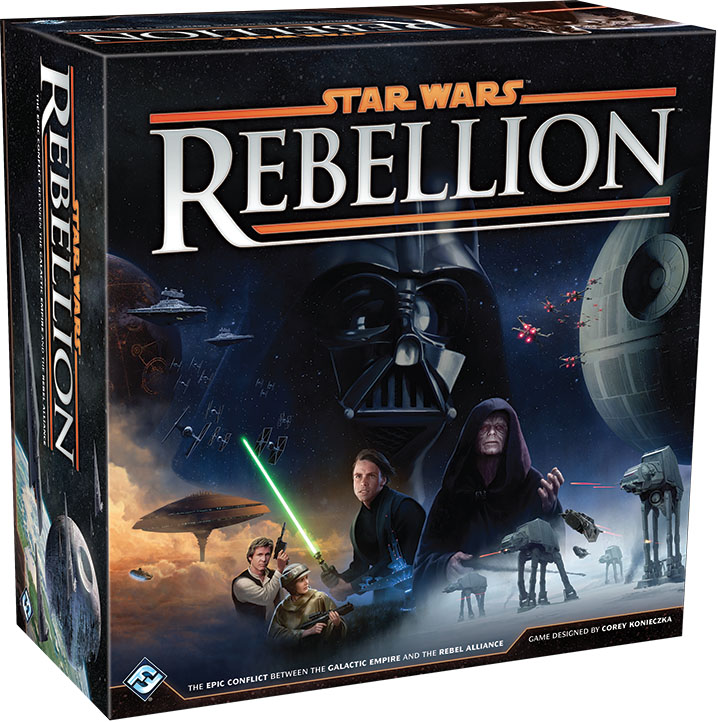 A Galactic Spanning Conflict is going to take Resources to run – Let's take a look on how that works in Star Wars: Rebellion!
We're continuing our break-down of the new board game from Fantasy Flight Games, Star Wars: Rebellion. We've covered the Basics, Leadership, Heroes and even Combat. Now we take a closer look at how you get the resources to wage Galactic War!
via Fantasy Flight Games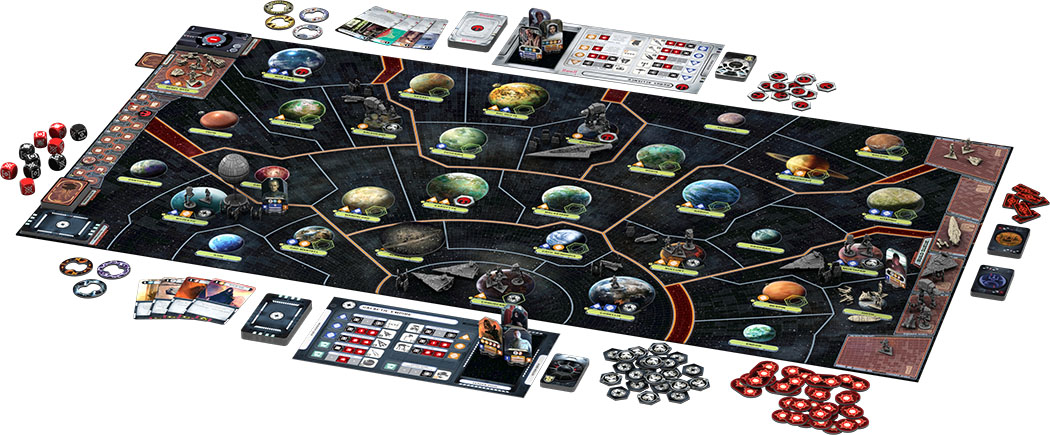 The Refresh Phase

The Refresh phase stands apart from the other phases of Star Wars: Rebellion. All the player actions from the Assignment and Command phases can be summarized in just two sentences, but the decisions that you make lead to all sorts of action, adventure, and battles with far-reaching consequences. On the other hand, the Refresh phase features a half-dozen different steps, but they tend to flow very quickly.

Launch Probe Droids: The Imperial player draws two probe cards.
Draw Objective: The Rebel player draws one objective.
Advance Time Marker: The time marker advances one space along the track. If it lands on a space with a recruit icon, you draw two cards from your action deck and recruit one of the leaders shown on those cards, adding it to your leader pool. If it lands on a space with a build icon, you generate new units based upon the resource icons in the systems that are loyal to you or that you have subjugated, and you add those units to the build queue.
Deploy Units: All units slide one space down the build queue, and all units that slide off the "1" space are deployed to loyal or subjugated systems. The Rebel player deploys first.

In many respects, the Refresh phase can feel somewhat automatic, and its action often seems more fated or inevitable than the action of the Assignment or Command phases. Nonetheless, you will also be required to make some monumental decisions in the Refresh phase – even if those decisions might not feel monumental at the time – and its seemingly automatic actions owe directly to the choices that you made in previous rounds or phases.

The first thing you do in the Refresh phase is retrieve your leaders, and while it may sound exceedingly simple, there are a number of notable complications.

First of all, the Galactic Empire has access to a number of missions, including the basic mission Capture Rebel Operative , that permit the capture of Rebel leaders. When the Imperial player successfully captures one of the heroes of the Rebel Alliance, that leader is slotted into the Captured Leader attachment ring, one of several rings that define specific game states and rules for the leaders within them. Given how important your leaders are to your strategy, you cannot afford to lose them and fall behind in the number of actions you can take each turn. Accordingly, if your Rebel leader is captured, you will want to rescue that leader as quickly as possible by completing a Daring Rescue or a similar mission.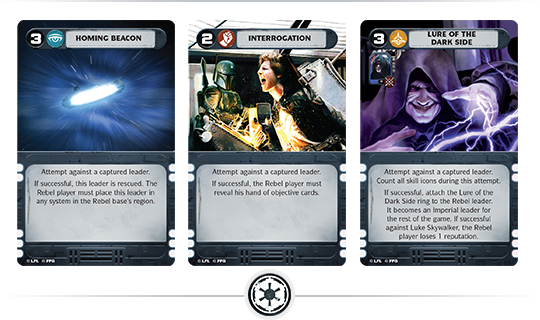 At the beginning of the game, you start with six missions – your four basic missions and the top two cards from your mission deck. This means that even if you choose not to attempt any missions, you do not have to worry about discarding missions until your third Refresh phase. However, if you allow yourself to draw past your cap, you may lose out on some valuable opportunities.

Every Refresh phase pushes the game closer toward its climactic conclusion. As it draws probe cards, the Galactic Empire narrows down the number of systems in which the Rebel base could possibly exist. And each objective card offers the Rebel Alliance a new way to make itself heard.

The hidden information of Star Wars: Rebellion plays heavily into the game's experience, even as it takes a different role on the different sides. Every time you draw a probe card, or every time you draw an objective card, you are adding to the amount of hidden information existing within the game, and that means the stakes are always rising.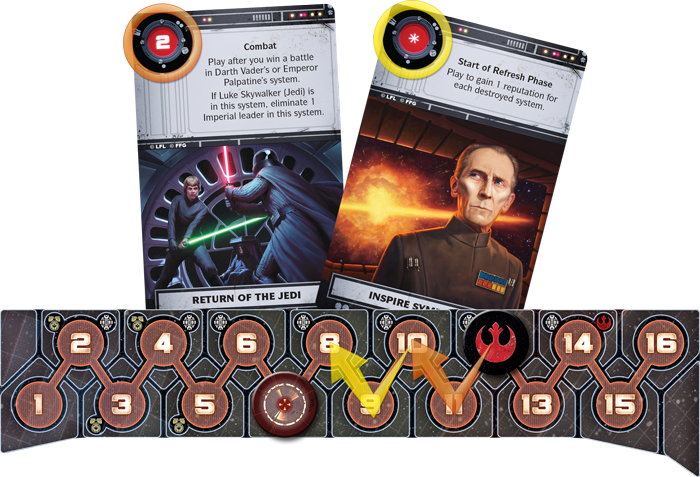 Each Refresh phase, you advance the time marker one space along the time track. In addition to bringing the Rebel Alliance incrementally closer to its victory condition, this Refresh step offers you two different important choices, at intervals defined by the time track's iconography.

Notably, you recruit new leaders in each of the first four Refresh phases. Then you are done recruiting. This means that you will not recruit all of the possible leaders for your side in a given game, and though many of the heroes, such as Luke Skywalker and Han Solo, feature on multiple action cards, if you pass on a chance to recruit a given leader, there is a very real possibility that you will not have another chance to recruit him.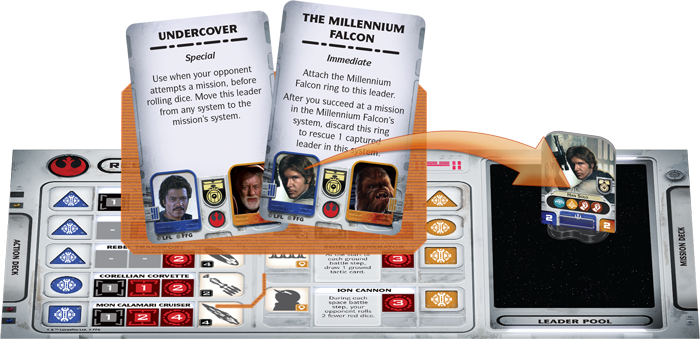 In the final step of the Refresh phase, both sides advance their build queues. Each unit slides one space down, from "3" to "2" or from "2" to "1." Units that slide down from the "1" space are immediately deployed to systems that have matching loyalty or, in the Empire's case, that have been subjugated. During this step, the Rebel player may treat the Rebel base space as though it were a system.

Finally, after both sides have deployed all available units, you enter a new game round, returning to the Assignment phase. Both sides in Star Wars: Rebellion wage the Galactic Civil War according to the same rules, but their methods could scarcely be more different.
For the complete run down, go READ THE FULL ARTICLE from Fantasy Flight Games. It's got a LOT more information and examples of play. Managing resources like leaders, objectives and missions is what makes this game so much more interesting than just simple "build, move, fight and win" games. I love the hidden information factor as well. This game has layers, man. I'm talkin' like an ONION… So get ready for Galactic Conflict coming soon!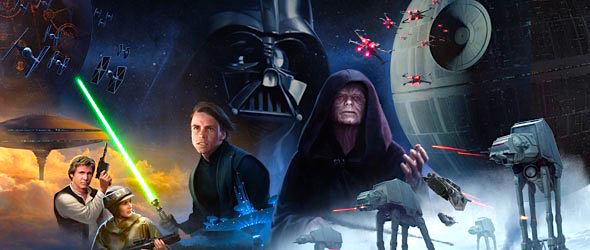 Contents include:
1 game board (split in 2 halves)

170 plastic miniatures

25 leaders (with stands)

10 custom dice

Over 170 cards

1 Learn to Play Booklet

1 Rules Reference
The Death Star is Round. Onions are round. The Death Star made people cry. Onions make people cry. Coincidence? I think not!