40K BREAKING: Deathwatch Kill Team Cassius SPRUE Pictures!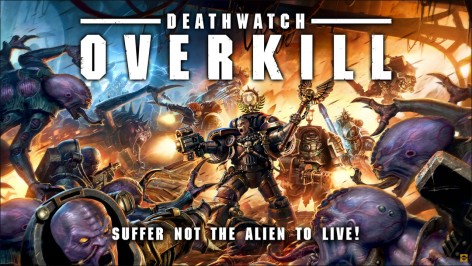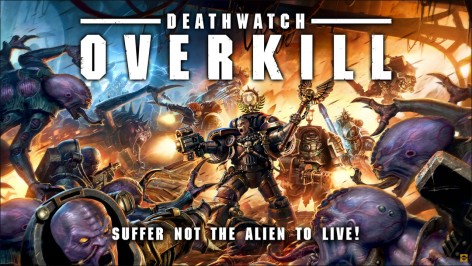 COME AND GET IT! Don't miss this first look at the new Deathwatch Kill Team Cassius sprues, and some insights into what Games Workshop has planned for the future.
Source: Captain Citadel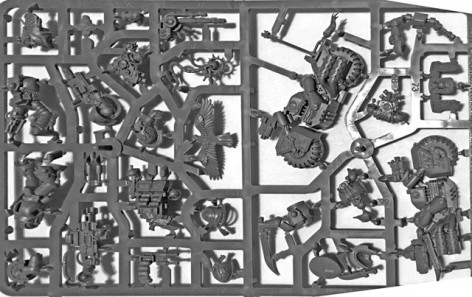 Deathwatch Squad Cassius Sprue A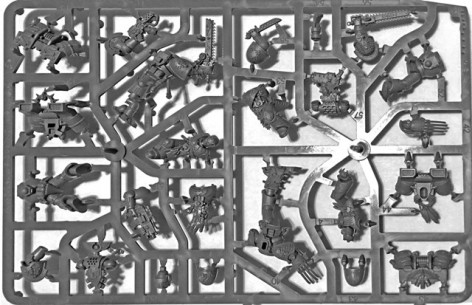 Deathwatch Squad Cassius Sprue B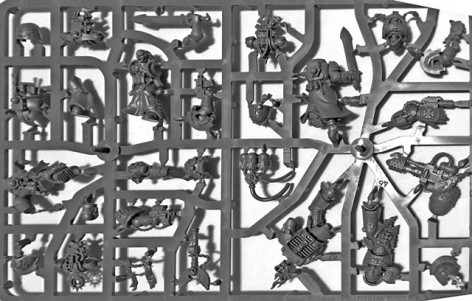 Deathwatch Squad Cassius Sprue C 
Here's some things that stand out from the sprues of the new Space Marines:
These are not 'push -fit' or multi-part. They are a mix of both.
Some chapter shoulder pads are separate, some are not. Most of the Deathwatch ones are molded in.
It appears the only thing making the White Scars bike "Deathwatch" is the removable front fairing.
It's doubtful in this current configuration that these will be able to be made into clampacks, however they *could* be re-released into their own boxed set of course as no Tyranid parts are intermixed on these sprues!
Subscribe to our newsletter!
Get Tabletop, RPG & Pop Culture news delivered directly to your inbox.
Deathwatch: Overkill –

$165 £100 €140 AU$280 NZ$330
Source: Games Workshop
DEATHWATCH: OVERKILL – WHAT'S IN THE BOX?
A brand new game in a box, telling the story of the discovery of the Warhammer 40.000 Genestealers Cult (Tyranids). The box contains:
50x brand new highly detailed plastic miniatures, with lots of little details depicting character background information.
The miniatures have a dynamic single pose and will require glue and assembly (they are not push fit). The miniatures can be divided into two camps:

The Deathwatch Kill team
These veteran Space Marines will make great champions for any Space Marine army!
11x individual Space Marine Veteran Champions (equivalent to approximately £215 / € 275 retail normally)

The Genestealer Cult
A brand new Warhammer 40.000 fraction! The below list of miniatures make for addition to an original Tyranid army, an allied detachment to another army, or a great start for a brand new Tyranids army! This box contains the following Genestealers Cult miniatures

12 Acolyte Hybrids (1st and 2nd generation Tyranids)
16 Neophyte Cultists (3rd generation Tyranids)
2x Purestrain Genestealers
2x Familiars
4x Aberrants
1x Patriarch
1x Magus
1x Primus
 A 48-page rulebook with all the rules (just 3 pages, so it will be easy and quick game), character explanation, the background story, and 9x different missions. (Each scenario acts out one of the stages of the storyline. Each scenario will last between 30mins to 2 hours and will give a lot of playability)
 8x double sided board tiles with different landscapes.
A deck of 12x reference character cards and 30x Broodmind ambush and mission cards, to offer even more variation to the game so that each game will be different.
A booklet with assembly instructions
Gaming accessories such as markers, templates and 6 dice.
Wow what an incredible set of sprues, yes? So I'll admit I was wrong thinking that these would come on separate "clampack-able" sprues for later re-release. But to be honest I can see them perhaps being able to "drag and drop" these designs into production on a moment's notice, however we've never seen existing sprues get reconfigured into Clampacks thus far.
Either way, a great looking line-up of Space Marine heroes is one the way from Games Workshop, in a convenient boxed form!