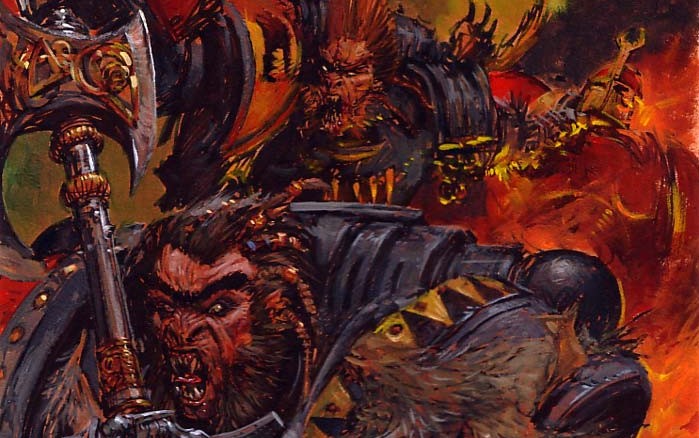 Looks like the Wulfen aren't the only thing getting dragged out of the Warp. Check out the new Campaign Book & More!
It's a new Campaign Book for the Wolves vs Daemons and now we've got pics of the Collectors Edition. Looks like the standard layout for GW – which isn't a bad thing at all!
via Scanner 2-2-2016
Warzone Fenris: Mark of the Wulfen Campaign Book Collectors Edition $ 190
Chaos Daemons Grimoire Collection Campaign Book $155
The Scions of the Warp book is interesting. All the rules from Curse of the Wulfen, fancy metal markers, power cards and objective cards, too. If you're a Chaos Daemons player it might be nice to have all the extras in one book. Unfortunately it does look like a limited edition (only 500 copies). It might be worth it for folks with a large enough collection  – or if you just REALLY want to get you hands on it!
New Space Wolves & Daemons Releases
Long Fangs (rebox)
Grey Hunters (rebox)
StormWolf Gunship (rebox)
Wulfen $60
Warzone Fenris: Mark of the Wulfen Campaign Book $74
Warzone Fenris: Mark of the Wulfen Campaign Book Collectors Edition $ 190
Daemons Datacards $13.50
Chaos Daemons Grimoire Collection Campaign Book $155
Space Wolf Art Book $50
Space Wolf Hard Cover Short Story Collection $27
Space Wolf Decal Sheet $20