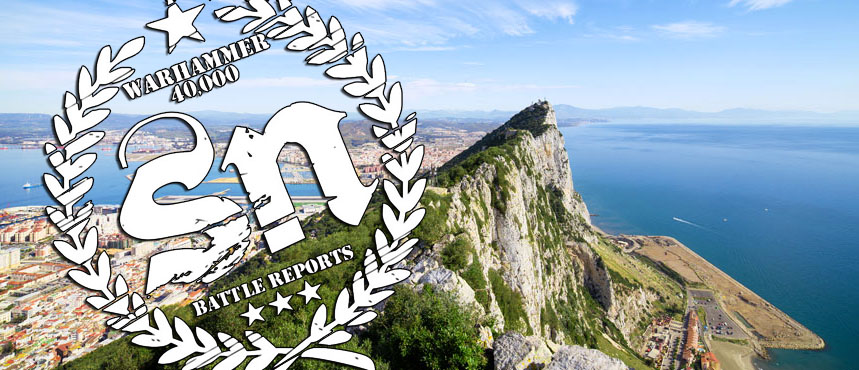 SN Battle reports brings you another great battle report with their new Studio Iron Warriors!! It's Chaos vs Chaos!
A thousand times a thousand banners fluttered in the noisome breeze adding to the cacophony of the vile host that carried them. A swarm of crimson warp-flesh festooned with serrated horns and clad in bronze that jarred with the mechanical landscape of the Iron Fields. The daemonic hosts of the Blood God had come to undo the great work of Warsmith Haeshulth which Khorne saw as an affront to the natural order of things in The Eye. Through ruthlessness and guile the Iron Warriors had wrested control of the Iron Fields and erected their maddening fortifications. The fortress had more in common with a refinery than any grand redoubt of The Breaker's making. The smog-benighted expanse of the Iron Fields was so named due to the profusion of deep promethium wells bringing forth from the deep earth the liquid fire that was the source of Haesulth's power.
The other traitor legions paid the Iron Warriors well in both slaves and war spoils for access to the very essence that fuelled their starships and allowed them to incinerate the unworthy corpse-emperor's servants. This pocket of relative peace, in which thousands of slaves died daily in their ceaseless toil under the uncaring gaze of the Iron Warriors, raised Khornes ire. That a daemon world within the unblinking eye of chaos should so closely mimic the workings of the false imperium was reason enough to let slip His legions. Even now, Haesulth marshalled his forces, acutely aware that Perturabo's Legion could not stop this blood tide but that if they could flee with one last shipment of promethium then they could find their place in the forces of the Warmaster.
Deployment: Dawn of War
Points: 1500
Mission:
Primary – Purge the Alien
Secondary – Crusade (4 Objectives)
Chaos Lord in Terminator armour: power fist; combi-melta; sigil of corruption
7 Chaos Space Marines: + 1 Aspiring Champion (plasma pistol; power fist); icon of vengeance
• Chaos Rhino
…
7 Chaos Space Marines: + 1 Aspiring Champion (plasma pistol; power fist); icon of vengeance
• Chaos Rhino: havoc launcher
9 Chaos Space Marines: heavy bolter; + 1 Aspiring Champion (plasma pistol; power weapon); icon of vengeance
Helbrute: power fist (combi-bolter); power fist
Helbrute: power fist (combi-bolter); power fist
3 Mutilators: Mark of Nurgle
Heldrake: baleflamer
Chaos Vindicator: combi-bolter, siege shield
Skarbrand
Heralds of Chaos
• Herald of Khorne: Exalted Reward; Juggernaut of Khorne; Exalted Locus of Wrath
…
5 Bloodcrushers of Khorne: Icon of Chaos (banner of blood)
10 Bloodletters of Khorne: Icon of Chaos
10 Bloodletters of Khorne: Icon of Chaos
10 Bloodletters of Khorne: Icon of Chaos
10 Bloodletters of Khorne: Instrument of Chaos
10 Flesh Hounds of Khorne
Lord of Blood Daemon Prince: Lesser Reward; 2× Greater Reward; daemonic flight; Warp-forged Armour
Lesser Reward -Axe of Khorne
Greater Reward – It will not Die and + 1 wound
Greater Reward – Re-Roll Invulnerable Saves
Please feel free to like, share and comment! ENJOY