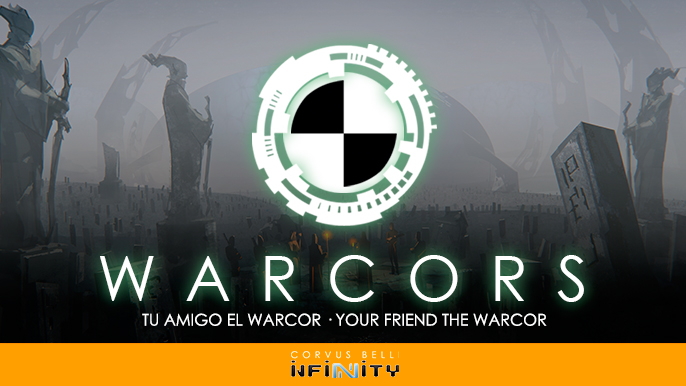 Corvus Belli shines some light on thier WARCORS Infinity community volunteers;  how to find them or join thier ranks!
What Exactly Are the Infinity WARCORS?
Corvus Belli says:
"The Warcors are a group of players and fans of Infinity that form the active part of their communities of organized play, either to bring new players to Infinity or to keep their gaming communities alive month after month.

This means that you are the ones in charge of spreading Infinity around the world, and to make the playing community grow. The moment you become an Infinity Warcor, you are our representative, our face, one of the chosen, hence an extension of ourselves and also a special member of our community.

As a Warcor, you are the local reference for the rest of players and clubs of your area. Does it sound like a big responsibility? Yes, it is. We want it to be. Because Infinity is a game, but we don't play around with it. And due that we ask for responsibility.

As a Warcor, your role will be to encourage the maximum number of players to attend to tournaments you organize, show them the game, a unique community in the world and invite them to be a part of it.

And as Warcor, you have privileges, perks and our support. We offer to our Warcors a special ITS punctuation system, first-hand information, incentives and direct communication with Corvus Belli.

Even though every member of our gaming community is important to us, not all have a suitable profile to be a Warcor. Because of this, in order to be appointed as an official Infinity Warcor you will need to pass through a series of internal filters that will take into account your knowledge of the game, your loyalty and your responsibility. If you think you are suitable to enter this circle of outstanding members, don't waiting for to fill the application!"

How Do I Find the Nearest WARCORS?
You check out the global WARCORS list and contact the closest one.  Here's the master list:
How Do I Become a WARCORS?
The first thing to do is send Corvus Belli your personal details via the application form below:
We will review your application and email you back to let you know whether they can accept it.
Corvus Belli will not be able to accept your application if one of the following apply to you:
There are already enough Warcors in your area.
You are a minor. We can only accept adult members.
Incorrect data. Please ensure your information is correct before applying.
You must be logged in to the Infinity website in order to send your application.
~ So grab those free downloadable rules for Infinity N3, and contact your nearest WARCORS.  Getting into the game just got easier!