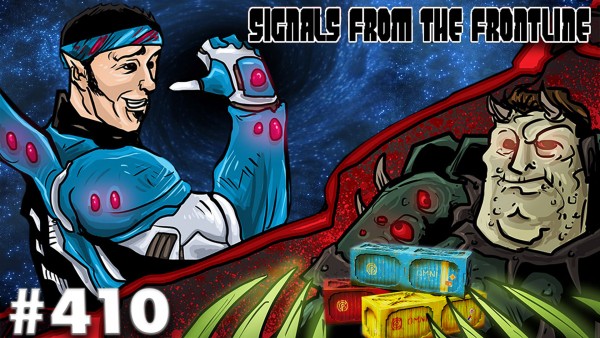 Reecius and Frankie are back to talk all things rumors, new releases and tactics. Get in here.
Join us for the live show today at 11am, PST by following this link.
Show Notes
Date
2-15-16
Intro
News
More new releases from GW on the way!
New releases from Privateer Press and a preview of a crazy looking new Menoth Jack.
The Eternal Crusade 40k MMO introduces Eldar.
Exciting new Dropfleet Commander minis on the way! All new Battle Cruisers and some resin city counters.
Avatar's of War release a new mini, Dama de Guerra, or the Lady of War.
Upcoming ITC Events
ITC 2015 final standings will be updated and the poll for next season will be ready this week.
Gamer's Paradise Winter 40k Tournament, Prairieville, LA, February 20th, 2016
Powerfists & Psykers 3, Gatineau, QC, Canada, February 20th, 2016
Battle for the Wooden Spoon, Bartlesville, OK, February 20th, 2016
Rumors: The Rumor Section is gathered from the web and is not in any way information we receive from  any manufacturer nor is it necessarily accurate. This section of the podcast is intended for entertainment purposes only.
Looks like more updates and releases for Tau and Orks on the way, which looks awesome.
Grukk Facerippa to be releases on his own similar to how Krom Dragongaze was released.
Updates for the Farsight Enclave, Tau Empire Colaition Command and WAAGH!! Ghazghkull supplements which will be much appreciated.
New "Tactical Supremacy" maelstrom cards on the way.
Rant Session
Tactics Corner
First look at the new Space Wolf and Daemon detachments and units.
Rules Lawyer
Completed Commissions
List Review
Dark angels CAD 790pts
1 Librarian (65pts) 70pts Auspex 5pts
1 Librarian (65pts) 115 Bike 20pts Master level 2 25pts Auspex 5pts
5 Scouts 55pts
5 Scouts 55pts
1 Drop pod 35pts
1 Darkshroud (80pts) 95pts Assault cannon 15pts
3 Bike squad (75pts) 115pts x2 Grav-gun 30pts Combi-grav 10pts
5 Ravenwing command squad (120pts) 250pts x2 black knights 80pts Ravenwing company banner 20pts Apothecary 30pts
1 Imperial knight paladin (375pts) 405pts Ionstorm missile pod 30pts
Cult mechanicus allied attachment 655pts
1 Tech-priest Dominus (105pts) 140pts Conversion field 5pts Autocaduceus of Arkhan land 30pts
3 Kataphron destroyers (165pts) 165pts x3 Grav-cannon free
2 + 1 Kastelan robot maniple (290pts) 350pts Heavy twin-linked phosphor blaster 20pts heavy phosphor blaster 10pts Mask of the Alpha dominus 15pts
~Have at it everybody!