This is Conan roleplaying as Robert E. Howard wrote it – savage pulp adventure battling ancient horrors in the Hyborian Age!
Modiphius Entertainment has added a new expansion for their Conan RPG – with some really beautiful art from renowned fantasy artist Justin Sweet.
Long before the time of Conan… came Kull, King of Valusia!
"Of that epoch known by the Nemedian chroniclers as the Pre-Cataclysmic Age, little is known except the latter part, and that is veiled in the mists of legendary. Known history begins with the waning of the Pre-Cataclysmic civilization, dominated by the kingdoms of Kamelia, Valusia, Verulia, Grondar, Thule and Commoria."  The Hyborian Age – Robert E. Howard
The World of Kull – King of Atlantis, is a major cross-over book for Robert E. Howard's Conan Roleplaying Game and will feature the art of world-renowned fantasy artist and Kull specialist Justin Sweet, who won the Jack Gaughan award, has worked for Black Isle Studios and Wizards of the Coast, as well as producing concept art for the movies Prince Caspian, Snow White and the Huntsman and The Avengers.

This sourcebook is the first of its kind: an official guide to roleplaying in the antediluvian age of Conan's spiritual forefather, the Atlantean barbarian-king known as Kull. Contained within these pages are descriptions of the Thurian continent as it was a hundred thousand years ago, long before Conan's own Hyborian Age. With this volume as their companion, heroes can visit Lemuria, Grondar, Atlantis, the Pictish Isles, Commoria, and the mightiest kingdom of them all… Valusia, City of Wonders. Visit the House of the Thousand Mirrors, seek wisdom at the depths of Forbidden Lake, battle the Skull of Silence, sail with Lemurian pirates to the World's Edge, debate philosophy with Delcardes' cat, or strive to claim the Topaz Throne!

Usable in tandem with Robert E. Howard's Conan: Adventures in an Age Undreamed Of, this sourcebook contains alternate life paths, cultural backgrounds, magic, gods, and more, bringing Kull's savage ancient world to life.

Justin Sweet joins a host of other incredible artists to illustrate this legendary tome in what promises to be the biggest ever line ups of artists for a roleplaying game. Written by a team including Jason Durall, Steffie de Vaan, Jack Norris and Richard August, with contributions by world-renowned Robert E. Howard scholars Jeffrey Shanks and Chris Gruber.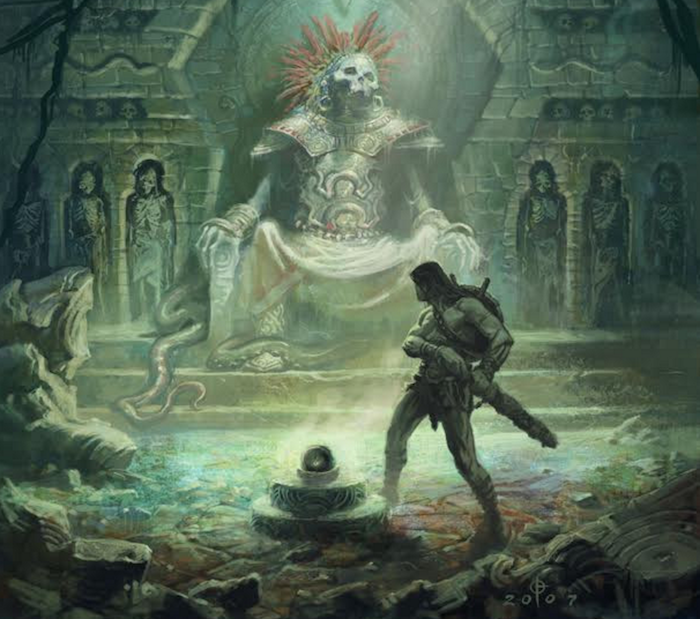 Haven't heard about this project? It's live on Kickstarter – and it looks amazing!
Are you ready to explore Atlantis?