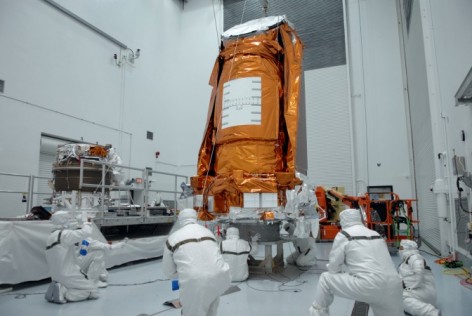 A shock breakout of a supernova has been captured by NASA's planet-hunter. Prepare to be humbled.
The Kepler space observatory was launched in 2009 tasked with finding other earth like planets orbiting stars within the habitable zones of stars. It's part of NASA's Discovery Program. As of last year it has found over 1,000 exoplanets in about 440 stellar systems, along with around 3,000 planetary candidates. The exoplanets include four that are within habitable zones of their related stars: Kepler-438b, Kepler-442b, and Kepler-452b are near-Earth-size; Kepler-440b, is a super-Earth.
The brilliant flash of an exploding star's shockwave—what astronomers call the "shock breakout" — is illustrated in this video animation. The cartoon video begins with a view of a red supergiant star that is 500 hundred times bigger and 20,000 brighter than our sun. When the star's internal furnace can no longer sustain nuclear fusion its core to collapses under gravity. A shockwave from the implosion rushes upward through the star's layers. The shockwave initially breaks through the star's visible surface as a series of finger-like plasma jets. Only 20 minute later the full fury of the shockwave reaches the surface and the doomed star blasts apart as a supernova explosion. This animation is based on photometric observations made by NASA's Kepler space telescope. By closely monitoring the star KSN 2011d, located 1.2 billion light-years away, Kepler caught the onset of the early flash and subsequent explosion.
I'm a super astronomy nerd and I can honestly say that this may be the most humbling thing you see in your lifetime.  Some quick notes to get your mind around what you are looking at:
NASA points out that this is a super-massive red giant that finally reached the end of it's life.  Kepler just happened to catch it at the right time, while pointed in the right direction.
The timescale at the bottom right of the animation is only 30 minutes long from the start of visible changes to the star to it's explosion, so start to appreciate how fast the star died once it's internal fuel was used up.
Now understand the scale – NASA indicates the red giant was so large that the orbit of the Earth around our own sun, would fit INSIDE THE CIRCUMFERENCE of the star at the start of the video.
Now go back and look at the details of the energy flares and the timeline to comprehend the speed the star died and think about how fast and powerful those energy waves were moving. Try to superimpose that on our own solar system to get an idea.  It's not hollywood CGI – this is the universe.
~Like I said, things like this kind of put all of our trivial human problems in perspective…