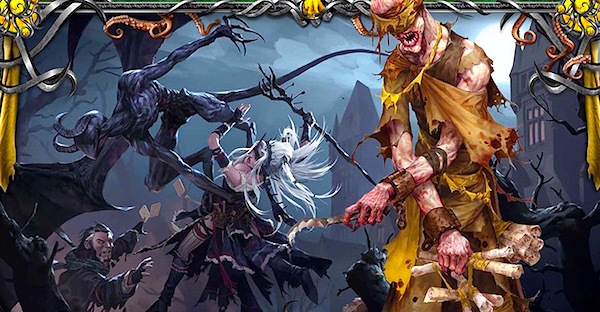 Paizo just pulled the covers off Strange Aeons, an adventure set in the Lovecraftian Cthuhlu mythos.  You better hold onto your sanity…
via Paizo

(Strange Aeons 1 of 6) (PFRPG)
Release: August 2016
Chapter 1: In Search of Sanity
By F. Wesley Schneider
"The adventurers awaken within the walls of the eerie Briarstone Asylum, their minds wracked and memories missing. As they work together to recover their missing time, they soon learn that the cause of their eerie amnesia is but a symptom of a much greater cosmic menace. As they struggle to retain their sanity, the heroes must ally with other asylum residents and fight against the monstrosities that have taken over the asylum and plunged it into nightmare. Can the adventurers defeat the terror that stalks the halls and free themselves from their prison of madness?

"In Search of Sanity" is a Pathfinder Roleplaying Game adventure for 1st-level characters. The adventure kicks off the Strange Aeons Adventure Path, a twisted delve into madness that pits the heroes against the cosmic horrors of the Cthulhu Mythos. Several new monsters, details on the Mythos, and the first installment of a new Pathfinder's Journal round out this volume of the Pathfinder Adventure Path!

Each monthly full-color softcover Pathfinder Adventure Path volume contains an in-depth adventure scenario, stats for several new monsters, and support articles meant to give Game Masters additional material to expand their campaign. Pathfinder Adventure Path volumes use the Open Game License and work with both the Pathfinder RPG and the world's oldest fantasy RPG."
Here's the setup for the entire series:
Strange Aeons
"In a distant land polluted by an alien menace from beyond the stars, a great cancer grows within the earth. As its tendrils reach out through the dreams of those who learn and study its existence, a sinister cult grows more active in preparing the way for a devastation that will destroy more than the minds of would-be heroes. Can the adventures reclaim lost memories in time to stop the advance of a cataclysmic contagion that could threaten all of Golarion? Can they resist the mind-shattering truths revealed by the Yellow Sign, and the monstrous force it symbolizes? The Strange Aeons Adventure Path pits the heroes against the cosmic horrors of the Cthulhu Mythos, with new monsters, mind-shattering terrors, and explorations far beyond the known lands of Golarion."
In Search of Sanity is the first in a 6 part series.