Tabletop Spotlight: Curse of Strahd – Inside the Covers

The Tabletop Spotlight is on: Curse of Strahd
Here at BoLS, we've been waiting for Curse of Strahd to hit shelves. So when our friends over at Dragon's Lair Comics & Games said they had something special for this week for Role-Players out there we had a feeling what it was going to be. We were stoked to get a look insides the covers:
Curse of Strahd is a pretty big deal because this book is the gate way to playing in that classic fantasy-horror campaign. This also marks the first return to the Ravenloft setting in years! One of the coolest things about the setting is that Ravenloft represents this strange nexus/crossroads/extra dimensional place – characters from any D&D setting can be used/teleported to Ravenloft. With some creative DMing you can shift your game from dungeon delving into a Gothic-horror romp. Curse of Strahd lets you play with all those things that go bump in the night and you can play it straight or as campy as you want.
This book not only features a setting guide and custom campaign building tips, but also an entire campaign designed for level 1-10. The book has some great new ways to play and an awesome "random" adventure generator if you're the type of DM that likes to create on the fly. Using an NPC in-game you can have your players interact with the fortune teller Madam Eva. She can read their fortune and using a handy chart you can "read" the tarot cards to give your players clues on the next part of their adventure. What's great about the "reading" is that the DM can stack the deck or make it completely random – however you want to play it, Curse of Strahd supports it. Madam Eva can advise them where to go next, the type of person they might meet, what they should be looking for and those type of things. It's up to the DM to decide how exact they would like to be with the "reading" and its just a really fun mechanic.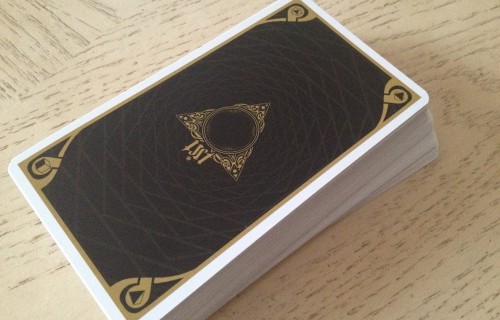 Choose you fate…and your own random adventure
As with any new adventure/setting guide there are a ton of new items and things for your players to go after – that's pretty standard (and appreciated). But one thing that stands out in my mind is the full color fold-out map of Barovia that is also included. The map is massive and would make for a great poster or playing aid. It's also got a breakdown on the back of the map of how the castle is setup with a cool dissected floor layout.
Overall, if you're playing D&D or really just RPG's in general, this book is a great buy. It's an amazing resource for DM's and it a wonderful fantasy-horror sandbox to go play in. I didn't even talk about all the cool new monsters, magic, skills, and other side adventures to be had – but they are in there, too! This book is on my list for "Perfect DM Gifts" and I can't wait to play this adventure myself. Curse of Strahd is in stores now – what are you waiting for!?
via Wizards of the Coast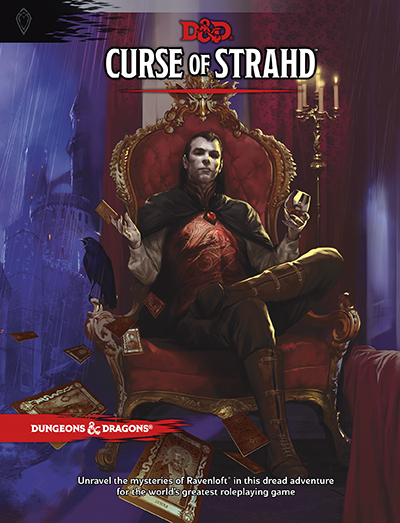 Under raging storm clouds, the vampire Count Strahd von Zarovich stands silhouetted against the ancient walls of Castle Ravenloft. Rumbling thunder pounds the castle spires. The wind's howling increases as he turns his gaze down toward the village of Barovia. A lightning flash rips through the darkness, but Strahd is gone. Only the howling of the wind fills the midnight air. The master of Castle Ravenloft is having guests for dinner—and you are invited.

Subscribe to our newsletter!

Get Tabletop, RPG & Pop Culture news delivered directly to your inbox.

A fantasy-horror adventure for characters levels 1 – 10, Curse of Strahd™ provides everything a Dungeon Master needs to create an exciting and memorable play experience.
Fans of the Dungeons & Dragons® Roleplaying Game can have additional adventures in Ravenloft by participating in the D&D Adventurers League™ organized play program.
Available separately: a 54-card deck by Gale Force Nine representing the Tarokka cards, used by the fortune-teller Madam Eva in the adventure to randomly determine key aspects of the adventure.
Written in consultation with Tracy Hickman and Laura Hickman, creators of the original Ravenloft adventure.

Curse of Strahd is produced by Wizards of the Coast. It was written by Chris Perkins, edited by Kim Mohan and Jeremy Crawford, and art directed by Kate Irwin. The adventure incorporates material from the original Ravenloftadventure as well as new story content created by Tracy and Laura Hickman, Chris Perkins, Adam Lee, Richard Whitters, and Jeremy Crawford.
I'm glad I invested so heavily in garlic and hardwood stakes…