Tabletop Spotlight: DC Comics Deck-Building Game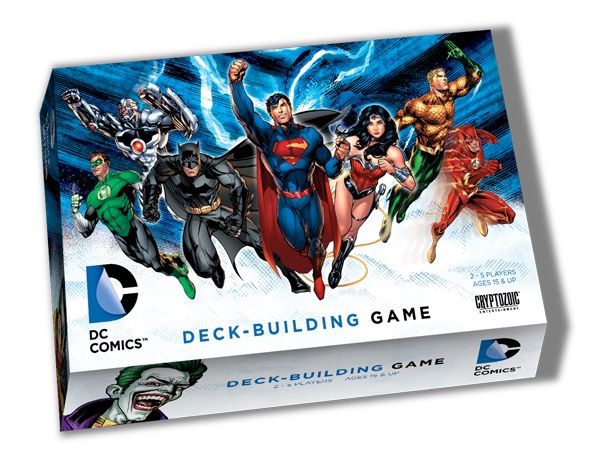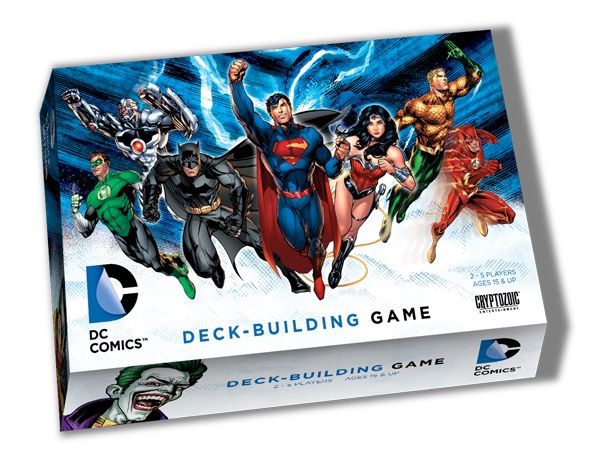 The Tabletop Spotlight is on The DC Comics Deck-Building Game from Cryptozoic Entertainment!
One of the cool things about working with our friends at Dragon's Lair Comics & Fantasy is that they bring over games I may not have played but are still really fun – The DC Deck-Bulding Game is one of those games:
We live in a time where Comic Books and Movies are in a massive resurgence. We've had summer block busters based on comics for years now so it's a great time to be a fan. The DC Deck-Building Game definitely tickles all those fanboy notes. If you've ever wanted to play as Superman, Batman, Wonder Woman, The Flash, Green Lantern or pretty much any other member of the JLA then this is the game for you.
It's a fun 2-5 player game where you put together your deck and partner-up with a friend to take on the villain deck. Every game is different based on the decks (and difficulty) you play. Yes, this game does have different game modes that change the difficulty which is great for replay value. The artwork is straight from DC and looks amazing (if you like Jim Lee's new character designs or other art work – which I do, mostly).
Another great thing about this game is that it's a LCG not a CCG – that means when you buy an expansion pack there is no randomness, everything in the pack is the same. That means you know exactly what your buying and you only need to purchase the expansion packs you want. No need to go hunting for every card in the set potentially spending hundreds or thousands of dollars to collect everything. Some people enjoy that – I prefer the one-and-done style of LCGs myself.
Overall I really like the art, the game-play and the co-op modes (there are competitive modes as well). The game is pretty kid friendly so if you've got a family and you're looking for a great game for game night check out this game!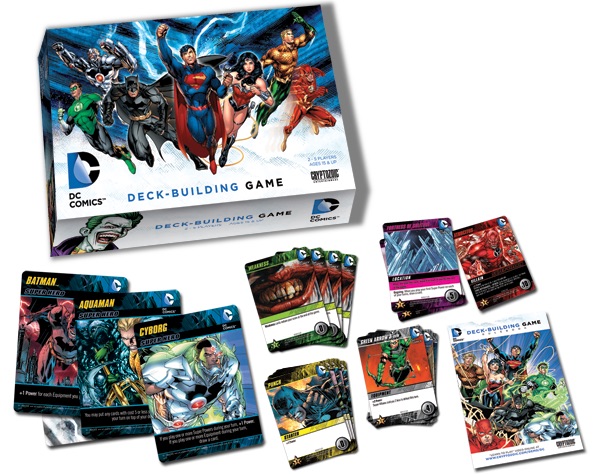 In the DC Comics Deck-building Game, you take on the role of Batman™, Superman™, or one of their brave and heroic allies in the struggle against the forces of Super-Villainy! While you begin armed only with basic combat maneuvers, you will add new, more powerful cards to your deck as you go, with the goal of defeating as many of the DC Comics Super-Villains as you can. In the end, the player who has accumulated the most Victory Points from the cards in his or her deck wins the game!
Subscribe to our newsletter!
Get Tabletop, RPG & Pop Culture news delivered directly to your inbox.
It's also a game that is actively supported by Cryptozoic. They are releasing new expansions all the time. Dragon's Lair brought over the 3rd Crisis Expansion Pack which adds more cards and IMPOSSIBLE mode – you know, for when you REALLY want a challenge.
In the DC Comics Deck-building Game Crisis Expansion Pack 3, you will face some of the most epic challenges, events, and destructive forces in the history of comic-dom. In this Crisis Expansion you will find 14 "Impossible Mode" Crime Syndicate Super-Villains to battle against and Crisis versions of EIGHT oversized characters such as Lex Luthor, Sinestro, Bane and many more. But you'll also find SIX new playable oversized characters and new main deck cards for competitive players. Truly something for everyone!

This Crisis Pack features two unique modes of cooperative play! You can play in a completely cooperative mode, where players all work together to overcome challenges and foes. Or you can play in "Hidden Objective" mode, never before seen in a deck-building game! The Suicide Squad makes its debut as playable oversized characters, and as ne'er-do-wells, working together isn't exactly their strong suit. It seems someone always has their own agenda when this "team" gets together for a mission. In this mode, players are still working together, but everyone has their own definition of what a "win" really is. One player may even be secretly working against the rest of the team!
Bring your friends and save the day! I got dibs on Superman…