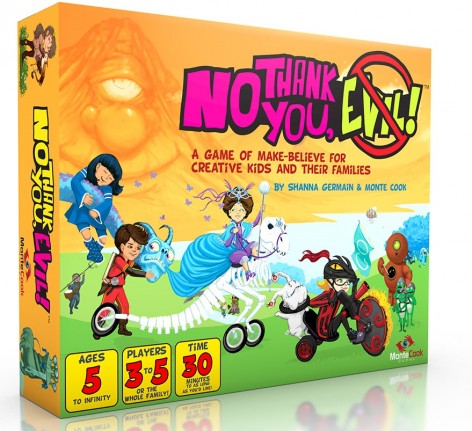 The Tabletop Spotlight is on: No Thank You, Evil!
When I saw this box, I really had no idea what to expect. The title, the art, the SIZE of it – what was I getting into when our friends and Dragon's Lair Comics & Fantasy brought this game over. Turns out, fun times can come in strange boxes:
Family Game Night just got a big dose of Imagination in the arm. Parents, if you have small children and you want to introduce them into Role Playing Games then GET THIS GAME! No Thank You, Evil! is "my first RPG" for the entire family. The rules allow anyone to play and it actually encourages parents to let their children GM the game – strange? Yes! But it totally works. It works because the rules scale based on how in depth you want to go – it scales to the players skill and imagination.
The contents of the box are outstanding. There are a couple of books that help you play the game (basically the rule book and game masters guide) an activity/coloring book and a children's story book. It's a really unique offering. Aside from that, it comes with a ton of character cards and info sheets to use in play. The Deluxe Edition also had a really well done color, cloth map! I love cloth maps and it was a great touch. Everything was high quality and designed to be used for the long run.
The game itself is a MonteCook RPG – it's based of the Cypher System they have developed. Which is "a set of game mechanics that are flexible, easy to use, and focus on the narrative" according to their website. And I must say, it works on many levels. This one just happens to be very kid oriented. But parents, don't worry – it's not "dumbed down and boring" to use. The framework of No Thank You, Evil! is very sturdy it's just the setting of Storia that makes it kid friendly.
The folks at MonteCook have done a great job of trying to cover as many bases as possible for character creation. If your child (or you) can describe the character using an archtype, an adjective and a verb you're ready to go. For example "Rowen is a Cool Robot who Plays with OoeyGooey Things." Using this system you can quickly create a character with stats based on that and be ready to play. The only limit is your own imagination. It's all about creating a story together and solving problems you create. So go be a kid again and check this one out!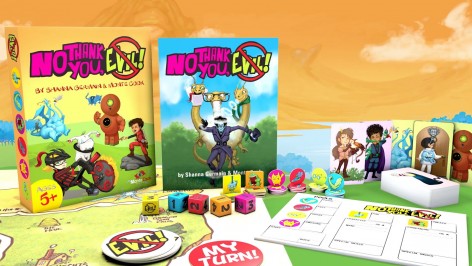 No Thank You, Evil! is a tabletop game of creative make-believe, adventure, and storytelling. In No Thank You, Evil!, each player creates a character based on a couple of cool, descriptive, imagination-firing traits. The Guide (a special role often played by a parent or older sibling) presents a dilemma, and the players set off on an adventure of the imagination.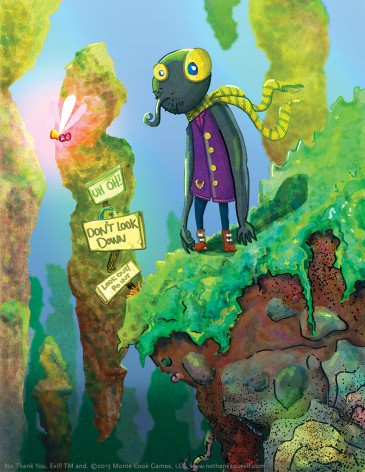 Along the way they use their character's special skills, companions, and equipment to overcome obstacles. Maybe you'll rescue a friend from Dragonsnot Falls, save the world's biggest adventure park from an ancient curse, or fix Whizbang's broken time machine before it's too late!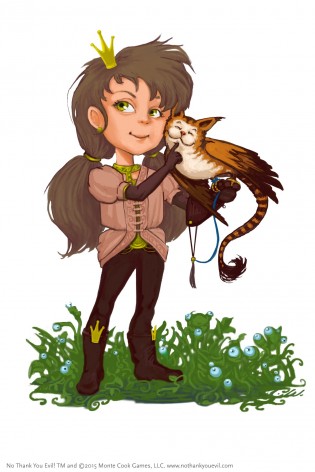 Whatever you choose, you're sure to solve mysteries, gain friends, confront bad guys, and have a wild adventure!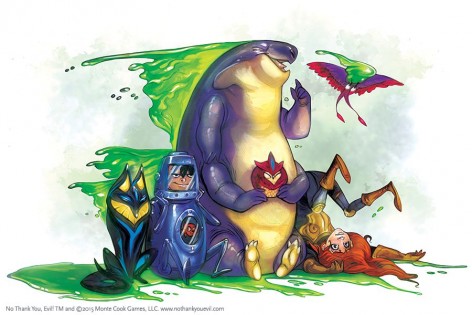 Whereas conventional board games constrain players' actions, No Thank You, Evil! sets kids' imaginations free: Their options are limited only by their creativity. Together, the players create a story as they work together to make their way through the adventure!
The Land of Storia awaits – Bring the whole family!