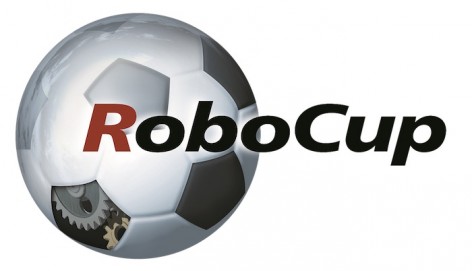 The bots of The RoboCup aim to bend it like Beckham!
The Robocup is an annual robotics competition that started holding tournaments in 1997 as a way to promote the development of AI systems and robotics. They have a rather lofty goal…
"By the middle of the 21st century, a team of fully autonomous humanoid robot soccer players shall win a soccer game, complying with the official rules of FIFA, against the winner of the most recent World Cup."
There are several leagues in the cup that are based on size and platform – including a simulation league that is purely software based. At this stage the competition is more about AI dev than the robots, so a lot of the leagues have a standard bot platform for all teams. All systems are completely autonomous – no human or computer interaction takes place while the matches are played.
The Standard Platform league is currently using ever adorable Aldebaran Nao.
The Middle Sized league has size limitations (all bots gave to fit in a 52 cm × 52 cm × 80 cm box), but the hardware and software are all custom built by the teams.
The small size league, or F180, uses SSL-Vision – those dots help them locate each other and ensures they don't kick the ball to the wrong team. The focus is intelligent multi-agent cooperation and control in dynamic environments – getting AI to work together to achieve a goal in ever changing circumstances. These guys are fast!
Robocup 2016 is being held in Leipzig, Germany this June. It's going to be interesting to see what improvements are going to show up on the field… and where all of this will eventually be applied.
And, if you haven't heard, Boston Dynamics is up for sale… a worthwhile investment if you have a spare half a billion or so…. you know you want your own Atlas butler. Don't lie.