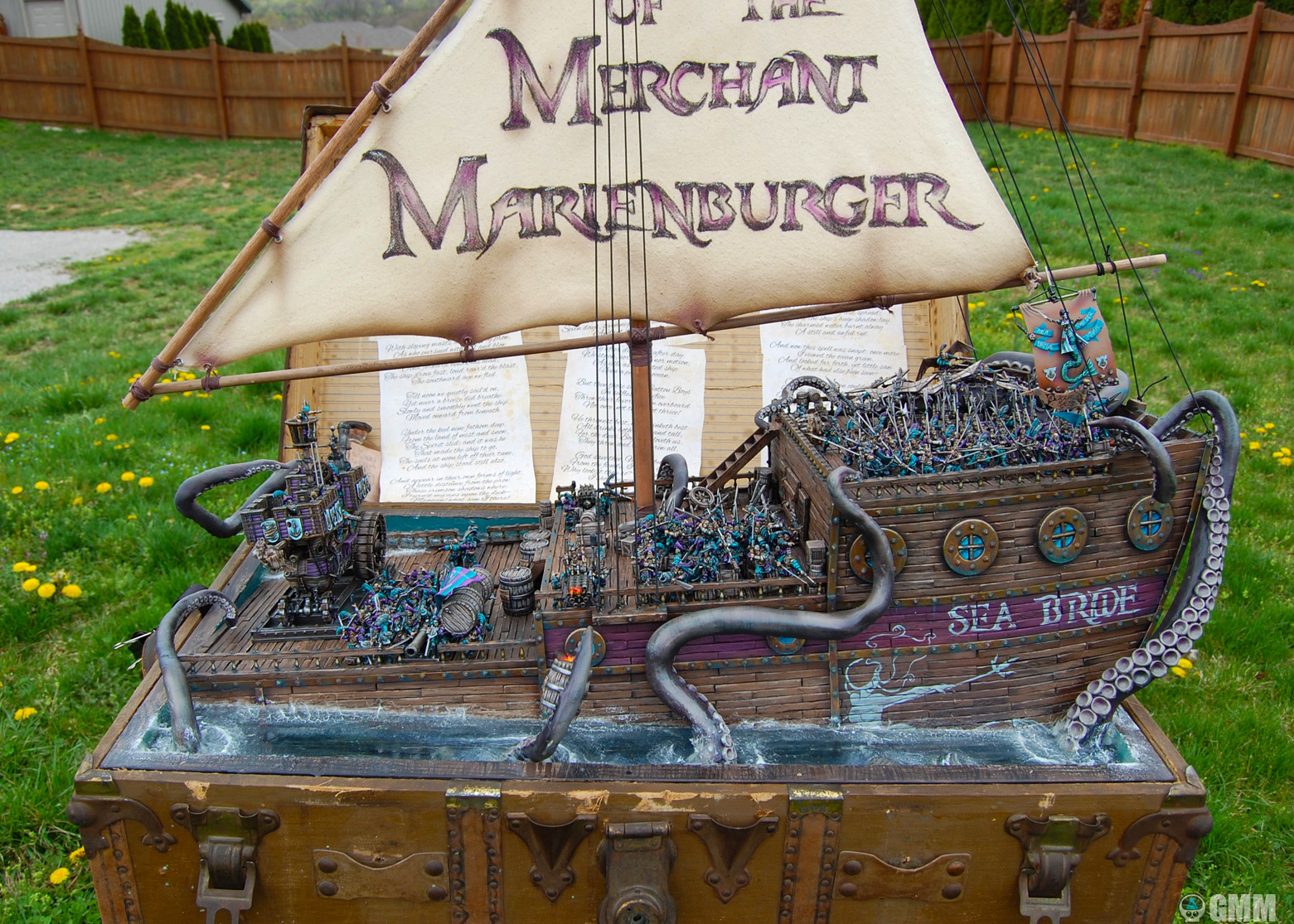 Get ready for the most amazing Warhammer ship diorama you've ever seen – courtesy of GMM!
Hello BoLS readers!
Recently on my Instagram page I have been running a series on past large displays for Adepticon – big monsters of miniature I have been doing over the years.  They decorate my house well, but it feels good to dust them off and get them out there in the world again.  Plus it is a good opportunity to go over points I never shared, and revisit the past.  When making something so big under time pressure, it leaves a lasting imprint on a person. Can still hear the Alestorm and taste the Kraken rum late into a cold March night, plugging away on this beast.  I want to share that with you, the love and experience of building something at the edge of one's abilities. So sit back and enjoy – crack open the Kraken and pour a little out for my man Coleridge.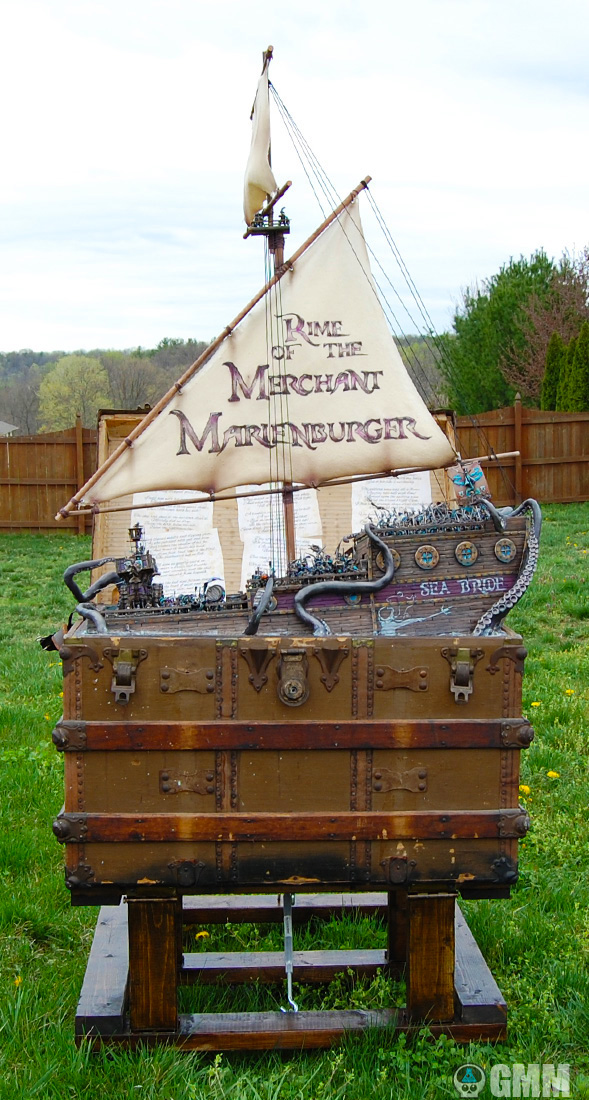 In this part one, going to show a few overview photos to set the tone and get a good feel for the scope of the display.  Sitting at 7.5 feet from wheel to mast and over three feet wide, the display is based on an antique trunk.  The trunk itself is a family heirloom.  Passed down from the 1920s.  Made sure to get permission!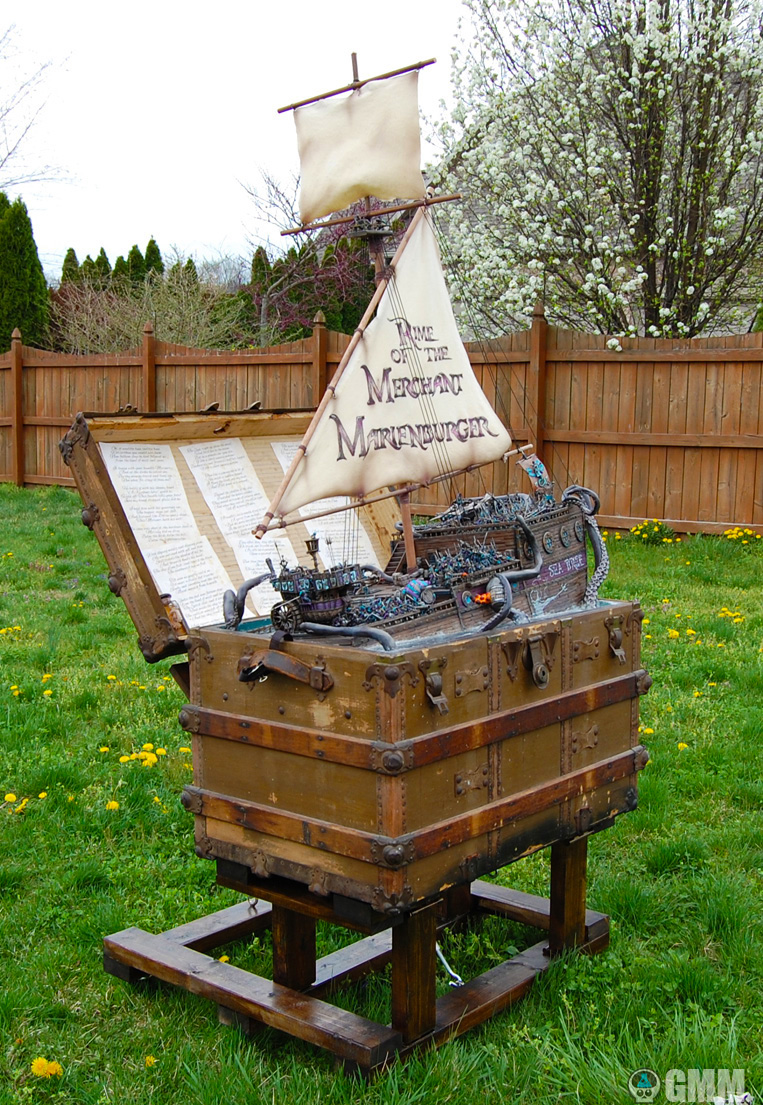 The stand was built for transport and stability.  The whole thing had to fit in the back of an SUV back then, so it is hinged and collapses. Deployed it locks into place, and the larger backside keeps it from tipping with weight of the lid.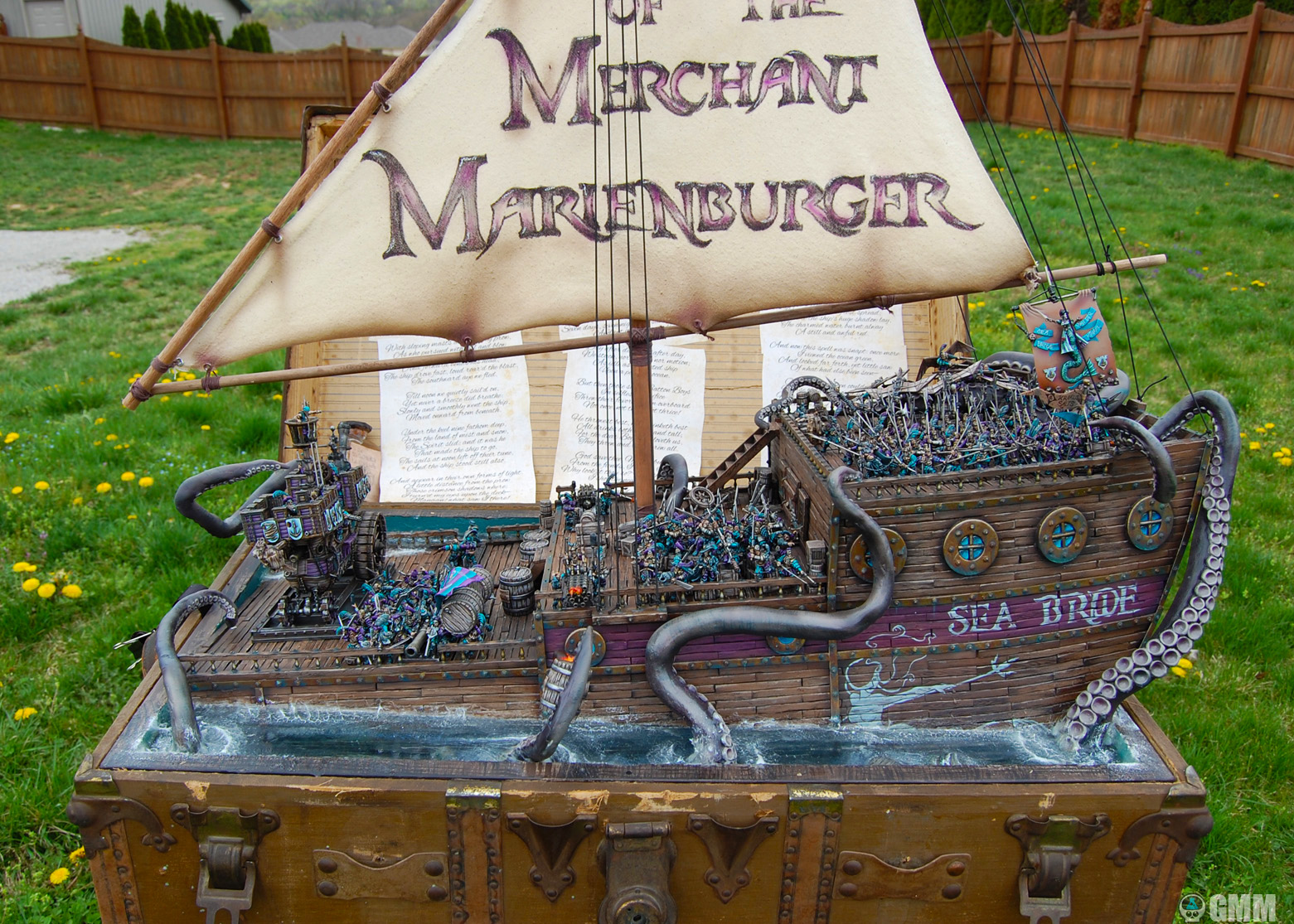 Inside the antique box, sits a second faux box on rails.  This is around 1.5 feet deep to allow for depth in the water.  The second box is not secured and allows for storage underneath.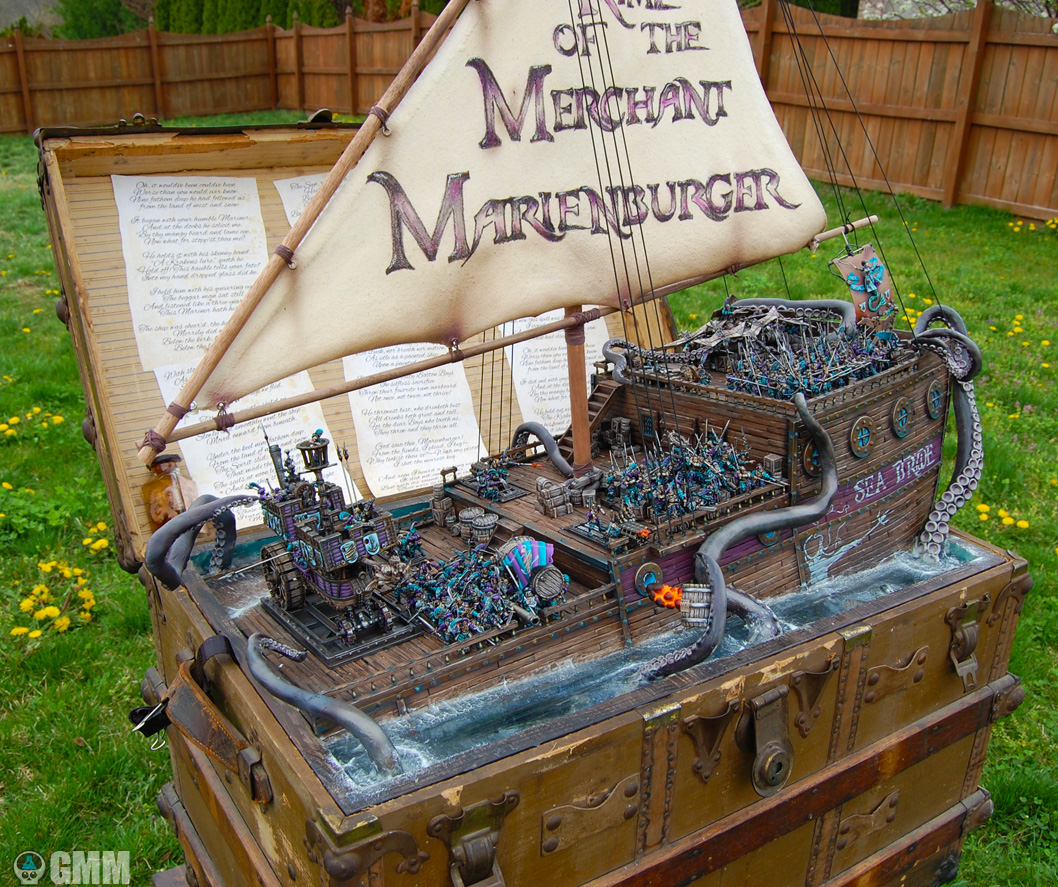 Almost 3 gallons of clear resin was used to make the water.  That was a real ordeal for another article!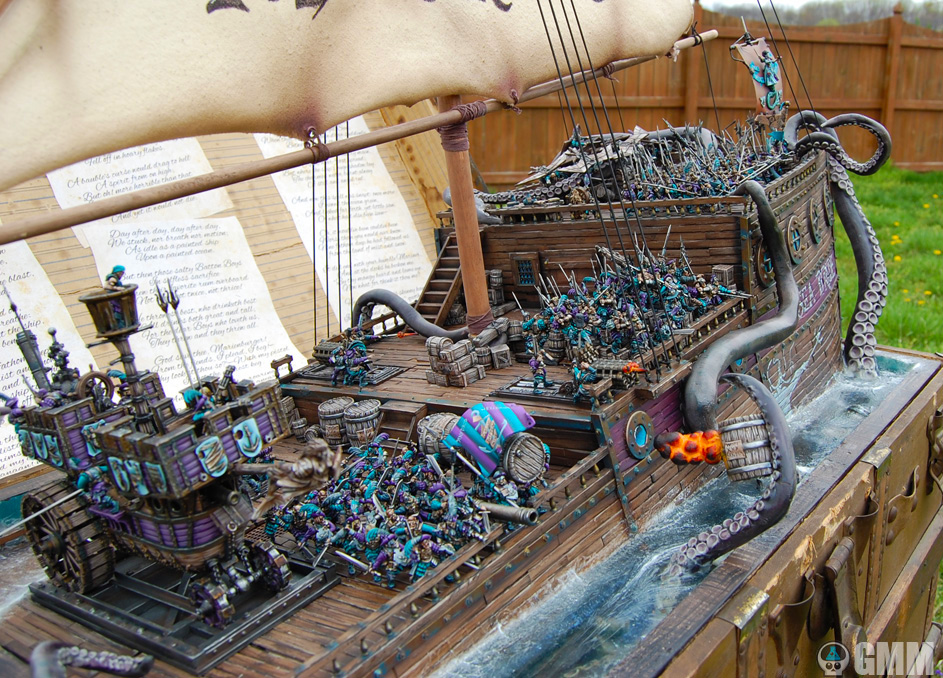 Five hundred 10″ strips of plastic were all hand cut into three pieces each and edged with a razor blade to give a wood effect and later painted by hand.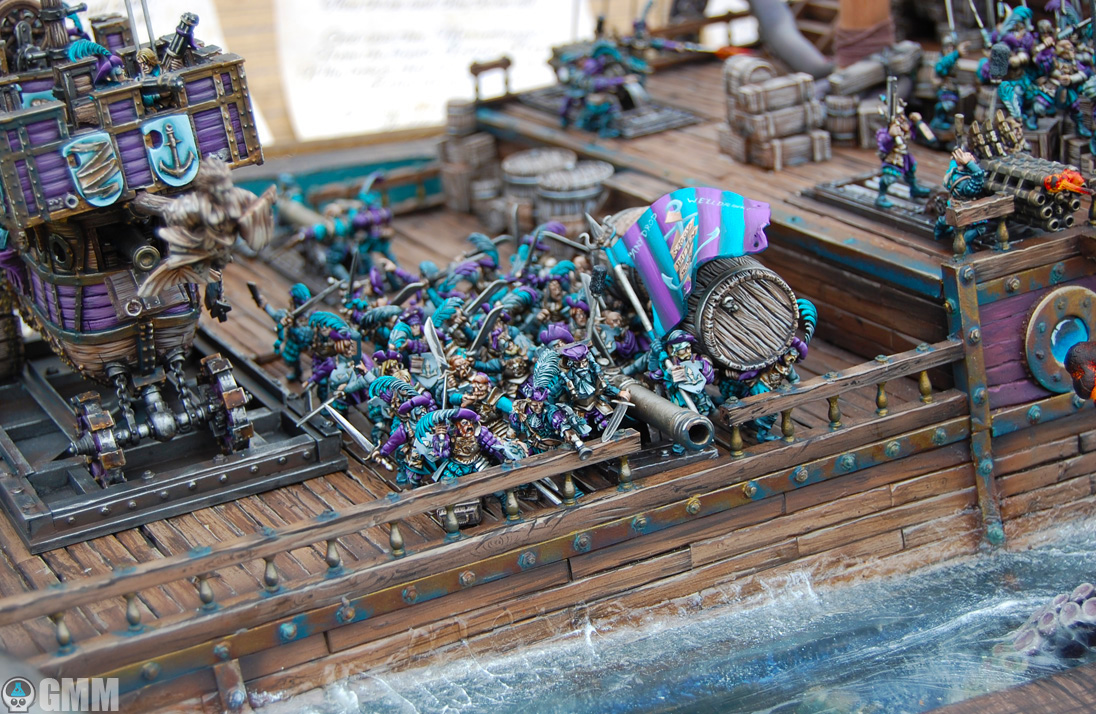 And with that, stay tuned for next time where I will go nine fathoms deep into the WIP images and show in detail how it was made!
For more images and information on my services:
Thanks, and until next time!