Tabletop Spotlight: Quadropolis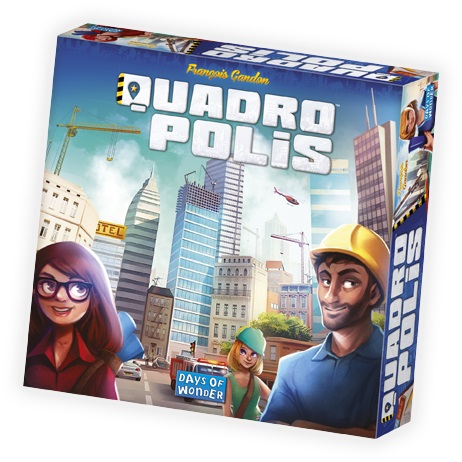 The Tabletop Spotlight is on Quadropolis – the city building boardgame!
Hello Again BoLS Readers. One of the cool things about working with Dragon's Lair Comics & Fantasy is the wide range of boardgames they carry. I always am interested to see what else is out there and what else I want to add to my collection of boardgames. Quadropolis has just joined that ever growing list:
Quadropolis is a competitive city building where 1-4 players take the roll of the Mayor of their own budding Metropolis. Your goal is to send your Architects to construct buildings and score victory points. However, everyone is gunning for the same pool of buildings which means you've got to out-think your the other players. You've got to devise a strategy to grow your city and stay ahead of the competition.
It sounds pretty simple and it really is easy to learn. Their are four turns and each turn consists of four rounds. It's all laid out very cleanly and easy to follow. What makes the game really interesting is the way in which you choose the buildings you want to construct. The buildings are setup in a 5×5 grid and you send in architects to obtain them. However, the pesky "Urbanist" can block your architect from grabbing the building. It's an interesting mechanic of protecting your "purchase" while estimating what your opponents will do next. If you're interested in reading the rules, you can get them for FREE from the days of wonder website.
Besides the fun gameplay, the art work is great, the production quality is outstanding and the "vacuum" seal storage tray is an excellent touch! You really can't go wrong with picking up this game – which is in stores now – so go check it out!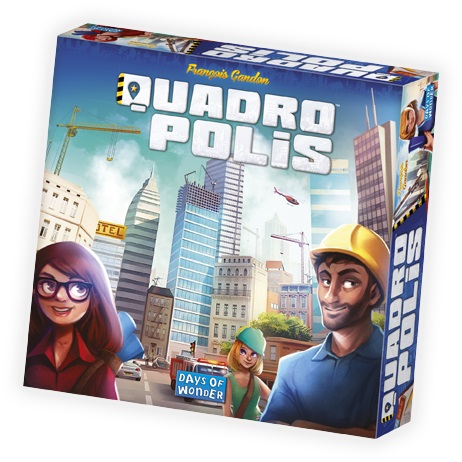 After a hard day's work, you take a break to admire your city through the large windows of your office… at this hour, most of your citizens are going back home, heading for the tall buildings that you see in front of you. Some others are still wandering in the parks and gardens with their kids, and others decided to go shopping in the new mall that you opened a few weeks ago. In the distance, near the harbor, you can see smoke rising from factories' chimneys. Somehow, the city never sleeps…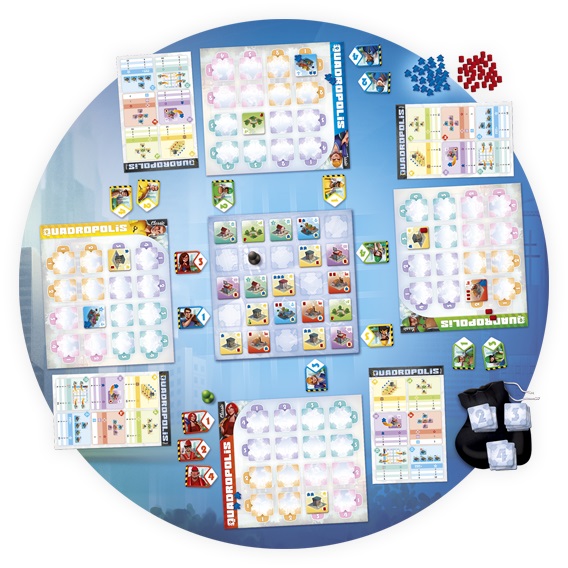 In Quadropolis™ you enact the role of the Mayor of a modern city. You will need to define a global strategy to build your city according to your Inhabitants' needs and outmatch your opponents, sending your Architects to have various buildings erected in your city. Each building allows you to score victory points. There are various types of buildings with different scoring patterns; many of them may be combined for better effect.

Subscribe to our newsletter!

Get Tabletop, RPG & Pop Culture news delivered directly to your inbox.

Will you be able to meet the challenge and become the most prestigious Mayor in history?
If that doesn't entice you enough – Days of Wonder also has their own video trailer as well:
Do you have what it takes to be the best Mayor EVER!?