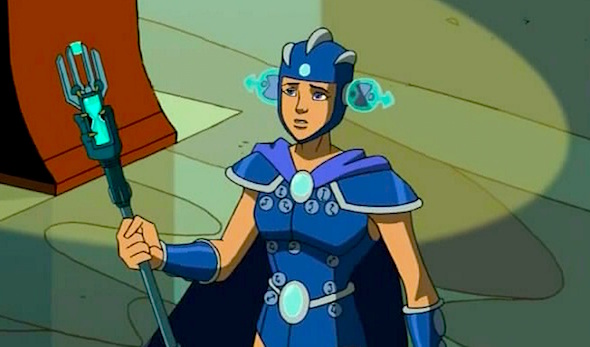 WizKids points you to a taste of the time traveling heroine from the highly anticipated upcoming Teenage Mutant Ninja Turtles expansion.
The upcoming Teenage Mutant Ninja Turtles Gravity Feed features more than 30 characters from the 32-year history, based on both the comics and animated tv series.
Today, we're taking a look at 
the 
apprentice Time Mistress – Renet Tilley.
The new series was announced with a target release this month, February and with 4 initial product ranges according to ICv2:
The Mouser Mayhem Starter Set will include popular characters from the Teenage Mutant Ninja Turtles. 

MSRP is $24.99.

The Teenage Mutant Ninja Turtles HeroClix Fast Forces Pack will offer an easy starting point for new players.  MSRP is $16.99.
Players can also add individual models with the Foil Packs, each of which contains a single figure.  Foil Packs are sold in 24-piece countertop gravity feed displays.  MSRP is $2.99 a pack.
A TMNT-themed game accessory will also be offered:  the Teenage Mutant Ninja Turtles HeroClix Dice & Token Pack will include two custom dice with TMNT logos and six action tokens for use with the game.  MSRP is $9.99.
via WizKids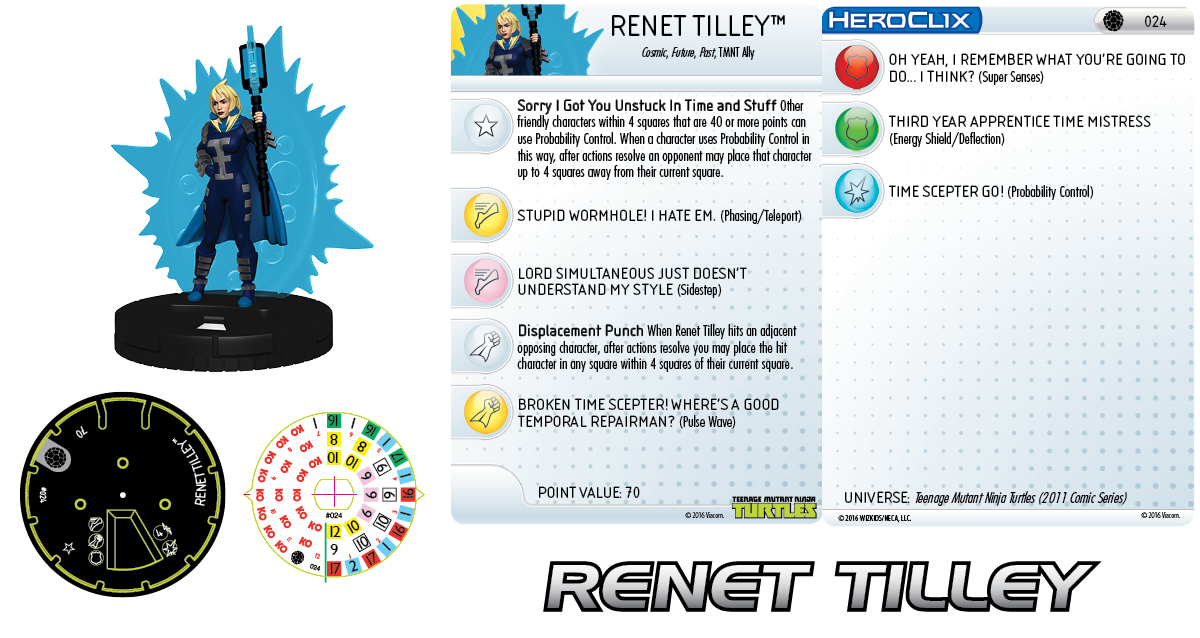 Here's the basics on Renet Tilley #24: 
"Renet Tilley, a 70-point, time travelling heroine who is the apprentice to Lord Simultaneous. Renet is a close ally of the Turtles, and has a unique set of powers that will really help out the shelled brothers! Up first for Renet is her trait, called Sorry I Got You Unstuck in Time and Stuff, which allows other friendly characters within 4 squares that are 40 points or more to use Probability Control. When a character uses Probability Control in this way, after actions resolve an opponent may place that character up to 4 squares away from their current square.

With that trait, Renet Tilley has a collection of standard powers that set her apart from many of the other TMNT Ally characters, including Phasing/Teleport, Sidestep, Pulse Wave, Super Senses, Energy Shield/Deflection, and Probability Control. She also possesses a special power on her Attack called Displacement Punch, that states when Renet hits an adjacent opposing character, after actions resolve you may place the hit character in any square within 4 squares of their current square."   
Have at it HEROCLIX fans – Who's your favorite TMNT character BoLS fans?