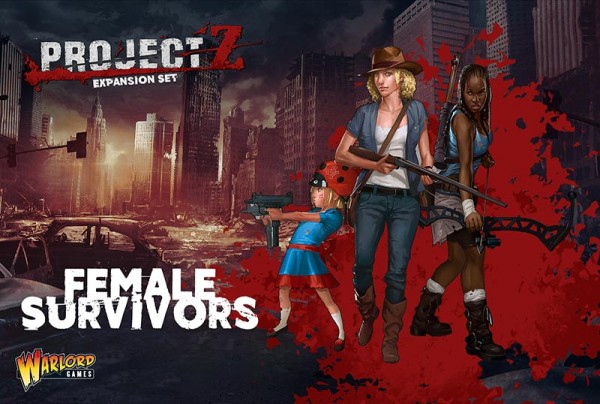 Warlord Games shows off the new Female Survivors for Project Z – come take a look at the Heroins of the Zompocolypse!
via Warlord Games
This gloriously detailed set contains 10 plastic female survivors plus weapons options plastic frame for a vast selection and endless variety! Also included are the 19 special game cards unique to this expansion set for Project Z.


Available to order from today and shipping from the 2nd May 2016!
We now have an updated version of the rulebook as well as the Survivor's Guide and the Quick Play reference sheet available to download for FREE!
The starter set contains:
23 plastic Zombies.

10 plastic Male Survivors.

6 plastic Biker Gangers (inc. 2 motorbikes).

Plus full colour rules, Survivors guide, play cards, counters, and dice.
Contains 23 plastic Zombies – every one completely individual.  Don't miss Hospital Patient zombie, Roadkill zombie or Baywatch zombie! Also includes game cards unique to this expansion set.

Show us your collection of Zombie creations by dropping us a line with a couple of pictures to the Warlord Facebook page or share with all over at the Warlord Forum
I'm liking the female survivors sculpts – there are a couple of sly pop-culture reference in there – can you spot them?
Does that little girl have an Uzi? Yes. Yes she does.