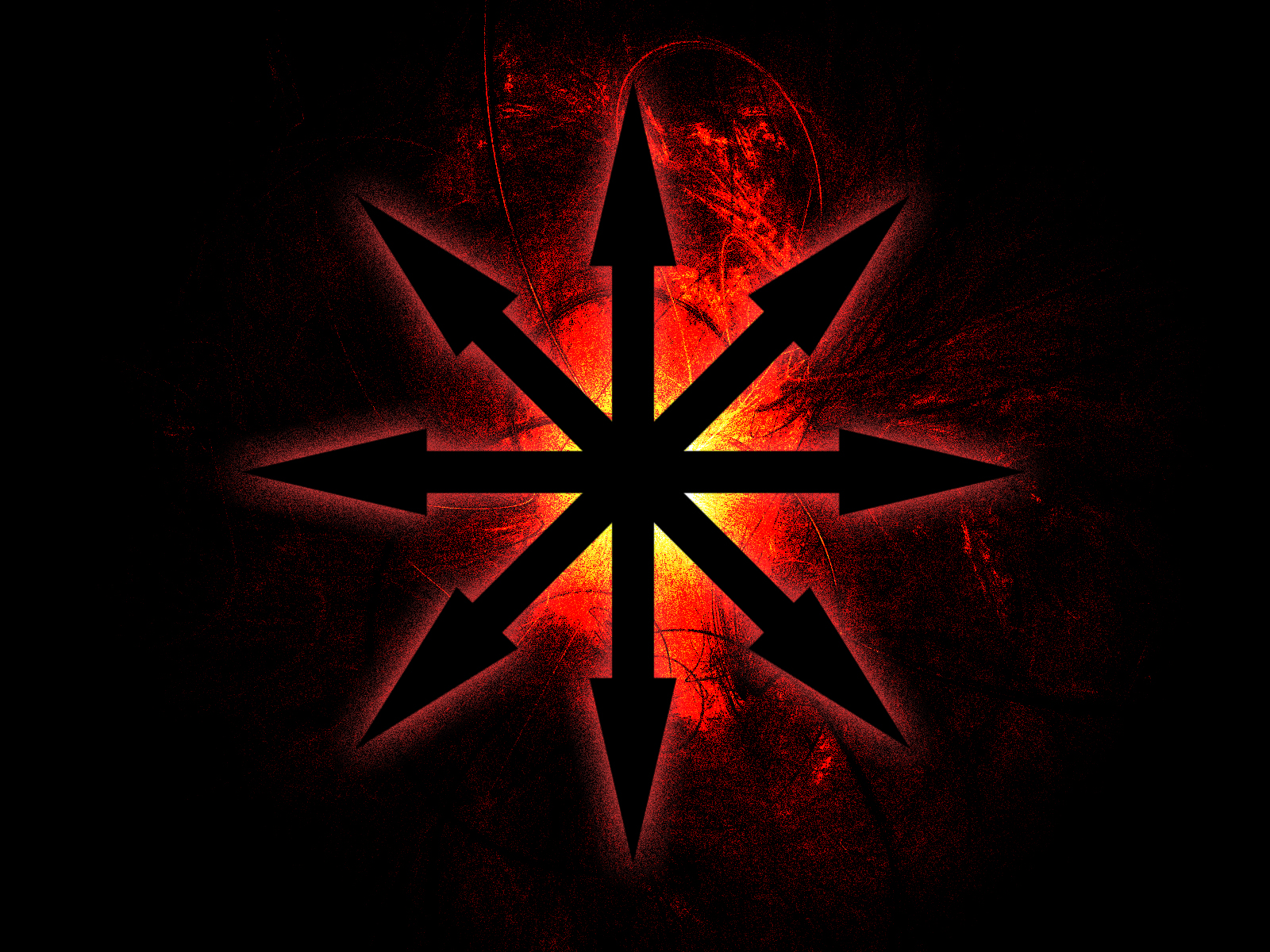 As part of the general community effort to update Chaos Marines, here are redone CSM bigshots befitting mortal princes of the Ruinous Powers.
Across  gaming  forums and  hobby clubs, the relatively weak treatment  some  factions  have been getting from Games Workshop  has  manifested  in a veritable wave of  house rules, fan-made codexes and  such. I've seen more alternate rules for Orks, Dark Eldar and Chaos Marines in the  last  month than I have  in the  previous 3  years  put together (For some reason, I don't see as many Tyranid projects…). Except this time, I decided to go for  it  myself, together with a small group of hobby veterans. Some have  played CSM for ages, others  play other factions but  like the challenge  of designing/fixing  a faction. The  part that landed on my lap was special Characters, Marks and Psychic Powers.
Before we get to profiles, let's talk a bit  about the why's and how's  of the changes. I tried to incorporate elements from the Black Library books, some 30k rules and ideas, and most  importantly, bring the general baseline to that of loyalist Chapter Masters instead of Captains. These guys  have been leading thousands  of Astartes and allied forces for longer than we have  had written language, in the  most  dog-eat-dog, dangerous  environment  imaginable. It stands to reason they'd be on par with a 400-year-old Chapter  Master, at the very least. I  also tried to give  most  of them  a few drawbacks,  but  ones that add  nuance  instead  of just  jinxing  them for no reason (Hello, Obliterators). I also lowered the Leadership of some of them to a 9 because let's face  it, not all of them are meant to be inspiring leaders; their role  is to crush the  opposition.
Gearing up these guys  is also tricky if you want to make sense. I mean, you're telling me that Huron Blackheart, after hundreds  of  years  as the top dog  of a sector-wide empire, with thousands  of traitor  marines, terminators, Dark Mechanicum tech, sorcerers and warpsmiths at his  beck and call, never  managed to find anything better than bog-standard power armor? Or loot a relic axe from enemies (Hell, he sacked an Astartes  homeworld fortress not that  long ago!)?  But  if you  keep thinking  that way, you end up with everyone wearing terminator/artificer  plate and with master-crafted everything, and that's boring.  I buffed stuff  here and there, but  in the end the concern was  playability and  point cost, not  common sense. And given the amount  of  Strength D and AP 2 stuff at initiative  in the new meta, worrying too much about armor saves  might be a  moot  point.
So without further ado, let's have the  stats. Read them, test them, change them, ignore them, use them. It was fun to write.
ABADDON The Despoiler (280)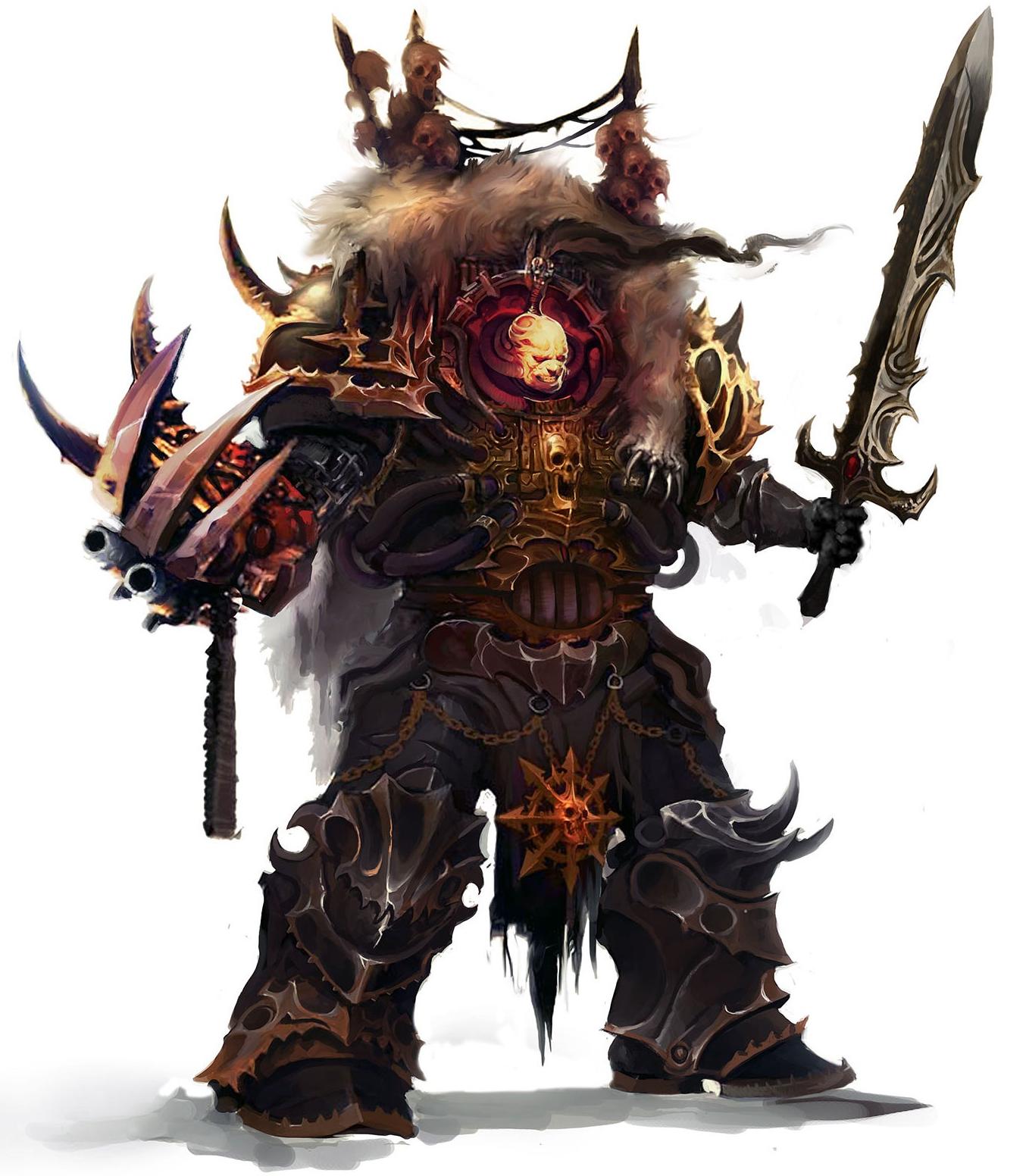 "The real war. The Long War. Not a  petty rebellion swallowed by Horus' pride and his hunger for the Terran Throne. A war for the future  of mankind. Horus would have sold the species to the Pantheon for a chance to sit  on the Golden Throne for a single  heartbeat. We cannot allow ourselves to be  used the way he was. The Powers exist and we cannot  pretend otherwise, but nor can we allow a sacred duty to devolve into weakness, as Horus did."
-Talon of Horus, Aaron Dembsky-Bowden
WS 7
BS 5
S 4
T5
I 6
A 4
W 4
LD 10
Sv 2+/3++
Wargear: Cataphracti Terminator Armor, Mark of Chaos Ascendant, Talon of Horus, Frag Grenades, Drach'nyen
Special Rules: Fearless, Champion of Chaos, Eternal Warrior, Veteran of the Long War.
Mark of Chaos Ascendant: Abaddon counts as possessing all marks of  chaos.
Warmaster of the Long War: Ezekyle Abbadon is a veteran of ten millenia  of  total war to spread the  stain of Chaos across the galaxy. He must always be Warlord  of your army if included. At the start  of each game, before deployment, D3 non-vehicle units can gain one of the following traits: Favored Enemy (Any), Stealth, Tank Hunter. No trait can be given to more than one unit. If Abbadon is removed from play, the traits are  lost. In addition, whenever Abaddon is removed from play, the opposing player receives an extra VP.
Victory at All Costs: Once  per game, at the start  of his Movement Phase, the  player can choose any one  unit to receive the Objective Secured  USR. This  lasts until the end of the turn.
Chtonian Blade Style: Abaddon is able to split his natural attacks (those granted by his  Attacks stat) between  both of his weapons, but loses the +1 attack granted by dual weapons when doing so. The  player  must declare how  many attacks are being made with each weapon before the dice are rolled.
Talon of Horus
Combi-Bolter: Range 24', S5, AP4. Rapid Fire, Twin-linked.
Talon: S+1, AP3; Shred, Armorbane, -1WS and S if target suffer  unsaved wounds, stacks for each wound. Grants Hatred to Blood Angel units engaged in CC.
Drach'nyen
Sx2, AP 2; Daemon Weapon, Reality Piercer (can spend the extra attacks from Daemon Weapon to  reduce enemy  Invulnerable saves; each 2 attack reduces saves by 1 for that fight Sub-phase).
Commentary: Abby is  hard to work with. You  need something that will give  pause to the biggest  heavyweights  in the setting, but still need a bit  of planning to use. I added some tactical boons to let him help the army and represent both his  Justaerin tactics and focus  on  winning  over serving the gods. At the same time, tried to represent what a warchief who has spent millenia on the frontlines taking on enemy heroes and collecting artifacts would be like. Balancing out  both the Talon and  Drach'nyen is really tricky: make one too strong, and there's no reason to use the  other.  Make both weak to work together, and they end up being worse that basic crap any Lord or Captain totes around.  So I chose to make the Talon  more reliable anti-vehicle and a debuff for  larger enemies, and the sword a strong weapon that can possibly break any defense.
KHARN the Betrayer (210)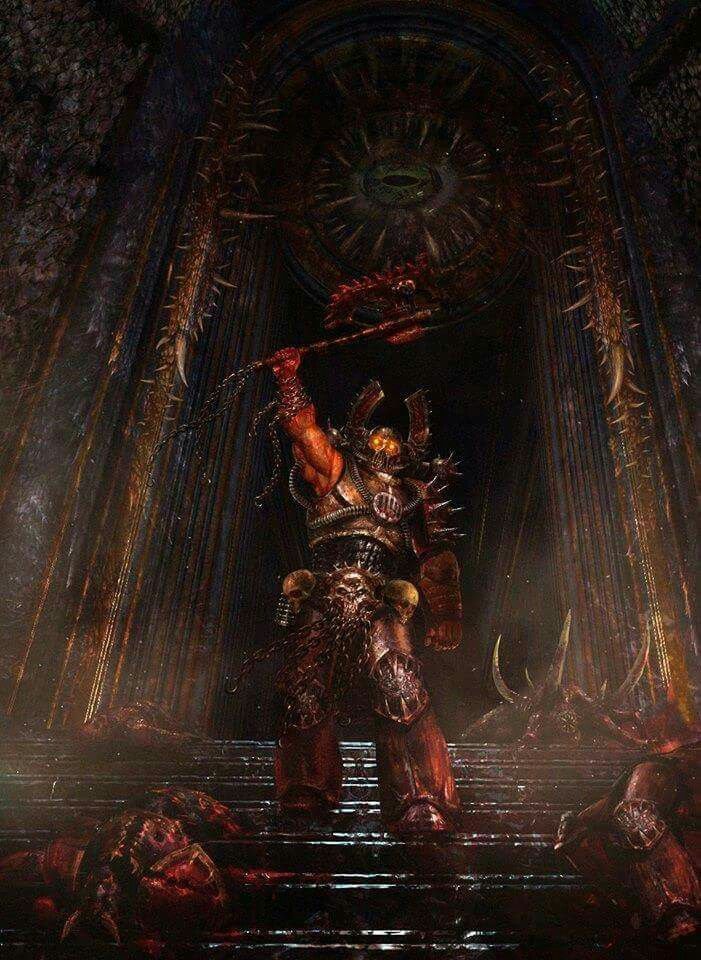 "OUR TURN!!!" – Kharn at the Battle of Armatura (Betrayer, Aaron Demski-Bowden)
WS 7
BS 5
S 5
T 4
I 5
A 5
W 4
Ld 9
SV 2+/5++
Wargear: Artificer Armor, Aura  of Dark Glory, Frag Grenades, Master-crafted plasma pistol, Gorechild.
Special Rules: Mark of Khorne, Fearless, Furious Charge, Champion of Chaos, Veteran of the Long War.
The Butcher's Nails: Kharn gain +d3 attacks and Initiative  in any turn in which he charges. In addition, whenever an enemy  unit disengages and flees from his after losing a combat, his unit always gains +d3 to the die roll for Sweeping Advances.
Blessing of Khorne: When resisting  enemy Psychic  powers, Kharn and his  unit  deny enemy  WCs  on 2+. He also has a 2+ save against force weapons and they lose the instant death rule against him. However, all beneficial powers  used  on him and his  unit require an additional Warp Charge to take effect.
Betrayer: Kharn will hit close combat enemies on a roll of 2+, regardless of WS. Rolls of 1 are inflicted upon his current unit, allocated toward the closest  model.
Gorechild: S+1, AP 2; Armorbane, Fell Strike (To-hit rolls of 6 count the enemy's Toughness as being one less for the purpose of determining  Instant Death).
Commentary: Kharn is hard to balance. Ideally, he should be someone able to demolish anyone and anything, but not be really much more resilient than any other T4, non-EW HQ.  I focused on his aggression and volume/lethality  of attacks, made them faster on the charge to encourage tossing him at things, and gave him a 2+ to let him actually reach combat (wrestled with giving  back Eternal Warrior instead, but decided against it), especially if you walk him. Added a drawback to his psychic resistance because it's fluffy and could result in some laughs, especially  if you Perils trying to cast Endurance on his unit (which you should).
AHRIMAN (255)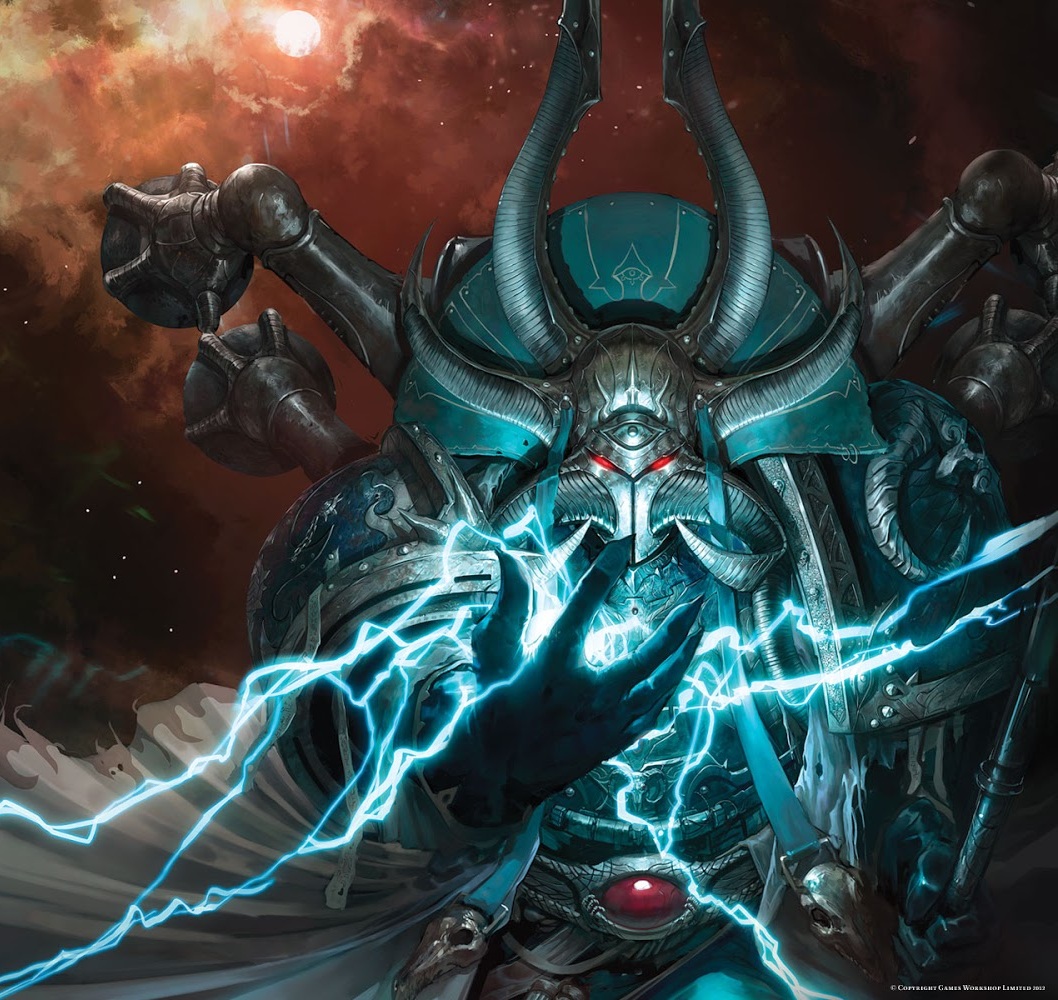 "The warp is limitless in power and its secrets are infinite; it is knowledge and strength, life and death, and the untapped potential to make and remake worlds. It takes only the discipline and the will to shape it; those who lack that clarity of purpose are liable to be shaped by it instead."
WS 5
BS 5
S 4
T 4
I 5
A 3
W 3
Ld10
Sv 3+/4++
Wargear: Bolt pistol with Inferno Bolts, Power Armor, Aura  of Dark Glory, Mark of Tzeentch, Black Staff of Ahriman, Spell Familiar.
Special Rules: Fearless, Veteran of the Long War, Adamantium Will.
Psyker: Mastery  Level 4. Can select powers from Biomancy, Pyromancy, Telekinesis, Telepathy, Tzeentch, Divination, Daemonology.
Master of the Corvidae: Ahriman can re-roll results whenever selecting powers on the Divination Discipline.
Peerless Sorcerer: In addition to his usual Disciplines, Ahriman can make  one roll for a Psychic  Power on a discipline table  available to another army  in  play, friend or foe. He generates Warp Charges on a 3+ until the first time he fails at casting a  power (or  it  is denied), when it reverts  back to 4+.
Black Staff of Ahriman: S+2, AP 4; Force, Aetheric  Focus (allows the  user use  one  of the following abilities  in his  Psychic Phase: use the same witchfire  power twice in the same turn; extend a single ranged power's range by 6  inches; Increase its Strength by 1; Reduce  its AP by 1.
Commentary: Bumped some stuff to make him more  of a  psyker  powerhouse and channeling  more easily, as well as add more flexibility and  punch to his powers, so it's not like any old Smite anyone can cast. Thought  it would be fun to let him have limited access to enemy Disciplines  just to drive home his eternal search for  occult  lore and how much he has accumulated so far. Removed Champion of Chaos because  it's a dumb rule, particularly  for  wily, brilliant manipulators who are not even going  out  of their way to please the Dark Gods  in the first  place.
LUCIUS the Eternal (205)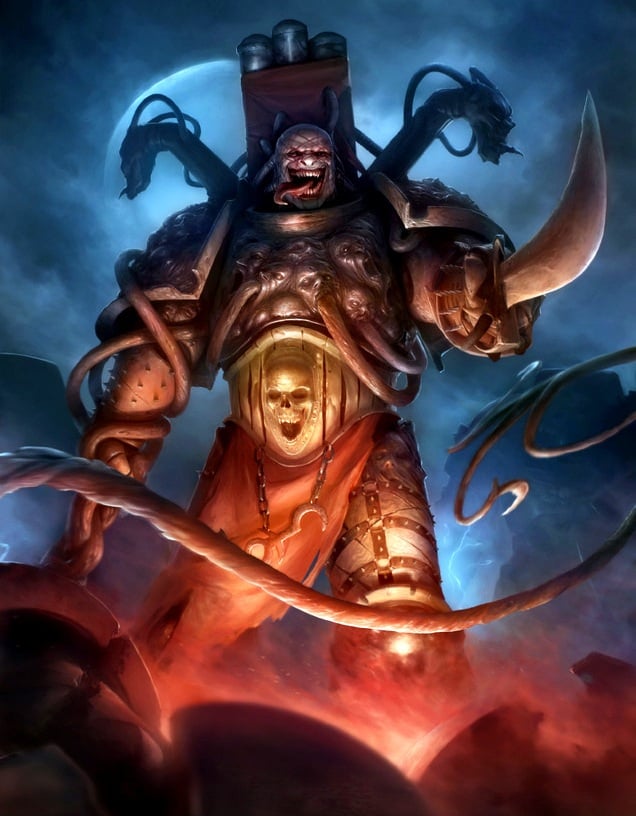 Give me back my broken night
my mirrored room, my secret life
it's lonely here,
there's no one left to torture
Give me absolute control
Over every living soul
And lie beside me, baby,
that's an order!
Give me back the Berlin wall
Give me Stalin and St Paul
I've seen the future, brother:
it is murder.  
– The Future, Leonard Cohen
WS 8
BS 5
S 4
T 4
I 7
A 4
W 4
Ld 9
Sv 3+/5++
Wargear: Frag&Krak grenades, Pomp&Circumstance, Doom Siren, Armor  of Shrieking Souls, Aura  of Dark Glory, Mark of Slaanesh.
Special Rules: Fearless, Veteran of the Long War, Champion of Chaos, Fleet.
Flash of the Blade: Enemies in combat with Lucius that also have a lower Initiative than him  suffer a penalty  of D3 to their WS.
Unbreakable Parry: While fighting in a challenge, Lucius can re-roll any failed saving throws.
Soulthief: If an enemy Character kills Lucius, he  must  roll a d6 and  add his Leadership to the result, against a similar roll by Lucius'  player. Should Lucius  win, the model that killed him will be under your control for the next Assault  phase. If the model  attached to a unit when this takes effect, he counts as  having charged that unit.
Pomp & Circumstance (Blade of Laer and Whip combo)
S as user, AP 3; Shred, Master-crafted, counts as an extra CC weapon, -1 Attack to enemies  in base contact.
Armor of Shrieking Souls: The vile melange of chemicals this armor injects into Lucius' bloodstream hones his reflexes to surreal levels. Enemies who roll 1's in close-combat with Lucius can never re-roll them by any means. Lucius gets to make one additional attack against anyone rolling a 1 after all attacks  have been resolved (Initiative step 0), and these are resolved as AP2 as he exploits gaps in defenses from their mishaps.
Commentary: This  one was  hard. Making  just another combat beast  with AP2 at  initiative is easy, so I went for  resilience, debuffing enemies and  hijinks  instead. He's supposed to be someone who will tear through lesser  foes, but also dangerous to send your heavy hitters after. Flash of the Blade  is  meant to actually have someone hit someone  on a 5+ in melee for a change.
TYPHUS the Traveler(255)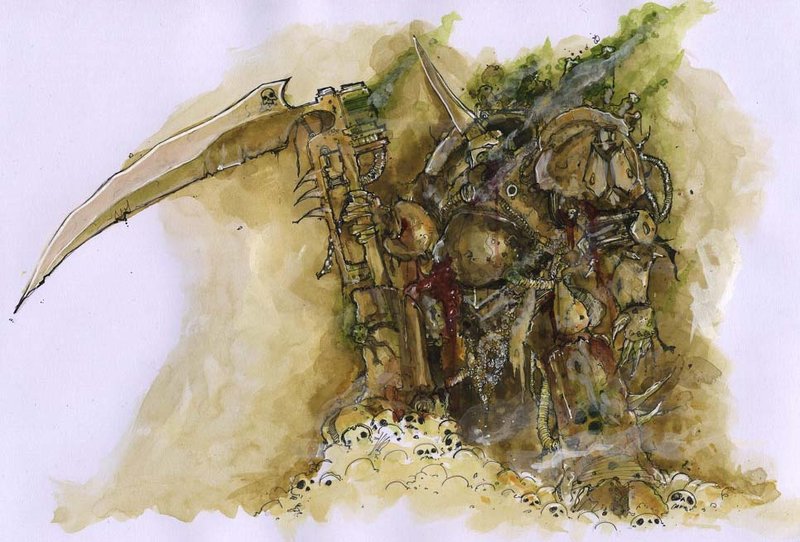 "Look upon me and know that I can slay you at will."
-Typhus the Traveler
WS 7
BS 5
S 4
T 5
I 4
A 4
W 5
Ld10
Sv 2+/4++
Wargear: Terminator Armor, Manreaper, Plague Grenades, Sigil of Corruption.
Special Rules: Fearless, Feel No Pain (5+), Champion of Chaos, Veteran of the Long War.
Destroyer Hive: Once per game, place the Large Blast Marker on top of Typhus in any Phase you choose, even on your  opponent's turn. All models that are not Daemons of Nurgle  or  Marked by Nurgle under the template suffer a single attack with the following characteristics: S4, AP 2, Haywire.
Plague of Undeath: Chaos Cultists in a force with Typhus becomes Plague Zombies. They lose all ranged attacks, gain the Feel No Pain, Poisoned (4+) Fearless and Slow and Purposeful USRs. In addition, whenever they cause an enemy casualty, roll a d6 for each slain model at the end  of the turn. On a 5+, another Plague Zombie joins the unit.
Psyker: Mastery Level 2. Can select  powers from the Nurgle and Daemonology disciplines. All successful channeled powers of the Nurgle discipline count as having one extra Warp Charge for the  purpose of being Denied.
Manreaper
S+1, AP 2; Force, Fleshbane, Unwieldy.
Commentary: Typhus  is not difficult to work with, as his role  is very well-defined. Focused his  talents a bit toward  plague and undeath, and  gave  him a wound to make him more of a brick wall, but  otherwise not  much change. Since  he's getting an extra attack, I changed Manreaper from a Daemon Weapon to wounding  on a 2+, favoring quality  over quantity in this case. I wanted to let him generate  Warp Charges on a 3+ to summon Nurgle Daemons (Really, all marked sorcerers should have such a bonus), but  too many rules  makes for a clunky HQ.
HURON (195)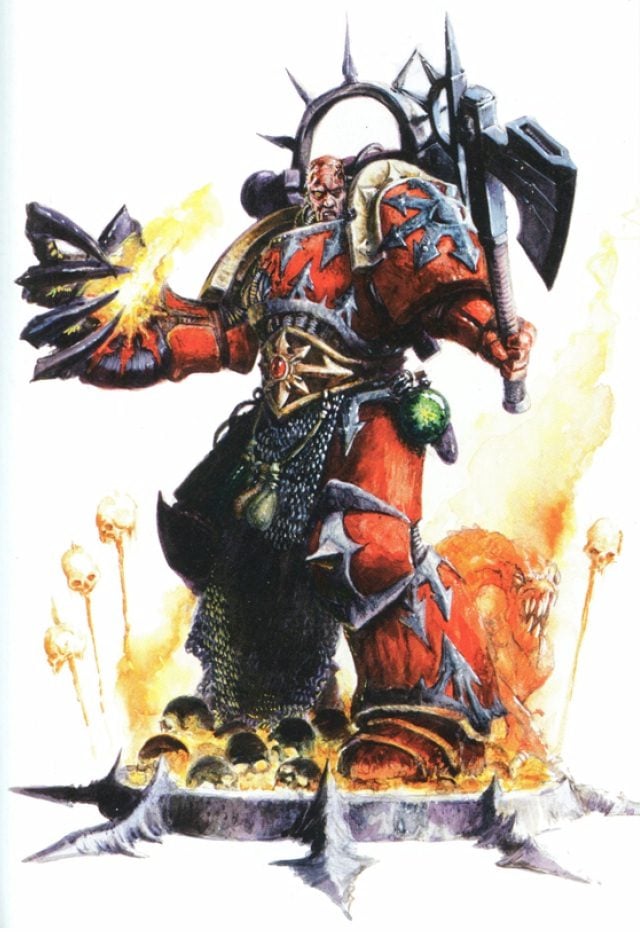 "The Strong are strongest alone."
-Huron Blackheart, at the Skull Harvest.
WS 6
BS 5
S 4
T 5
I 5
A 4
W 4
Ld 10
Sv 3+/4++
Wargear: Power Armor, Sigil of Corruption, The Tyrant's Claw, Frag Grenades, Master-Crafted Power  axe.
Special Rules: Fearless, Feel No Pain (6+), Champion of Chaos, Veteran of the Long War.
Extensive Bionics: Over  half  of Huron's body has  been reconstructed with extensive augmetics. It increases his Toughness  by 1 (already included  in his  profile), grants him the Feel No Pain rule (6+), and the Slow and Purposeful USR.
Piratical Opportunism: Any Chaos Marine unit that arrives via Deep Strike or Outflanking can re-roll its scatter dice (for Deep Strike) or  the dice roll to determine which side they enter from. Once  per game, you can  add or subtract 2 from a single reserve roll. This can  be  used after the die  is rolled.
The Hamadrya: On his turn, Huron can use the Hamadrya to cast a randomly determined  power from the Divination or Telepathy Disciplines, counting as a ML 1  psyker for that  purpose. If  he  chooses not to, he gains 4 extra dice for his  army's  dice  pool for Deny the Witch attempts  the following enemy turn.
The Tyrant's Claw
S+2, AP3, Master-Crafted, Shred, Armourbane, Heavy Flamer.
Commentary: There's  just so much fun stuff you can do with Huron, and I don't even like pirates that  much. I went for ambushes and focusing  on his mangled, reborn malevolence. And  if  Ortan Cassius can boast T6 for some implants, someone who is over half machine earns a T5 in  my book.
~What do you think – are these reworked characters worthy of leading the Chaos Marines?