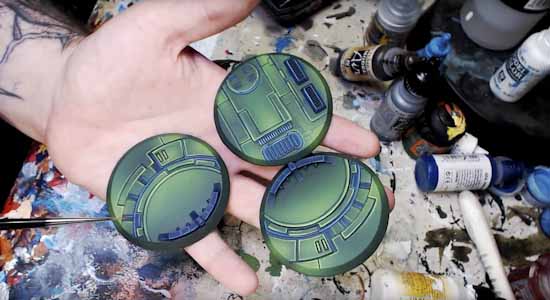 Welcome to the AirBrush Dome! We're about to unleash 5 Airbrush hacks for painting green upon the masses; I hope you're ready.
These are the new Jade Palace Bases that we're going to be working towards.  And here's what we're working: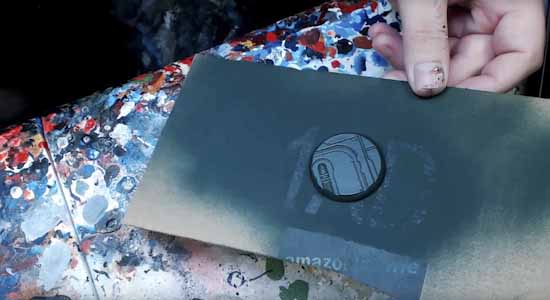 I'm not going to draw this out to the end, I'm going to start with the Top 5 right off the bag.
Tip 1: Get your primer game on lock with "The Army Painter" Angel Green Army Painter
Tip 2: Get these paints: Iosan Green, Necrotite Green, Flash Gitz Yellow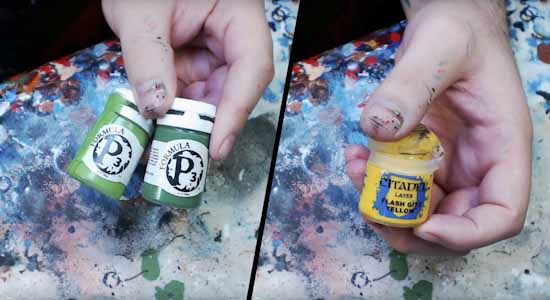 Tip 3: Rock the finest weapon known to man, the Iwata Eclipse is Long War Approved; Robby B and I both have carried this brush through the battle against grey plastic.
Tip 4: Get good and always add in AirBrush Flow Improver by Vallejo
Tip 5: Make the Gangsta Gumbo.
Step 1. Add in a few drops of flow improver.
Step 2. Pour the paint directly into the pot.
Step 3. Stir with a brush you have designated just for this
Step 4. Back Flow, which is the picture you see below.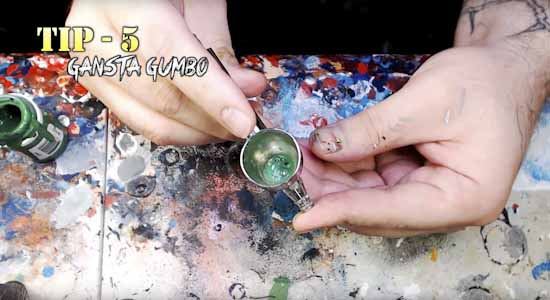 If you're new to the airbrush game, I can't stress enough how important the Airbrush maintenance video is and it's companion video the airbush cheat codes video.
Okay, now to get this base done right.
Step 1. Paint the base with Angel Green
Step 2. Add some Glow; that Iosan green on theArmy Painter Angel green blends perfectly, no in between colors, it blends for you. I followed the lines, no taping, I went really organic.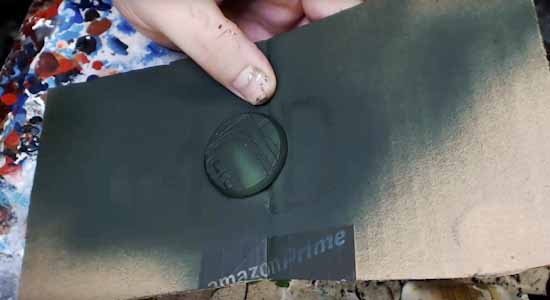 Pro-Tip: Go hard on the edge and then ease up into the black. That's how you get that sweet glow effect. We're doing mainly air on the double action flow and just adding a bit of paint.
Step 3. Now we're going in with the Necrotite; don't bother cleaning out that basin to much. We're going to be doing pretty much what we just did but going even more sublte on the insides and harder on the edges to get that pop. P3 aren't airbrush paints but they're not over the top thick, they breakdown really easily because of their pigment count.
Step 4: Now we're going with the Flash Gitz and doing those edges. If it's not popping enough after the first pass just hit it again.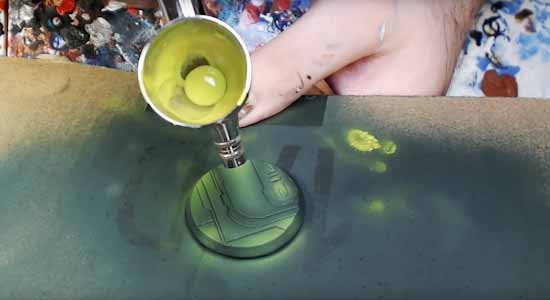 Step 5: The next level is to go in with your brush and adding in those fine details.
Top 5 Airbrush Hacks for Painting Green