The Tabletop Spotlight is on Millennium Blades – the CCG Simulator Card Game!
Hey BoLS Readers, you read that right – Millennium Blades is a Board Game about a CCG and the people who play them using Cards! Confused yet? I certainly was! But don't worry, my friend from Dragon's Lair Comics & Fantasy was there to help me out with this one:
This Board Game/Card Game is very meta. It's a game about a game within a game. Yeah…It's a Gameception! The basic premise is that you take the role of a player of the CCG Millennium Blades, which has become so popular and dominate that everyone plays this game! It's a world wide thing and players from around the globe compete to become a world champ. Some players are in it for glory, some are in it for the money (it's big business) and some just want to play cards. There are different characters you can play as and each one has a different motivation for playing. But the point of the game is to get points at the end of each tournament cycle and become the next champ of the game.
The game play is intense. In fact, that is a selling point! It's supposed to be a tad stressful. There are certain phases of the game that are actually timed to create an artificial stress level. They also encourage you to not allow take-backs. Making mistakes is actually part of the game – and you should learn from them so you don't repeat them. From a high-level perspective, this game is supposed to test your memory and your attention to detail.
I won't get into the full mechanics of the game, but there are basically 3 major things that happen a turn. There is a "deck-building phase" where you assemble your deck for the next tournament. There is the tournament phases where you see how your deck stacks up. And then their is a post-game trading/purchasing phase. Now, those are the super simplified descriptions and there is a lot more to the game than that but the explanation would probably take longer to type out than to just link you to the rules.
Now, for all it's complexity, it's really not THAT hard to pick-up. It will take playing a round to really understand how it all works and you might stumble through it at first, but that's part of the reason I enjoy board games – for that "OH, I GET IT" moment. So yes, this game can take some brain power, but it's worth it once you do get to that point.
As for the components – it's got fake money! Yes, that was a major thing for me…what, I liked playing Monopoly as a kid…Anyways, it's also got a ton of cards (obviously based on the subject) and they have some fun art to match. The token sets are pretty industry standard and functional so no complaints there. The boards that are included also have a ton of info on them to help you stay organized while playing so that's a plus. The rulebook is also full color and has a lot of diagrams to help with playing (so it's super helpful).
So if you're looking for a game that is really going to challenge you and your friends as well as scratch that CCG itch without the associate price tag or addictive like qualities, then check out Millennium Blades – in stores NOW!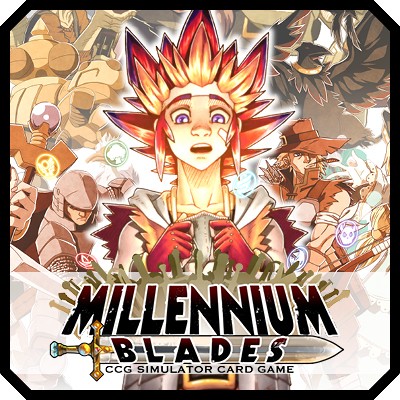 In a world very much like our own, Millennium Blades is the world's most popular collectible card game. Continuously in print for more than a thousand years, the game has seen thousands of expansions and billions of cards.

Players from around the world seek to become world champions by mastering duels and collecting the game's rarest and most coveted cards. Still others live by the game, building financial empires by dealing, speculating, and trading in the aftermarket. Many are content simply to play for fun and meet new friends.

Your very own Millennium Blades Legend is about to unfold! What will be your path to glory? With your starter deck in hand and a dream in your heart, the time has come to step boldly into the world of Millennium Blades!

Millennium Blades is a board game about a fictional collectible card game, which is also called Millennium Blades. You begin the game on pre-release night with just your starter deck. You'll open new packs, form collections, and sell your junk cards on the aftermarket to buy hot new cards. Trade with your friends, build up your deck, and prepare to compete at Millennium Blades Worlds for the title of World Champion!

We've all been touched by the magic of Collectible Card Games—from the thrill of opening packs and discovering that ultra-rare card, to the excitement of waiting on pre-release night to see what hidden gems a new set holds, to the tension of sitting with baited breath to see your opponent's play in the final round of the tournament. Millennium Blades captures that magic and distills it down to a single-game session.

Card Games create their own world and their own culture for us to explore, and continue to reward players who delve deeper and deeper into these worlds. These games are about discovery, social interaction, and fun–what could be a better topic to use as the basis for a board game!?
Millennium Blades: The Next Gameception!