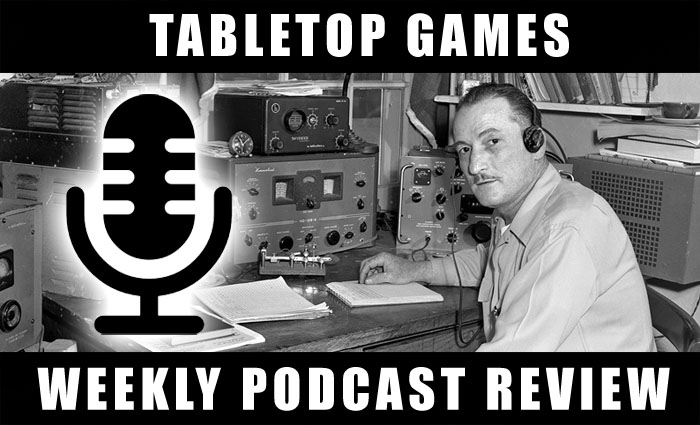 Hey all, Bahkara here for another week of reviews! This week we begin to see more talk about the FAQ drop from GW.
Warmachine shows appear to be a little light this week also. Not sure if it's due to the upcoming Mark 3, or not. Either way, lets get on with the show!
Combat Phase Episode 144 – This week they interview author Guy Hayley. They discuss the various books he worked on, writing for the Age of Sigmar setting, what happens when the studio does something contrary to what he has been writing, and the reasoning behind some of the stories that he told. Nice and very fun interview. Again, if you're looking into some insight about the author's view on the background in general, or your specific faction that he may have written about, then give the episode a listen.
Life After the Cover Save Episode 176 – Blake and Ed interview Ronni Renton from Mantic Games during their trip t the UK. Very good and fun interview about his history working for Games Workshop, the early days of Mantic, and where they are at now and some of the things they have coming up. It's a good episode to listen to and I'm looking forward to their interview with Warlord Games. One thing that is did come up was a programming change. The guys don't consider themselves a 40K podcast anymore and are just a general wargaming podcast.
Signals from the Frontline – Always a good listen for new and rumors on 40K and other miniature games in the industry.
Also Out This Week.
Forge the Narrative Episode 145 (40K)
Eye of Terror Episode 18 (40K)
Counter Charge X Episode 70 (KoW)
Counter Charge X Episode 69 (KoW)
Counter Charge X Episode 68 (KoW)
Rolling the Dice Episode 14 (General)
Canhammer Episode 79 (40K)
Ohiohammer XP Episode 21 (9th Age)
Ghost Army Episode 16 (Both Action)
NOVA Squadron Episode 50 (X-Wing)
Eye of Horus Episode 59 (30K)
Mayacast Episode 82 (Infinity)
Long War Episode 51 (40K)
Fully Boosted Episode 4 (Warmachine)
Kessel Run Episode 40 (X-Wing)
Battle Driven Episode 57 (Warmachine)
Hobby Night in Canada Episode 53 (General)
JadedGamercast Episode 270 (General)
TDH60M Episode 33 (Warmachine)
Mom Podcast Episode 265 (Warmachine)
Mynock Squadron Episode 16 (X-Wing)
Leyline Episode 25 (Warmachine)
Crippled Systems Episode 159 (Warmachine)
As always, give my podcast, TFG Radio, a listen. We talk 40K mainly but delve into other game systems. This week we talk the new AoS summer campaign, past GW campaigns, and our favorite characters from the 40K universe!
Have a different opinion? Post in the comments below or email me at [email protected] and let me know!