BoLS Unboxing: Sector Imperialis Bases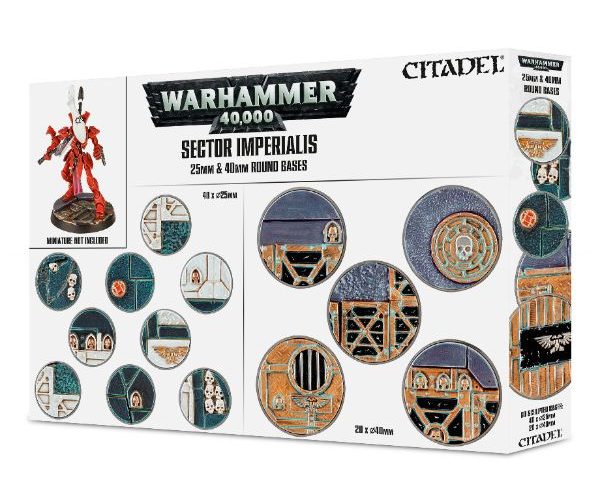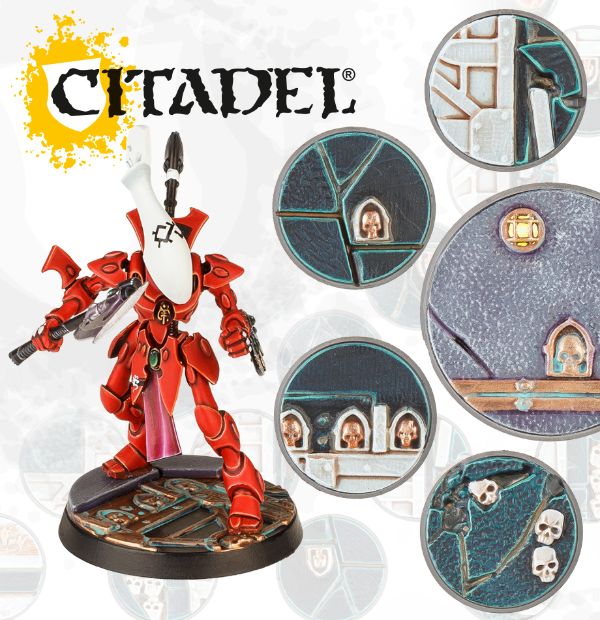 Join us as we take a look at the new Sector Imperialis Bases!
Hey BoLS Readers! AdamHarry here and I wanted to take a deep dive into the new Sector Imperialis Bases with you all. Lots of folks are interested in these new kits and with good reason – these are a clearly a move by GW to take a stab at the 3rd party resin base market. And while these bases aren't resin they are certainly at a price point that is really hard to argue. In fact, "BigRed" Larry Vela was so interested in these bases that he wanted to get in on the action as well:
So we got our hands on the 25mm / 40mm Round bases kit and the Large Base Detail Kit. Why those kits? Because the 32mm were sold out! Not a bad sign…But back to the topic at hand. The 25mm/40mm bases were what you would expect. Both sets of bases had a fair amount of detail especially the grates and sewer lids. The tile floor bases were pretty sharp as well. Some of the bases had a fair amount of texture (the mud/dirt areas) and the tile bases were fairly smooth. This is great for those of us who just want to transfer existing minis over – there are lots of good contact points for the minis and glue.
As for the Large Base Detail kit – this is my personal pick from the basing kits. Let's say you have a lot of Big Based things in your army. Flyers, Monstrous Creatures, Dreadnoughts, Knights, etc. – then this is the perfect kit for those bases. It comes with a bunch of bits and doodads that you can model however you like. Heck, if you wanted to get really creative you could even manually chop them up into smaller bits to glue to the smaller bases. Now, I do want to call one thing out: The big, flat pieces aren't as textured as the pictures. But this shouldn't be a huge surprise as they also don't come painted either… These are great stand-alone bits but you should use them as foundations to build/model on top of and not a final touch.
BigRed thinks that Games Workshop basically took the Sector Imperialis Board's 3D CAD design and then cut it up to fit on bases and then "flattened" them out. What does that mean? Well it means the details are there but you're going to have to actually work to get them to show. The bases they used in the pictures were painted up using all the tips & tricks you'd expect from the GW painting team. These bases have the detail to look tabletop ready with just a quick basecoat, a drybrush and maybe a wash – but if you want them to look as good as the pictures you'll need to go back and do highlights and pick-out the details.
Overall, BigRed and I are both pleased with these new basing kits. 60 bases for $33 is a good deal no matter how you slice it. I'll be honest, I was waiting for Games Workshop to release plain old bases in the 32mm range in packs of 10 for a ridiculous amount of money. I was just happy we were getting so many at that price point. Now couple that with the fact that players won't need to glue and flock those bases (but you still could) – the time savings alone seems worth it to me. So go check them out for yourselves! The Sector Imperialis Bases are in stores now.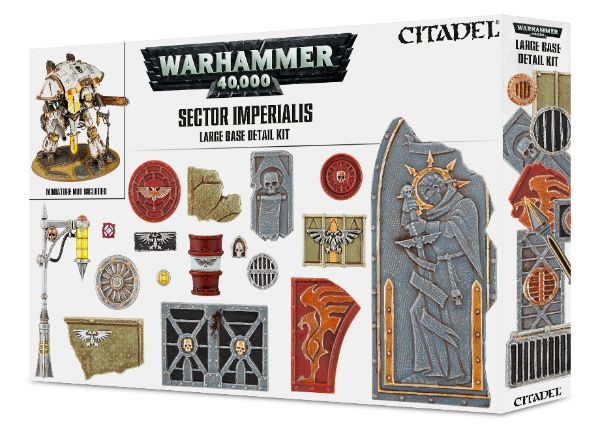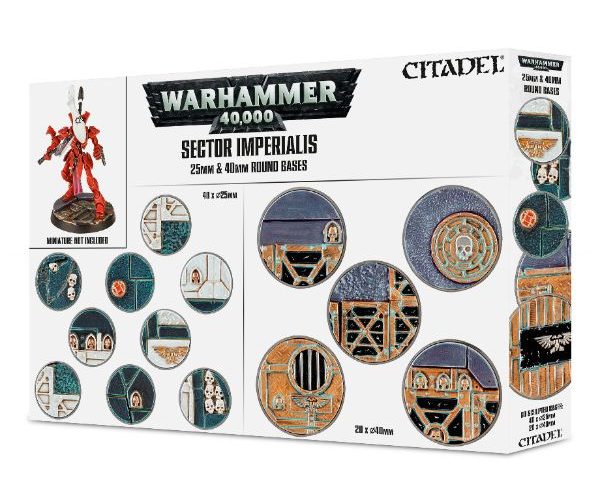 Subscribe to our newsletter!
Get Tabletop, RPG & Pop Culture news delivered directly to your inbox.
Games Workshop just made your next armies bases a LOT easier to deal with…