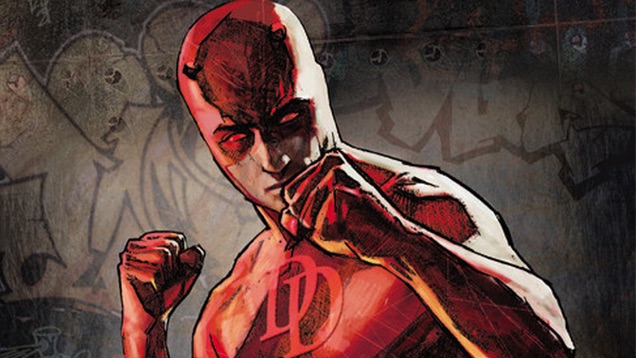 WizKids points you to a glimpse of two dodgy heroes from the Marvel HeroClix: Civil War boosters.
First some basics on the Civil War Storyline OP:
Marvel HeroClix: Civil War Storyline OP events are slightly different from previous OP events, as the set is focused on the characters and their factions. Each of the five-figure Marvel HeroClix: Civil War Boosters contain characters from Pro-Registration, Anti-Registration, and Neutral factions, with each base color-coded to show their faction.
Today we take a look at the opposing quick moving hero and heroine: Daredevil and Wasp.  Take a look.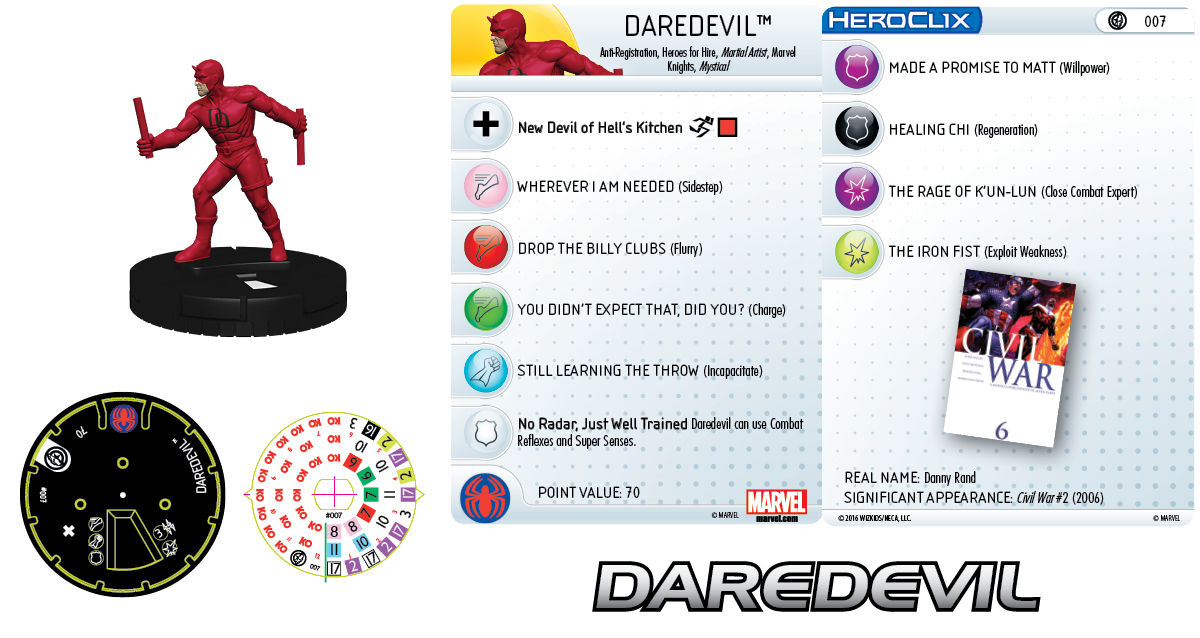 Here's the basics on Daredevil 007:
"ANTI-REGISTRATION: At 70 points, Daredevil makes for an excellent close combat or short range combat piece.  With Sidestep, Charge, and Improved Movement: Ignore Elevated Terrain called New Devil of Hell's Kitchen, he can get anywhere you need him to tie up and engage the opposition.  For ranged abilities, he has a 3 range with two targets and Incapacitate to start with, but where he excels is close combat.  He begins the game with Close Combat Expert and a special defense power, No Radar, Just Well Trained, that gives him Combat Reflexes and Super Senses to increase his attack, damage, and defense when engaging base to base and dodging incoming attacks.  Mid and late dial he switches to Willpower to get more actions and tries some other kung-fu methods with alternating Flurry and Exploit Weakness."
Here's the basics on Wasp 008:
"PRO-REGISTRATION: Wasp has several ways to elude your opponent and their dice with the Flight symbol, the Tiny Size symbol, Improved Movement: Ignore Characters called Social Butterfly along with a full dial of both Super Senses and Sidestep. Wasp also has a trait called The Magic of Pym Particles that grants her the use of Shape Change, and if she rolls a 6 while using it, she may be placed adjacent to any character within 6 squares.  Offensively she has a 4 range with a single target and starts off making use of it with Range Combat Expert and later in her 5 click dial she wants to get up close and personal with Incapacitate and Exploit Weakness while maintaining consistent combat values."
The Marvel Heroclix:Civil War Storyline OP are underway. – What do you think of the pair?